The Territory of Turkey has two unique landscapes that create an unforgettable experience for your event or wedding photoshoot. These are the fabulous rock towns of Cappadocia and snow-white thermal terraces of Pamukkale.
We will try to describe both locations in detail (including tips and ideas for organizing a wedding party, painting ceremony, private event, etc.). Also, if you are considering other cities in Turkey for your meeting, we have created articles such as:
- wedding and corporate party in Istanbul
- organization of events in Antalya, Alanya and Belek
- celebration and party in Bodrum and Marmaris
- the most original hotels in Turkey
- planning of weddings and corporate parties in Turkey
Cappadocia
Göreme National Park in Cappadocia can be attributed to the most unusual places on our planet, combining a unique landscape and landmark: volcanic rocks of an unusual shape, cave cities (more than 3000 years old), and churches from the time of the first Christians. In fact, Cappadocia is an extensive open-air museum that combines several settlements from the times of the Hittite and Persian kingdoms. Therefore, many new couples want to organize their special moment in life (wedding ceremony) here, because Cappadocia is an ideal place for a marriage proposal or wedding celebration.
All locations for a wedding photo session or a quest for guests of your event in Cappadocia can be split into several main sets:
- Cone-shaped stone pillars and rocks are the hallmark of Turkey and all of Asia Minor. They are found almost throughout the entire territory of the "Göreme Park" (especially in the valleys of "Love" and "Devrent").
- Multi-level cave and underground settlements: "Gaziemir", "Kaymaklı", "Derinkuyu" and fortresses "Uchisar", "Ortahisar".
- Rock churches with frescoes of the Byzantine era (IX-XIII centuries) will look original in a wedding photoshoot. The best of them are: "Apple Church" (Elmalı Kilise), "Dark Church" (Karanlık Kilise), "The Church with Sandals" (Çarıklı Kilise), "Malta Crusader Church", "Snake Church" (Yılanlı Kilise) and others.
- Picturesque valleys: "Red" (due to the color of the rocks), "Pigeon" (due to the many caves and pigeon nests) or the "Ihlara" valley, which is famous for its 14-kilometer canyon with a depth of 150 meters (but the distance to this valley is 90 km).
- The pottery capital of Cappadocia in Avanos town and the underground museum of ceramics (Guray Museum).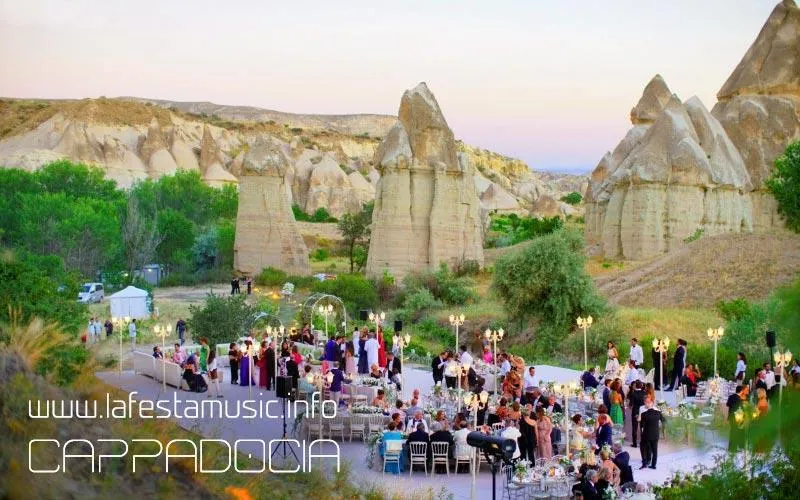 Depending on the scenario of the event and the complexity of the preparation, you may need the help of a wedding planner or an event agency. If you have never organized events abroad before, it is better to trust professionals.
A high-quality show program for your wedding/event is hardly possible only with local artists. In the vicinity of Cappadocia, there are musicians playing authentic instruments and traditional dance shows. But this is good only to complement and decorate the celebration program with Turkish flavor. As for a full-fledged show program (high-quality live music during a welcome time or dance music from a professional cover band), it's better to order artists you have confidence in. For this reason, the best five-star hotels in Turkey invite non-local artists to work with them.
For example, with minimal costs for providing a transfer and a stage rider, you can order a full-fledged concert program that includes the show of singer in 3D dress, unique the laser harp show and 90 minutes performance of stylish musical band LAFESTA, as in all these projects involve one team of 3-4 people (charming soloist, DJ/sound engineer, and flutist/saxophonist).
The best shows and musicians for a wedding in Cappadocia Fragments of performances of our shows at various event meetings, weddings and private paties.
Ideas and tips for a wedding in Cappadocia: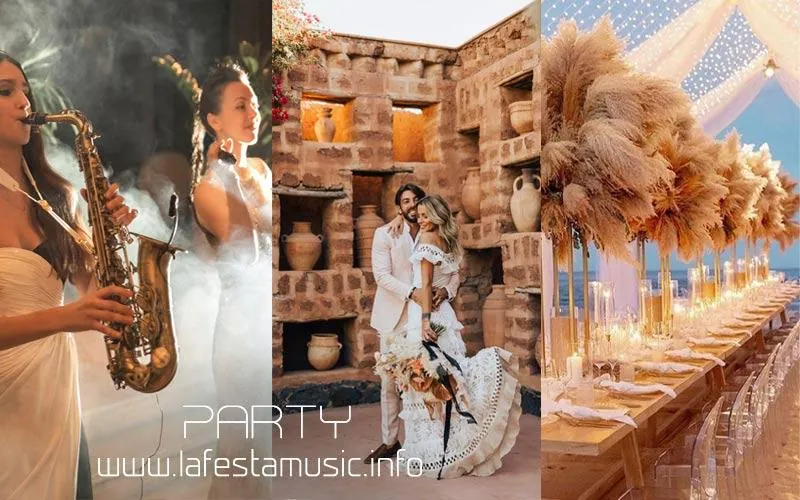 1. The easiest way to get to Cappadocia from another country is through Istanbul Airport with a transfer to Kayseri (ASR) or Nevsehir (NEV), from which "Goreme National Park" is only 90 km and 50 km away. If you are planning a trip from one of the resorts in Turkey, then the bus trip from Antalya to Cappadocia will take 8-9 hours (535 km for $25) or 7-8 hours from Belek (510 km for $18).
2. To enjoy Cappadocia, it is best to stay in the Goreme village (Göreme). Since it is in the heart of the National Park, you can have all the sights within walking distance. You can enjoy stunning views of the landscape and stone pillars from the terraces of the Goreme rock hotels.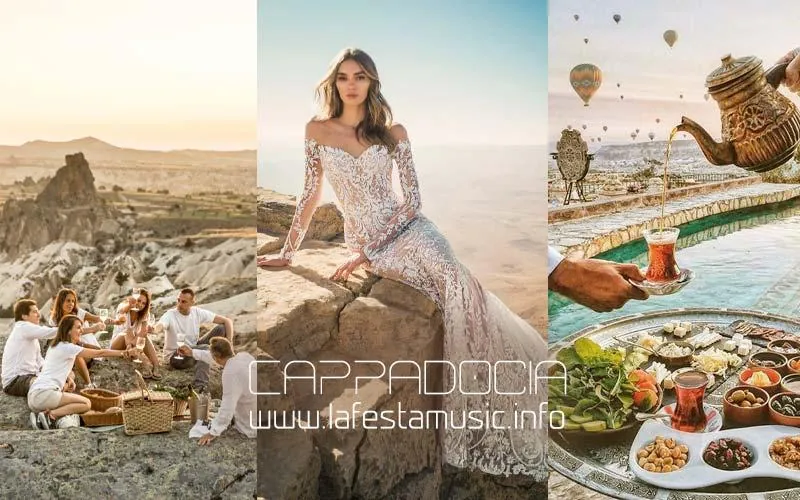 3. In the period from the beginning of November to the end of April, the cost of accommodation in Cappadocia hotels will be 20-30% cheaper compared to the peak tourist season. The optimal months can be considered warm November and April, as at this time the temperature is comfortable for walking and for a wedding with a view of the sights. But you need to remember that in winter in Cappadocia there are quite cold periods with snow and winds, whiches the risk of not being able to comfortably celebrate the outdoor wedding or event meeting. creat
4. If you are planning your wedding or corporate event in Cappadocia for the winter, then you can diversify your leisure time by visiting the modern "Erciyes" ski resort, located on the Takir volcanic plateau near the picturesque Mount Erciyes (3916 m). The distance from Goreme Park to the ski resort is 85 km.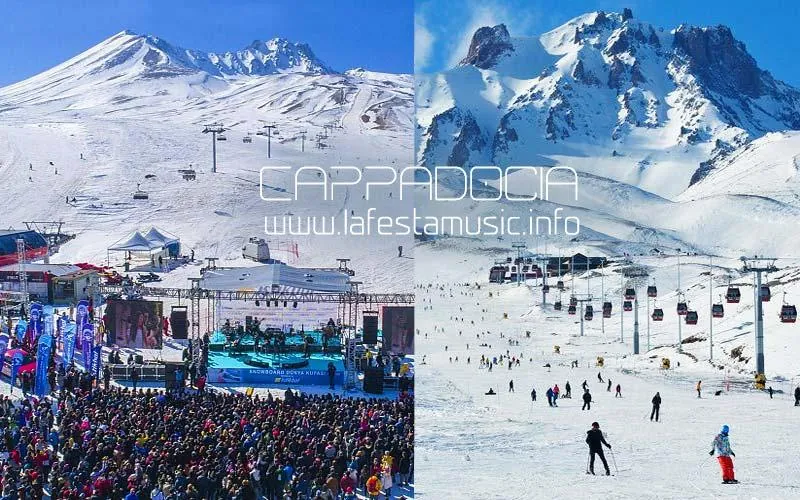 5. Thinking through the style of a wedding in Cappadocia, you can choose and use 1 of 3 main ways: 1) authentic local style both in clothes and in the decor of your event (a lot of carpets, wedding suits with traditional embroidery, etc.); 2) classic wedding style; 3) ultra-bright colors and futuristic design that will create a contrast with the ancient landscape. Your chosen style can be followed in wedding invitations, banquet menus, location decor, and dress codes for guests.
6. Try to inform all guests about the upcoming event in Turkey in advance (preferably half a year). For coordination and timely reporting of the necessary information (about transfer, accommodation, celebration program), add all guests to a special chat in one of the messengers.
Show of charming singer in 3D dress Order a projection & mapping show in the style of your Cappadocia`s event/wedding.
7. If you have trusted Turkish wedding agencies (or some who have already worked in Cappadocia), organize the rental of equipment (light, sound, decor) with their help. If the level of your meeting is higher than decorating with balloons and music from laptop speakers, then it is difficult to do a wedding without local contractors. Ask the wedding planner to draw up the contract with an estimate of the rental equipment (including delivery, technicians, and other expenses) so that you can see the final cost.
8. If more than 100 guests are invited to your wedding/corporate party in Cappadocia, then it is unlikely that you will be able to accommodate them in one hotel. Most local hotels can accommodate only 20-50 people. But if the event is for less than 50 guests, then accommodating everyone in one hotel will simplify the gathering and coordination during the event.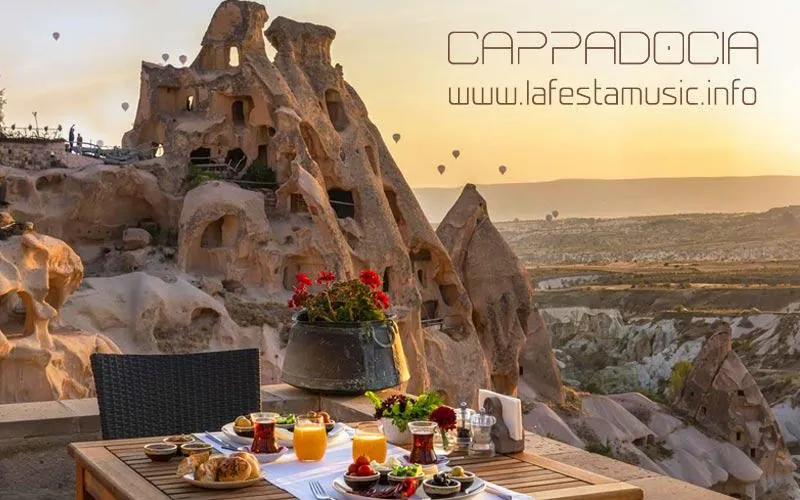 9. For a big event and indoor wedding, you can use the hall of the "Crowne Plaza Cappadocia" hotel in Nevsehir city (20 km from "Goreme National Park"). Although this hotel does not have an authentic Cappadocian style, but the large hall (1650 m2) can accommodate any format of conference, banquet, or gala dinner.
10. When organizing an activity or quest in the Cappadocia National Park, you make sure that each team is accompanied by a guide who knows the area. The territory of the park is very vast with many caves and tunnels, there is a risk that some of the guests may get lost.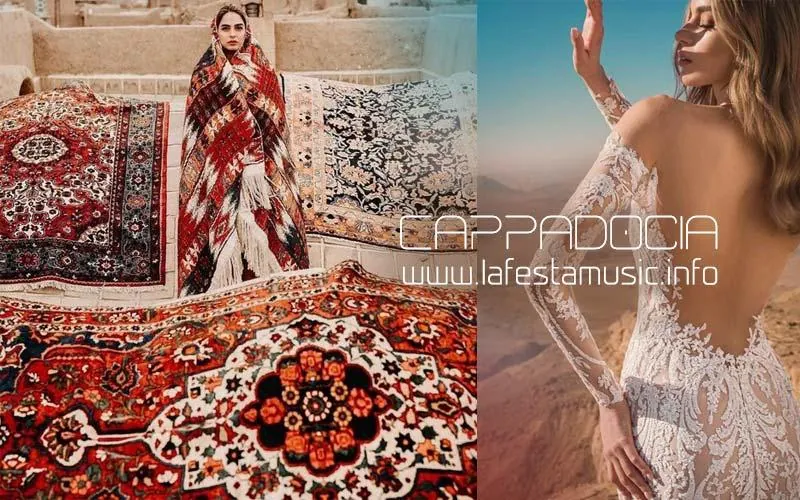 11. There are not many places in Turkey where guests of your wedding/party can buy a unique non-Chinese souvenir. Cappadocia is one of them. Avanos town can be considered the capital of ceramics, which has many workshops of handicrafts and amazing pottery. At the end of summer, the "Avanos Tourism and Handicraft Festival" is held here. Also, this city is the world's only underground museum of ceramics (Guray Museum).
There are authentic carpet shops in the vicinity of Göreme ("Galerie İkman" is the most memorable of them). Some shops have weaving workshops where you can watch carpet weaving work.
12. Any planning and organization of a wedding at a distance cannot foresee all the difficulties and nuances that may arise at the location. Therefore, it is best that you or your trusted person fly to Cappadocia a few days before the wedding event and make sure that all preparations are going accordingly.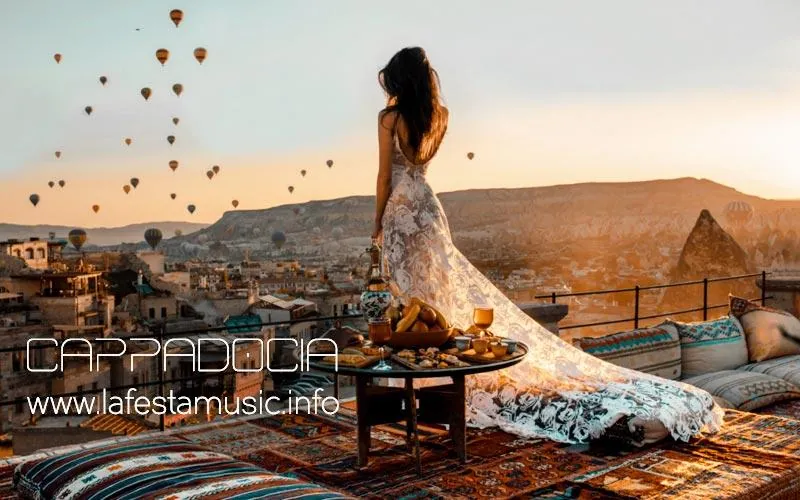 Hot air balloon wedding
The main highlight of Cappadocia is the opportunity to take off into the sky and fly over the picturesque landscapes in a hot air balloon. A particularly breathtaking sight in July during the "Balloon Fest Cappadocia", when the sky is filled with two hundred balloons. This image with many balloons over the stone pillars of Cappadocia is one of the world's top 10 popular travel and Instagram photos.
The balloon can be rented for two people (for example, to make a marriage proposal), and for a small event or a wedding ceremony in the sky for 32 people (this is the maximum number of people that can fit in a large air balloon basket). The cost of an hour-long flight varies from $140 to $250 (per person) and depends on the level of comfort, the organizing company, and the date. If we are talking about renting a balloon only for young marrieds, then the price will be from $1500.
You can rent an air balloon directly on the website of one of the companies (www.voyagerballoons.com and www.kapadokyaballoons.com/en), at a travel agency, or any hotel in Cappadocia.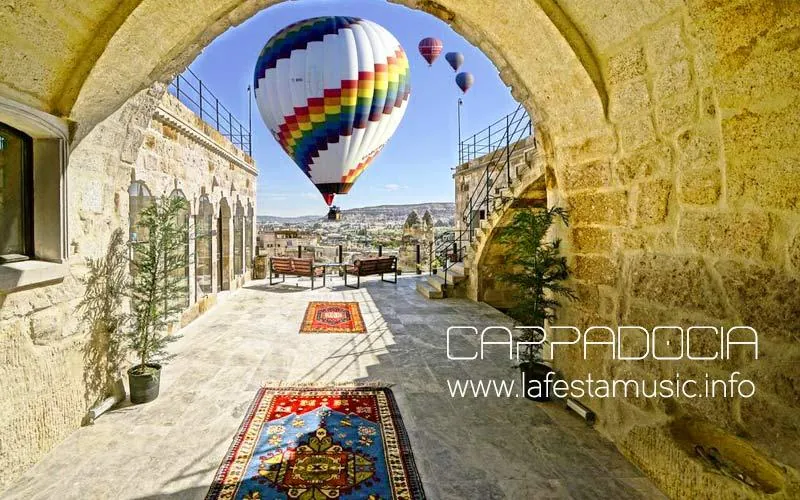 Hot air balloon flights are held all year round, but they may be canceled due to bad weather (strong wind, fog, thunderstorms). Therefore, have a few spare days when planning the wedding or event meeting in Cappadocia. Also, if you want to choose the balloon you like, book the flight in advance (preferably a few months before the date of the event).
The air balloon basket is divided into zones so that people are evenly located in it for a safe flight. Therefore, the free migration of guests inside the basket is not possible. The hot air balloon can fly out to 1 kilometer, but in practice, all flights are carried out no higher than 500 meters, because all the most beautiful angles are visible when lifting 20-300 meters from the ground.
As a rule, the flight is carried out before sunrise in order to have time to meet the sun in the air. And this means that in the summer you will have to wake up at 3 am and at 4 am be present at the gathering place for a pre-flight briefing. If you have rented a hot air balloon exclusively for your event, then it is also possible to start in the afternoon. But to make a photoshoot during sunrise or sunset is still much more preferable. With proper organization, the hot air balloon wedding/event in Cappadocia can be the most romantic memory of your life.
LAFESTA music band Performances of LAFESTA band at wedding parties, corporate meetings, gala events. Watch this video on Vimeo
The best Cappadocia hotels for a wedding
There are hundreds of fabulous hotels in Cappadocia and some of them have "Best Boutique Hotel in Turkey", "Best Luxury Hotel in Europe", and "Best Historical Hotel in Turkey" awards. We have selected 9 of the best hotels that perfectly convey the atmosphere of rock settlements with comfortable cave-style rooms, authentic furniture, and view terraces. These are ideal locations for celebrating a wedding or corporate party.
Hotels are listed in ascending order of price:
"Local Cave House" is a hotel carved right into the rock in the center of Goreme and is surrounded by picturesque stone pillars. The hotel has an outdoor swimming pool with panoramic views.
"Traveller's Cave Hotel" sits on the top of the flat mountain that is used as a huge outdoor hotel terrace overlooking Goreme. The rooms are carved into the rock.
"Kelebek Special Cave Hotel" is a cave hotel in Goreme village with a traditional Turkish bath and an outdoor pool. The best rooms have fireplaces and balconies with picturesque views of Uchisar Castle.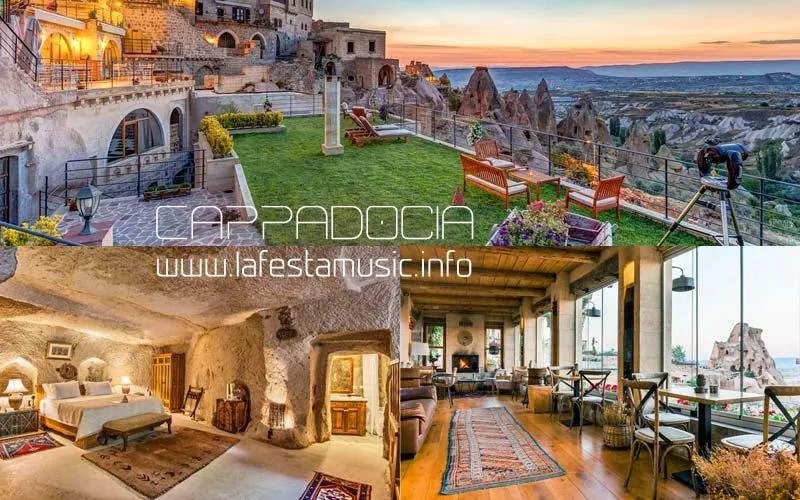 "Taskonaklar Hotel" has several cascading terraces overlooking the "Pigeons Valley" and can be used for organizing a wedding ceremony, a cocktail party, and other events. Suites with view terraces are furnished with antique furniture and handmade décor.
"Yunak Evleri" is a unique hotel in a 19th-century mansion and 5th-century caves, reminiscent of a cozy rocky settlement. On its territory, there is the library and the outdoor pool, which overlooks Ugryup village. If you decide to rent this hotel for a wedding, then the celebration will take place in the atmosphere of your own ancient settlement on the rocks of Cappadocia.
"The Sacred House" received the "Best Boutique Hotel Restoration and Design Award" and is housed in a 250-year-old Greek mansion. The interior design combines the rocky fragments of Cappadocia, the style of the castle, and the luxurious European villa.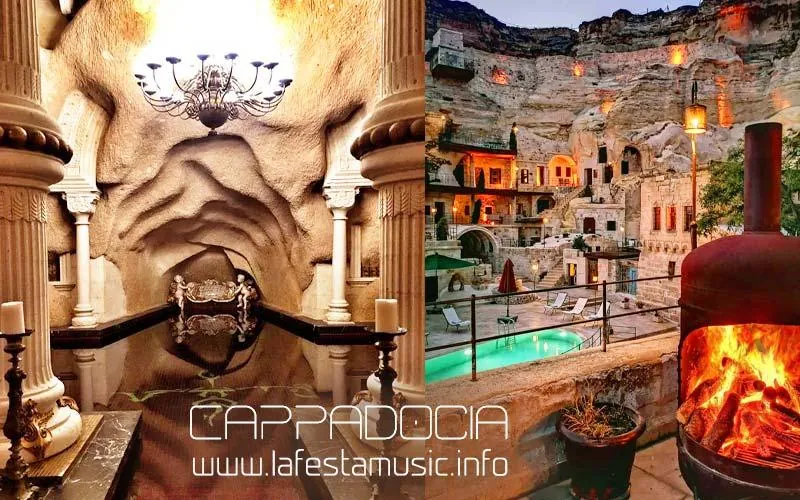 "Argos Hotel" is located on the territory of the ancient rock monastery in the center of Uchisar village. The hotel has one of the most picturesque terraces overlooking "Pigeon Valley" and offers a wide selection of wines from its own winery.
"Museum Hotel Cappadocia" is the only hotel in Turkey that has become a member of the prestigious international hotel association "Relais & Chateaux". The superb cave rooms are decorated with antique furniture and authentic items, making you feel like you are living in a real museum. The panoramic terrace has a year-round heated outdoor pool, and the hotel's garden grows fruits for guests` table.
"Gamirasu Cave Cappadocia" luxury cave hotel in Ayvali village. Almost all of the hotel's 20 rooms have chic furniture, original lighting, and are completely located in the caves of the Byzantine monks. This is the specialty of this hotel.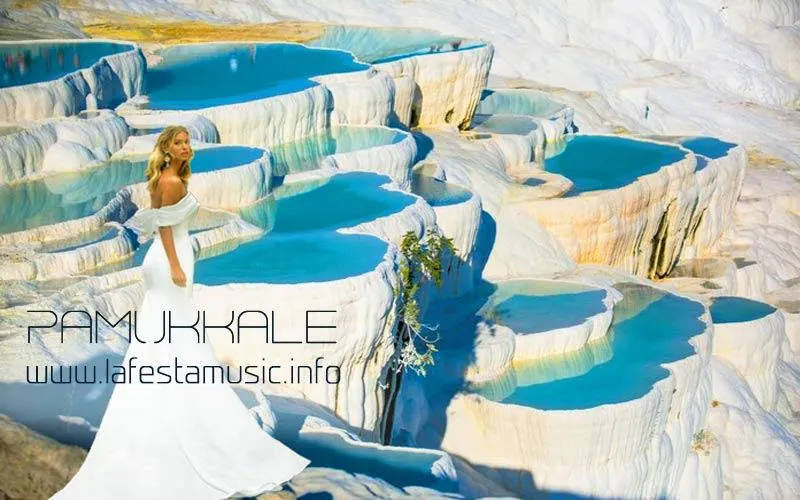 Wedding in Pamukkale and Hierapolis
There are only a few places in the world that can complement a bride's dress with a snow-white tint. This is the futuristic city of "Science and Art" in Valencia, the architecture of the Greek island of Santorini and Pamukkale, located in southwestern Turkey.
This ancient thermal spa has become a UNESCO World Heritage Site for its amazing landscape of cascading white terraced baths. From a distance, the two-hundred-meter hill resembles a giant snow-white iceberg or a mountain of cotton, which is why it got its name "cotton fortress" (in Turkish: "Pamukkale").
This shade is achieved due to the constantly flowing calcium thermal springs, which form amazing white stalactites. The water temperature is around +35 C all year round.
If you are planning to organize a wedding in Pamukkale, then the easiest way to get to this location is from the resort towns of the Aegean coast (205 km from Marmaris). The trip by bus will last 4 hours, and by car 2.5 hours. If you are flying to Turkey from another country, then the nearest international airport is in Izmir (220 km to Pamukkale). Also, you can transfer to domestic flights to the city of Denizli (60 km from Pamukkale) from Istanbul, Izmir and Antalya.
A wedding photo session is best done in the first 30 minutes after opening (from 6:30 am) or before closing (until 19:00) as this attraction attracts crowds of tourists who narrow down the choice of suitable angles.
It is only allowed to walk on white travertines barefoot (so as not to destroy the fragile rock), so the best period to visit Pamukkale is the warm months from March to October. But in the hot summer months, travertines can get very hot and it becomes uncomfortable to walk on them barefoot.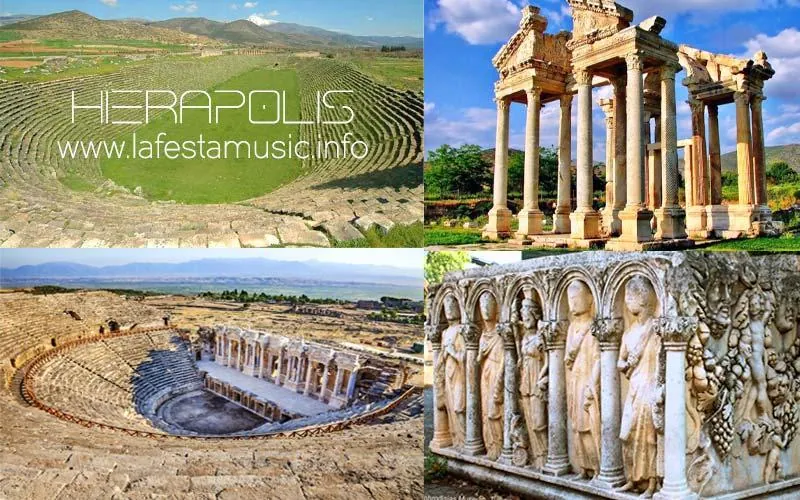 Near Pamukkale is the ancient city of Hierapolis, which was built in the II century BC. rulers of the kingdom of Pergamon. During Roman times, the city became a thermal spa and included many baths, temples and other monuments. The amphitheater, which can accommodate 15,000 spectators, looks good even now. This is another great location for a wedding photo shoot and event guests.
In the 7th century, Hierapolis was seriously damaged by an earthquake. But this incident served to create a new attraction. At the site of the Roman baths, the earth sank several meters and filled this place with water from thermal springs. Now it is a unique open-air pool, at the bottom of which lie ancient columns and fragments of an ancient temple. Over time, this unusual location created a legend that the Egyptian queen Cleopatra swam here, after whom he received the name "Cleopatra's pool".
Warm underground sources do not allow the temperature in the pool to fall below +35 C even in winter. Therefore, the bathing entrance is open all year round from 08:00 to 19:00 (from April to October) or until 17:30 (from November to March). But due to the fact that there are a lot of tourists in the pool all the time, a beautiful wedding photo session is almost unreal.
Pamukkale and ancient Hierapolis belong to the "Archaeological Complex of Hierapolis". The cost of a ticket to this territory costs about $ 10. Gathered in one place, such a variety of attractions are worthy of diversifying your wedding experience or organizing a day trip for your party guests.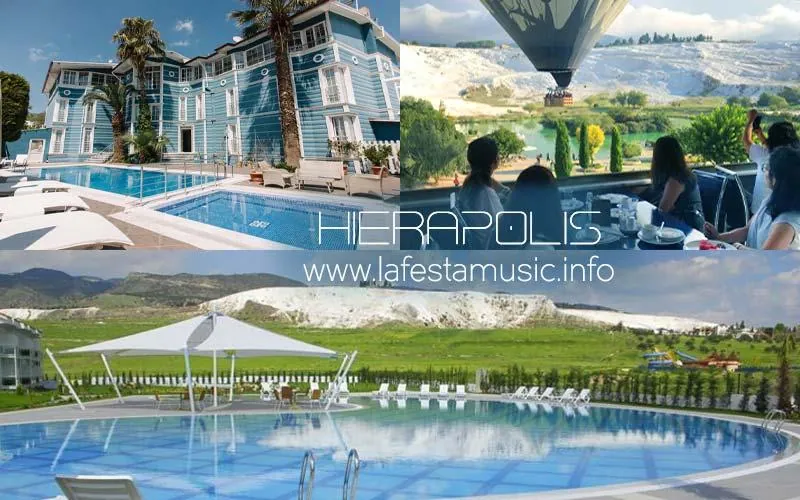 Best wedding hotels in Pamukkale
The choice of comfortable hotels in the vicinity of Pamukkale is too narrow (mostly unremarkable 4 * or private apartments). However, there are 7 options suitable for a honeymoon trip. We have placed them in order of proximity to the main attraction.
"Sahin Hotel" - this modest-looking hotel is so close to Pamukkale that from its territory you touch the snow-white terraces. The hotel does not look sophisticated, but the view from the balconies of the rooms and the restaurant makes up for everything. Also, the hotel has a nice outdoor swimming pool.
"Hal-Tur Hotel" is a mini-hotel, which is also located close to Pamukkale and has a panoramic view of the travertine terraces.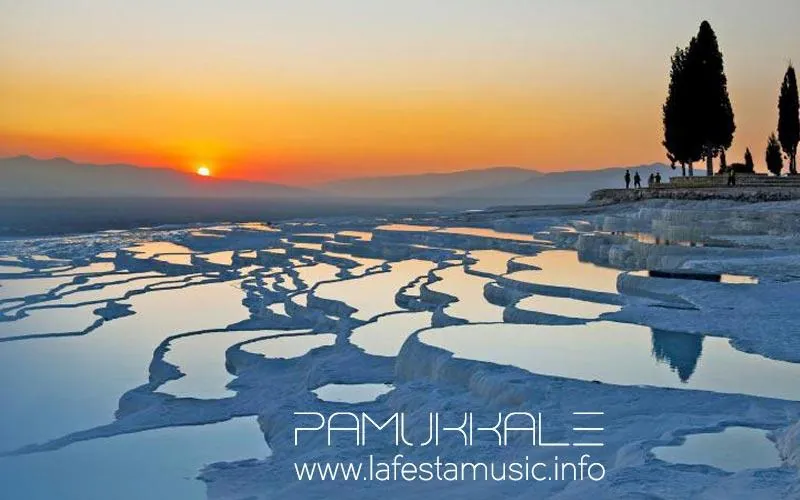 "Tripolis Hotel" is a 4* hotel that is located in the middle of picturesque limestone terraces and has an indoor pool and a thermal pool overlooking Pamukkale.
"Venus Suite Hotel" has quite comfortable rooms, a garden, a terrace and an outdoor pool. The hotel is a 5-minute walk from Pamukkale and Hierapolis.
"Pamukkale Melrose Viewpoint Suites" is a cozy hotel located a 10-minute walk from the travertine terraces. It has an outdoor swimming pool and a small garden.
"Hierapark Thermal" is a comfortable 4* spa hotel with an outdoor thermal pool. The main disadvantage is the distance of 4 km from Pamukkale.
"Doğa Thermal Health" is the only 5* hotel on our list and probably the best option for a big wedding or corporate party in Pamukkale. This spa hotel is located in the Karahayıt (Denizli) thermal resort and has an outdoor thermal pool with a water temperature of +43 C, a cold water pool and a large indoor pool.
© Ihor Kuksenko www.lafestamusic.info