LAFESTA music project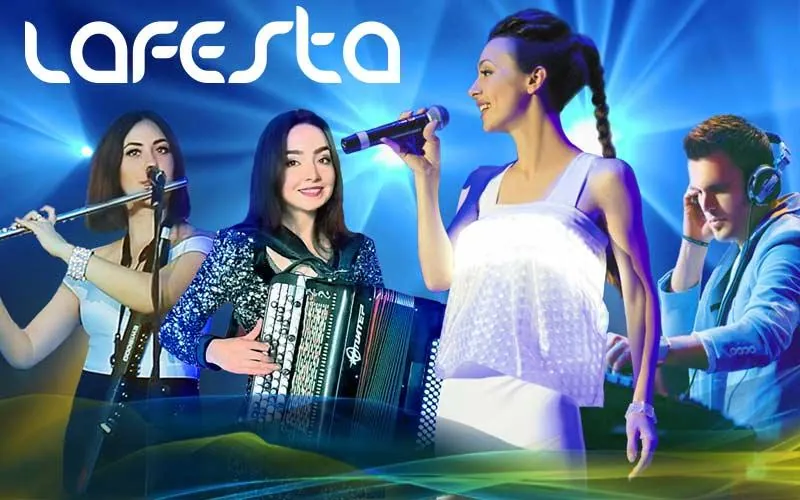 This is one of the most stylish music bands from Ukraine (now live in Switzerland), that created of own shows: laser harp and 3D dress. During 12 years of professional concert activity (working in 4 different formats) LAFESTA has been performed at more than 1430 corporate parties, presentations, weddings in 17 countries.
The LAFESTA music project is composed of 3-4 persons: charming singer, DJ with electro-percussion and female flautist, or accordionist, or saxophonist. Also, the band often performs with the accompaniment of their mini-orchestra (9-20 musicians).
Short videos from performances at different events (fashion show, corporate party, anniversary, etc.) Watch it in Vimeo
Advantages of choosing LAFESTA music project: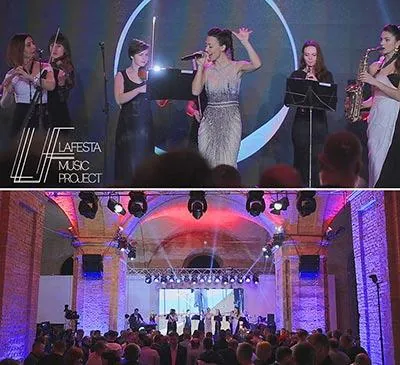 4 diverse concert programs that can be ordered either separately or mixed depending on the format of your event;
The soloist of LAFESTA (Olga Rossi), has a rare talent - she professionally sings in three different manners: opera, pop and folk vocals. In addition to this, she can perform in unique luminous costumes, which will make your event more vivid and memorable
Minimal rider. Since the band brings to the concerts their equipment (a mixing console, microphones, musical instruments, DJ equipment), and LAFESTA's DJ is a sound engineer - this will significantly save the cost of providing a technical rider.
The small composition of the LAFESTA (3 people) is ideal for locations with a small stage or limited space. As well, for large scenes, we can increase the composition of the band or add own mini-orchestra.
LAFESTA has own original shows: laser harp and 3D dress. Therefore, if you need at your event the performances of additional bright shows, there is a possibility to lower the expenses (for a rider, a fee, makeup rooms, and transfer) by ordering the laser harp show and the 3D dress show. Because the line-up of our shows is the same: the soloist Olha Rossi and 2-3 people. This is especially convenient for organizing events and weddings in other cities/countries: only 3-4 air tickets and one rider to provide a full-fledged concert program for the whole evening.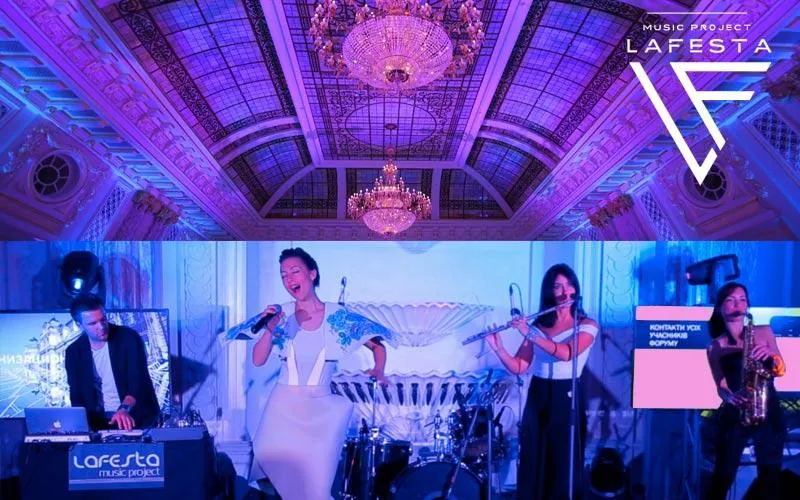 CONCERT PROGRAMS
LAFESTA band has 4 music programs with different duration for ideal embedding at your event (30 minutes, 45 minutes, 2 sets of 30 minutes, 2 sets of 45 minutes, and 3 sets of 30 minutes). What is more, it is possible to mix up the songs from different programs in one performance. You may look at our promo videos, the descriptions of all current concert programs and the playlist.
1. Cocktail music: lounge, jazz, deep (90 minutes). This concert program with stylish remixes of world hits suits ideally for the welcome zone at a corporate party or wedding, the musical accompaniment of banquets, presentations, pool parties and coffee breaks at business conferences. If necessary, the selection of songs can be in the atmospheric jazz lounge format (when the soft sound of music is very comfortable for communication), or a more drive format (when guests can dance with a glass in their hands). Also, LAFESTA can perform 30-45 minutes accompanied by their lounge-orchestra (from 9 to 20 musicians) with the authorial cocktail music program.
2. Dance & club music (45 minutes). Includes stylish remixes of modern hits and songs of the 80s, 90s, 2000s.
Dance and club remixes of world hits. Performance of LAFESTA in the nightclub, at gala dinner, and golf party.
3. Space & modern opera (45 minutes). It is the unique authorial music program combining the glorious opera voice of LAFESTA soloist, stylish, music, a luminous dress and original video content for the screen.
Short 6 promo-videos from LAFESTA's performances with the «Electro & Lounge Opera» program at gala dinner, TV-show, anniversary and presentation. Style: modern opera, lounge opera, pop opera, space opera, classical crossover.
4. Ukrainian folk (30 minutes). It's new and modern sounding of the famous Ukrainian songs. This music suits ideally for all events where is necessary to demonstrate Ukrainian culture (presentations of Ukrainian brands and goods, international gala dinners and any meetings attended by connoisseurs of Ukrainian culture).
The promo-video of the stylish remixes of 4 Ukrainian folk songs:
Since its creation, LAFESTA music project and its laser harp and 3D dress shows have performed at such significant events as Pierre Cardin and Gianfranco Ferre fashion shows; the wedding of the son of Ras al-Khaimah's Sheikh (UAE); the UEFA VIP zone at EURO 2012; awarding ceremonies: "TOP-100 of the best companies", "Man of the Year 2017" and "Woman of the Year 2019", "Heroes of the Sports Year", "CHIP awards", "Life Styles" and "Energy Excellence Awards"; the gala dinner at the Royal Palace of Bucharest (Romania); the presentation of new car models: Bentley, Jaguar, Infiniti, Lexus, BMW, Audi; the opening of the new factory of French industrial company "Lafarge"; anniversaries and presentations of such five-star hotels as: Marriott, Amara Dolce Vita Luxury, Four Points by Sheraton, Hyatt Regency, InterContinental, Porto Mare, Premier Palace, Rixos, Radisson SAS; Award ceremony for Italian designers at the House of Architecture (Rome, Italy); gala-dinners and evening parties of such famous companies as: Apple, Chanel, Google, L'oreal, Coca-Cola, Armani, Pioneer, Davidoff, Sony, Canon, Visa, Nokia , Siemens, Bosh, Shell, Bacardi, and many other iconic events and presentations.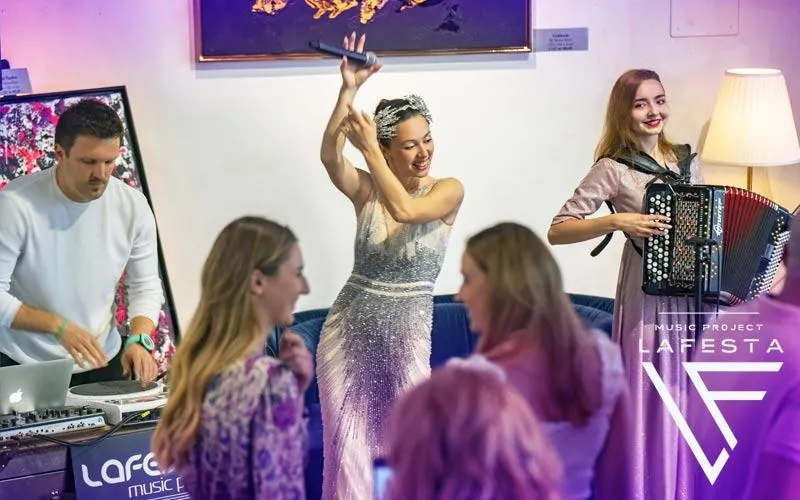 The face and enchanting voice of the LAFESTA music project is the charming soloist - Olga Rossi. In December 2019, Olha was awarded the "III Millennium Woman Award" for her contribution to the development of contemporary music and art. Olga has a higher academic vocal education of the Kyiv Conservatory (National Music Academy of Ukraine) and she performed leading roles in famous opera performances, such as "Bohemia", "Iolanta", "Carmen", "The Marriage of Figaro", etc. Olga is a laureate of 6 singing competitions and a winner of the "International Competition of Youth Song" in Kielce (Poland, 2001). She was chosen to sing a duet with the soloist of the legendary "Bonny M" (Sheyla Bonnick) at the final gala concert.
According to the music magazine "Djam", LAFESTA is one of the most stylish and popular music projects in Eastern Europe, which first started filming all its own videos abroad (in Barcelona, London, Valencia). LAFESTA's original songs have been used as soundtracks for "HD Fashion TV", "Madrid Fashion Week", "Secular Life" and others.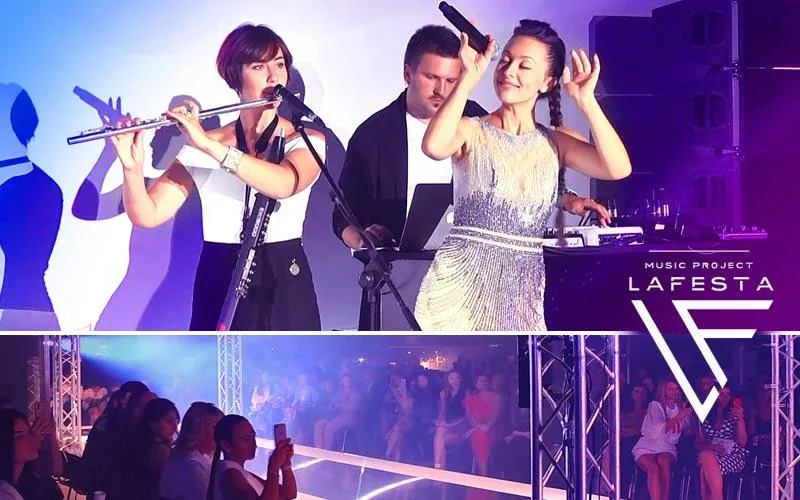 Special requirements
The technical requirements of LAFESTA: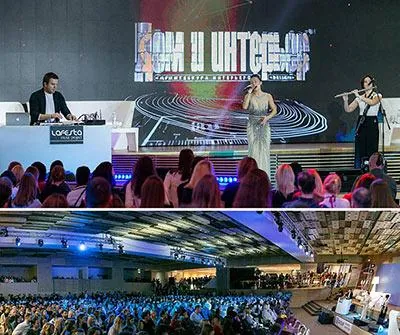 Sound system (speakers) should depend on the size of the location but no less than 2 kW per every 100 people.
1 or 2 floor sound monitors (for small stages: 8-15 square meters). Bigger stages require 3 sound monitors.
DJ-place on the stage for the placement of our DJ's equipment. It can be a decorated table or a rack stand, but not a keyboard stand. Size: height 90-110 cm.; surface 50 cm/120 cm.
Power supply: a power extender with 6 sockets (~220 V) should be placed near the DJ-place.
Wires: 2 stereo XLR or Jack-Jack (connected to our mixer on DJ-place) + 2 wires XLR and 1 Jack-Jack wire (8-10 meters length).
1 microphone stand.
The temperature on the stage must be more than +18 C. The stage should be protected from moisture and rain. During hot day the DJ-place should be protected from beams of sunlight.
Strangers (guests or an audience) should not be present on the stage during the performance.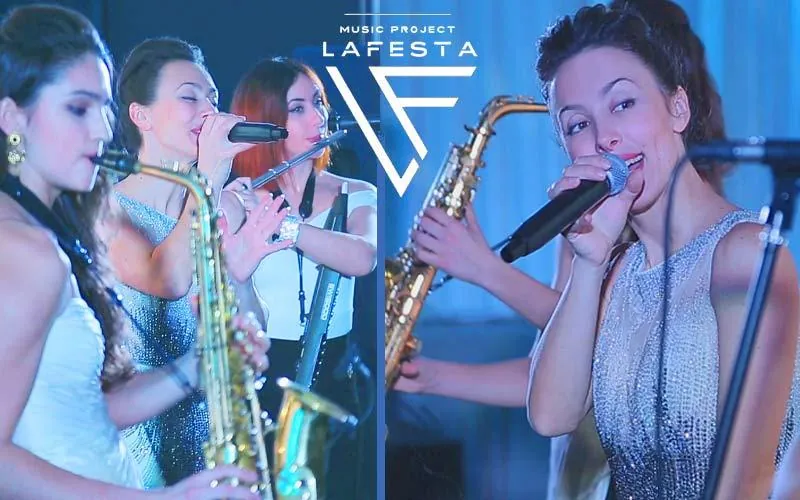 Hospitality rider (requirements) for Zurich and vicinity
A separate comfortable make-up room with 4 chairs/armchairs, a table, and a mirror.
Still water, tea/coffee and snacks in the make-up room. If LAFESTA stays at the location for more than 3 hours, then we need a hot meal for 3 adults.
Hospitality rider (requirements) for tours:
Payment for the trip from Zurich: by own car (payment for petrol and parking); by bus/train (3 tickets + 1 luggage); by plane (3 economy class tickets with 2 luggage).
Transfer from the airport/railway station to the hotel and to the concert venue in a comfortable car with an empty trunk.
Accommodation (1 triple room or 1 single + 1 double) in a 4*-5* hotel in European countries or in a 5* hotel in Asia, Africa and Arab countries.
3 times daily hot meals per person (menu and timing to be discussed) or daily allowance - 65 € per person per day.
A separate comfortable make-up room with 4 chairs/armchairs, a table, and a mirror. Still water, tea/coffee, and snacks should be present in our make-up room.
Additional requirements for LAFESTA`s orchestra:
1,5 м² placed on stage or the spot of the location of the orchestra is needed for every musician.
3 floor monitors.
1 chair for cellist (not bar chair).
5 stands for microphones and 5 instrument microphones which XLR wires (10 meters in length).
A make-up room should be no less than 15 м² along with chairs for every musician. Water, tea, coffee, and cold appetizers should be also present.
All trips less than 700 km from Kyiv are carried out by bus or train (compartments according to the number of orchestra musicians + 2 free places). Trips more than 700 km are carried out by plane (+ 1 air ticket for cello).
Transfer from the airport/railway station to the hotel and to the concert venue in a bus with an empty trunk.
Accommodation in 3* or 4* hotel.
Providing 3 times daily hot meals or daily allowance 50 € per person per day.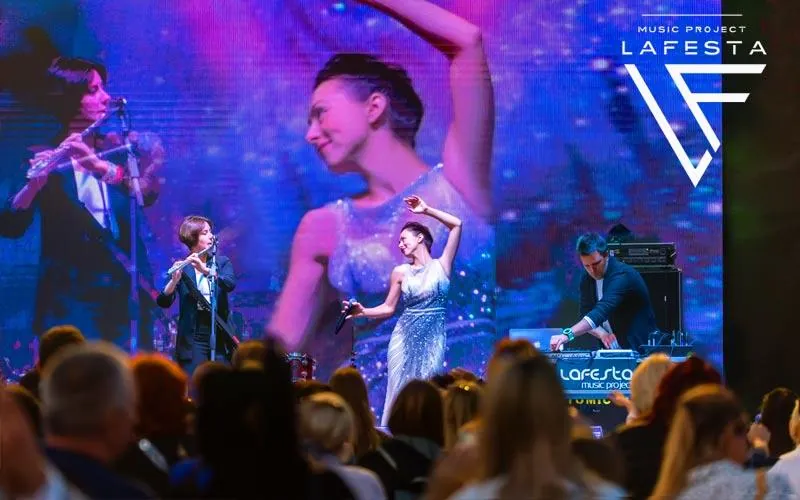 Photos of performances of LAFESTA band at various corporate parties, parties, weddings