Wedding and corporate party in Antalya. Event & wedding organization: Belek, Antalya and Alanya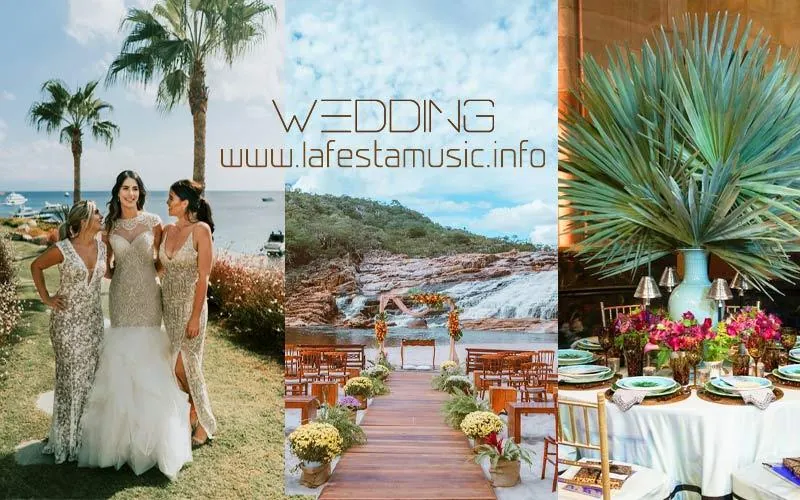 In this article, we have combined 3 resort towns on the Mediterranean coast of Turkey at once, which are ideal for celebrating a chamber wedding and for large-scale events (gala dinner, company anniversary, conference). In Antalya, Belek, and Alanya, there is a huge selection of hotels, the best of which are open in winter. This will allow organizing a New Year's corporate party or a wedding ceremony also after the tourist season. If we add to this fact the "all inclusive" system, many ancient sights, thousands of pretty beaches, and a pleasant subtropical climate, then the Turkish Riviera will be the perfect choice to combine a wedding with a honeymoon and a business event with excursions and comfortable rest.
If you are considering other Turkish locations for the event, we have described them in detail in other articles: Wedding in Cappadocia and Pamukkale, "Organization of a corporate party in Istanbul", "Event in Bodrum and Marmaris", "Unique Turkish hotels" and Wedding & event in Turkey.
To select unique artists and shows for the style of your event/wedding, you can follow the links: singer in 3D dress, laser harp show, stylish music band or other projects in the "Artists" section.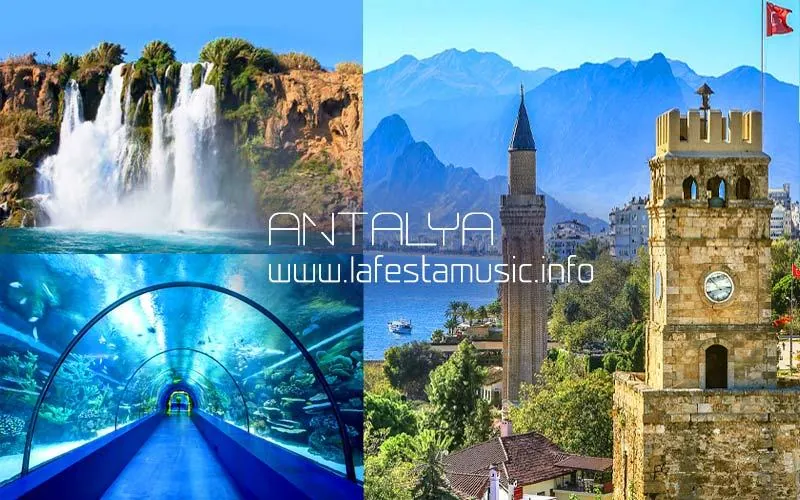 Wedding in Antalya (main locations for events, corporate parties, and weddings)
Antalya is the largest tourist resort in Turkey, in the vicinity of which there is an extensive selection of comfortable hotels and a full range of contractors for a wedding party or corporate meeting (musicians, shows, wedding coordinators, decorators, etc.). This will give you some flexibility depending on your budget and theme.
Below are the main attractions of Antalya, which can be suitable locations when planning a wedding photo shoot or leisure time for guests of your event.
Kaleici (translated from Turkish as "inside the fortress") is the old part of the city, which is located in the center of Antalya between the ancient fortifications and the coast (hence the name). This area touches with its narrow authentic streets and houses in the Ottoman style. There are enough cozy hotels and restaurants that can be rented for celebrating private events and parties. Adrian's Gate is a hallmark of Kaleiçi and a magnet for wedding photo shoots. This triumphal arch was built during the Roman Empire in 130 AD.
Oceanarium (Antalya Aquarium) is one of the most famous aquarium complexes in the world. It has 40 beautifully decorated themed aquariums. But the main highlight of the aquarium is the world's longest aquarium tunnel (131 meters), which newlyweds can use for an original photo session.
Waterfalls. Not every city can boast that there is a waterfall on its territory, but Antalya has 3. Each waterfall is beautiful in its own way: Lower Duden, Upper Duden, and Kursunlu.
The old port of Antalya (2nd century BC) is located between the fortress and beautiful steep cliffs, which adds beauty to an already beautiful yacht pier. The main port of Antalya is now located 12 km to the west (Konyaaltı region), so setting off to celebrate a wedding or corporate party on a ship from the old port is much more picturesque and calmer.
Cable car to Tunektepe mountain where you can see the panorama of the whole Antalya.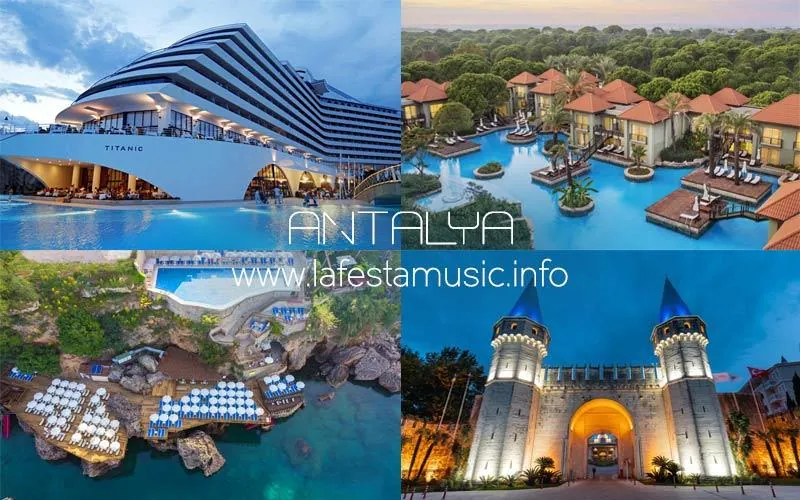 The best Antalya hotels for weddings and corporate events:
"Ramada Plaza Antalya" (moderately priced) is located 700 meters from the historical area of "Kaleiçi" on the coast of Antalya. Although the hotel does not have its own beach, the lounge area and the restaurant have a picturesque terrace right above the boulders of rocks, from which a descent to the sea is equipped. This place will decorate any wedding ceremony or banquet in Antalya.
"Fame Residence Lara & Spa" (moderate price). The main advantage of this spa hotel: is a large area with aqua zones and a private Blue Flag beach.
Delphin Palace (moderately priced) has an eye-catching design and a large lagoon pool. Pros: each room has an open balcony.
"Swandor Hotels Resorts Topkapi Palace" (moderate price). The design of the hotel looks like a town behind a fortress wall, and in the evenings live performances take place on a large stage. All rooms were renovated in April 2019.
"Titanic Beach Lara" (moderately high cost). The hotel is built in the form of a cruise liner, which is ideal for celebrating wedding parties and corporate parties in Antalya in a marine theme. The hotel has large outdoor and indoor swimming pools.
Mix of LAFESTA`s performances at various events
"Delphin Imperial Lara" (moderately priced) is a spacious 800-room hotel with a wide sandy beach and 9 different restaurants.
"Asteria Kremlin Palace" (moderately high cost). This hotel stylized the design of the architecture of Red Square in Moscow. If the style of your event is focused on the Russian atmosphere, then this is the best place in Antalya.
"Titanic Mardan Palace" (high value) has one of the largest outdoor pools in Europe, which has areas with fountains and an aquarium. Also, the hotel has an artificial reef, which creates ideal conditions for both underwater snorkeling and the original underwater wedding ceremony.
"Lara Barut Collection" (high cost). A beautiful area, reminiscent of a tropical resort due to the abundance of palm trees and a huge pool of warm seawater.
"IC Hotels Residence" (high cost). A huge grounds with a 4000 m2 outdoor pool and villas immersed in exotic trees make this luxurious hotel a real oasis.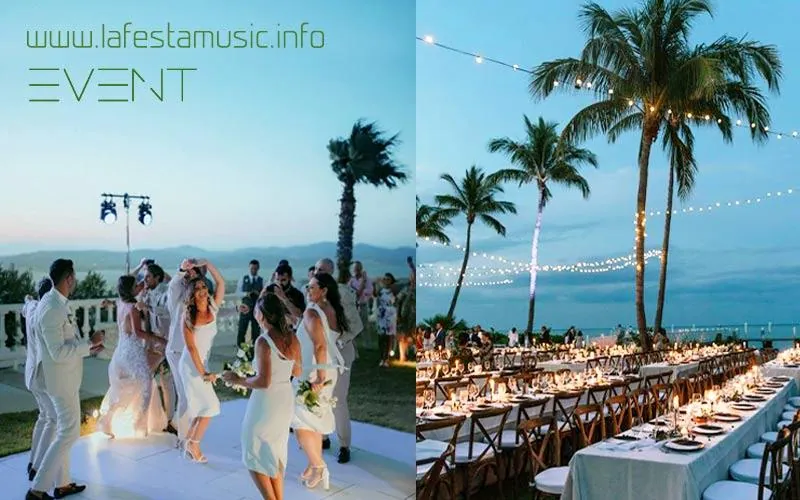 Wedding in Kemer (the best hotels for organizing weddings and corporate parties)
40 km west of Antalya (surrounded by pine forests and the Taurus Mountains) is a cozy resort town of Kemer. This area is famous for its calm, picturesque pebble beaches among the rocks, which are ideal for a beautiful wedding ceremony. The main attractions of Kemer are Ataturk Boulevard with a snow-white clock tower and the cableway to the top of Mount Tahtali (2365 m), which offers a panorama of the Lycian region.
9 km from Kemer is the stunning Göynük Canyon, which surprises with its multi-colored rocks up to 350 meters high, beautiful grottoes, and turquoise water. The first part of the walking route can be passed by walking, and the other (the most beautiful) only by boat.
If you want a place for celebrating a wedding or corporate party in Kemer to combine natural beauty, comfort, and service, then you should pay attention to the listed hotels: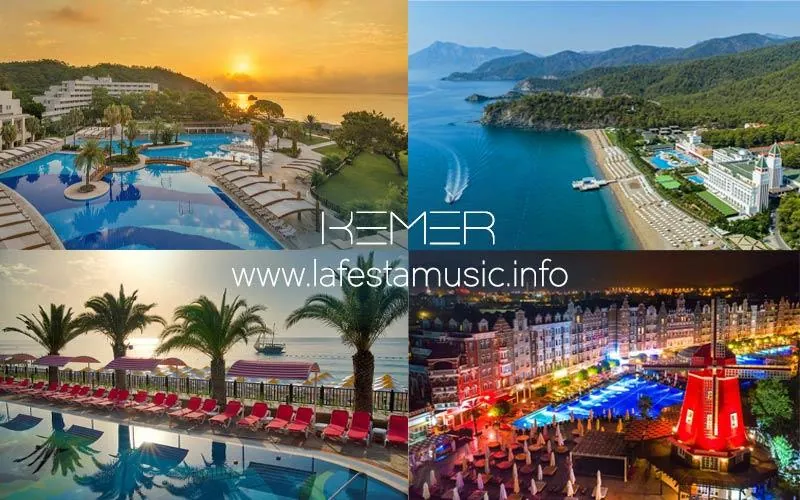 "Nirvana Dolce Vita" (formerly known as "Amara Dolce Vita") is one of the best hotels on the Turkish Riviera. It is located on a remote cozy beach in a coniferous forest near Tekirova village. Just behind the rock is the picturesque "Cleopatra Bay" (Kleopatra Koyu). The hotel has 6 swimming pools (including 1 with sea water) and an aqua park.
"Rixos Premium Tekirova" is a well-known Turkish hotel, which often organizes various conferences, presentations, and gala dinners. The hotel has comfortable halls (capacity from 20 to 600 people), and in the summer season every evening, there are music shows and concerts for all guests.
"Rixos Sungate" (Belbidi) stands out for its spacious territory and long beach (720 m). The hotel has 9 restaurants and several piers, which makes it a good choice for a wedding ceremony in Kemer or an open-air banquet.
"Pirate's Beach Club" is a family-type hotel located on the coast in a pine forest and has a vast area of 36,000 square meters.
"Orange County Resort" stands out for its design inspired by the brightly colored houses of Amsterdam. A large swimming pool has been built on the territory of the hotel in the form of a city water channel, through which walking bridges are thrown. The Dutch style is complemented by windmills and restaurant interiors with Flemish frescoes. This atmosphere is ideal for a corporate party or an event in Western European style.
"Robinson Club Camyuva" (Cirali) has a huge area (100.000 m2) and focuses on sports activities (especially: surfing, water skiing, and sailing).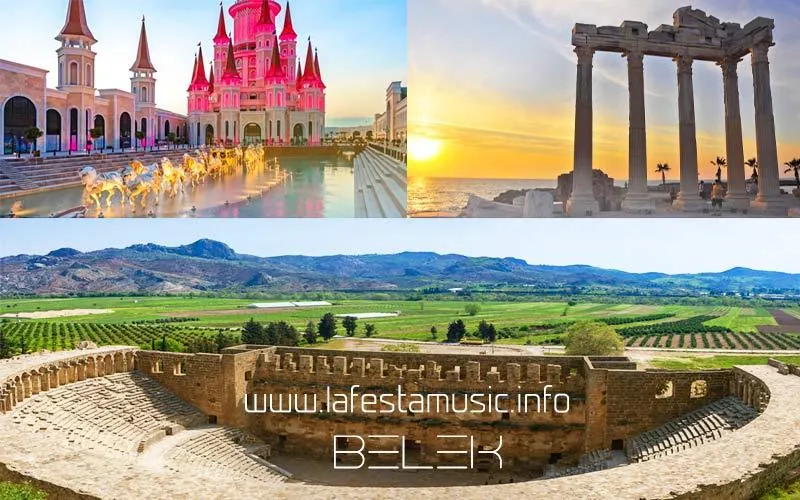 Wedding in Belek and Side (the best locations for weddings and corporate parties)
Belek is one of the golf capitals of the world, where there are 15 well-equipped golf courses (among which the fields are: Gloria, National, Nobilis, Tat). Almost all fields belong to comfortable five-star hotels. Therefore, if the guests of your wedding would like to participate in a mini-tournament or the style of the event may refer to golf, Belek will be an ideal choice.
Another feature of Belek is the huge amusement park "The Land of Legends", which is called the "Turkish Disneyland". This location is especially beautiful for a wedding photo shoot in the evening. Entrance fee: $60 for adults and $48 for children.
Near Belek is the ancient resort town of Side, which was built in the 7th century BC. It is famous for the white marble columns of the temple of Apollo, which are especially beautiful at sunset.
However, the main beauty of this region is located 15 km from Belek and 35 km from Antalya. The ruins of the ancient city of Aspendos (founded in the 12th century BC) have preserved one of the three largest ancient amphitheaters in the world (seating 15,000 spectators), the longest Roman aqueduct in Turkey, and a medieval bridge. This location is worthy of allocating 1 day for the excursion of the guests of your wedding or business event.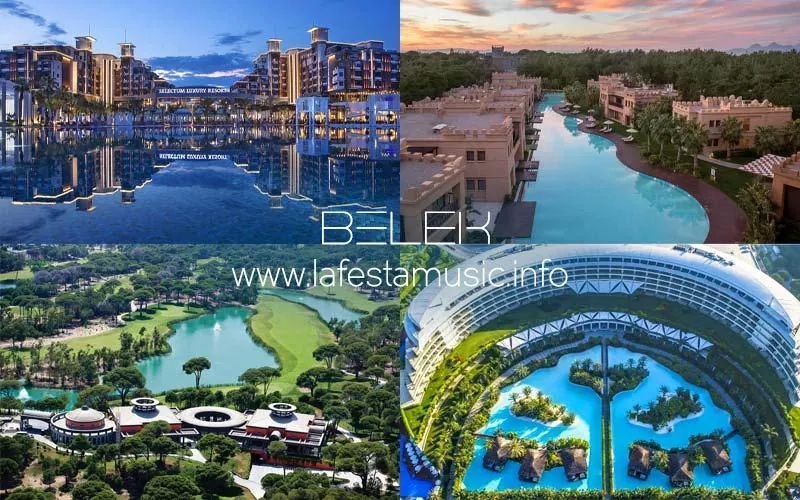 The best hotels in Belek for an event and a wedding:
Any of the hotels on our list are perfect not only for the wedding ceremony but also for continuing the rest during the entire honeymoon in Belek. We have ranked them in ascending order of value.
"Xanadu Resort Hotel" has an original design of the main pool, imitating the ruins of a Greek temple with columns. The path to the beach passes through the bridge over the river, which adds its own flavor.
"Kaya Palazzo Golf Resort". The hotel has large golf courses and comfortable swimming pools.
"Kempinski The Dome" hotel, built in the Seljuk style, has a cozy summer terrace for outdoor events.
"Cornelia De Luxe" is located in a pine forest and has a beautiful area in the style of a landscape park.
"Selectum Luxury Resort" has a wonderful beachfront restaurant with a stage, 12 tennis courts, and a large sandy beach.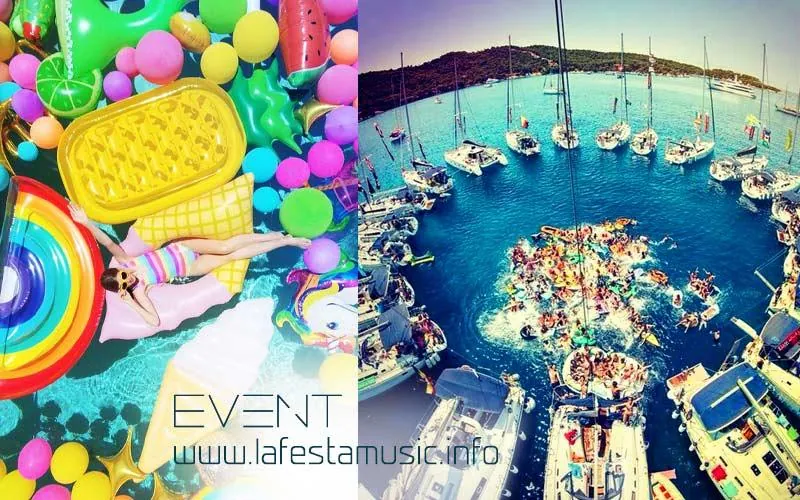 "Gloria Serenity Resort" has a comfortable infrastructure (except for a narrow pier) and an interesting concept of exit from the rooms to the pool.
"Rixos Premium Belek" entitles you to free admission to the huge "The Land Of Legends" theme park, with many attractions, a water park, and a beach with artificial rocks. Therefore, guests of your wedding or corporate event can make their leisure time in Belek exciting.
"Regnum Carya Golf" is one of the best hotels in Belek, which has a swimming pool, a river with artificial waves, and professional golf courses.
"Adam & Eve" is built in a minimalistic style and has 9 restaurants. The hotel works only for adults (+16), therefore, it is suitable for a business event (conference, presentation, awards ceremony).
"Maxx Royal Belek Golf Resort - Kids Concept". Perhaps this is the best option for organizing a children's birthday or a party for guests with children. The hotel has 7 beaches and its own golf course.
The best shows and musicians for a wedding in Antalya and Belek Fragments of performances of our shows at various events, weddings, and gala events.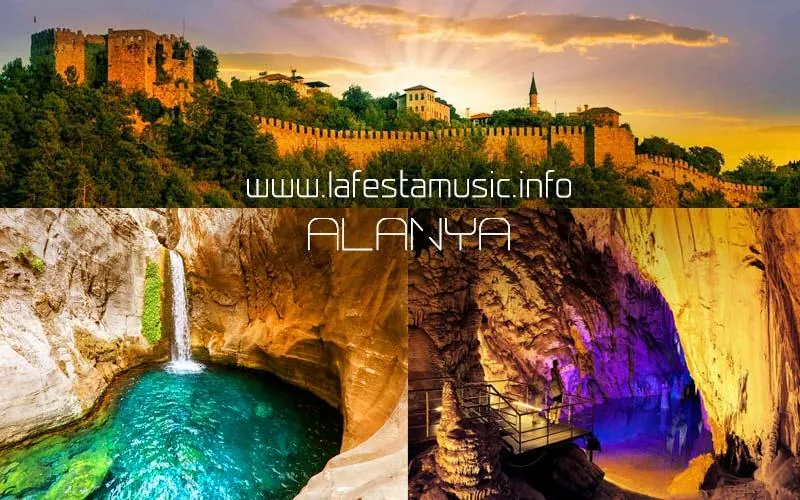 Wedding in Alanya (locations for event and wedding party)
Alanya is considered one of the most budget resorts in Turkey, although the level of hotels and the quality of the beaches are comparable to Antalya and Bodrum. For this reason, the event in a hotel in Alanya will save up to 10-15% of the budget (if it doesn't matter to you in which of the resort cities the wedding celebration will take place).
Before listing the best hotels in Alanya, I would like to note the original sights in this part of the Turkish Riviera. The visiting card of the city was the Byzantine fortress, which stretches for 6.5 km and has 140 beautiful towers. It beautifully encircles the city hills and looks spectacular both during the day and with night-lit architecture.
Just 12 km from Alanya is the main natural attraction - the Dim mountain cave with beautiful stalactite galleries. The cost of walking inside the cave is only $2.
If you continue your journey to the northeast, then 40 km from Alanya there is an amazing Sapadere canyon with a picturesque footpath (700 m), which will allow you to walk among waterfalls, rock crevices, mountain streams, and stone bridges.
Both of these sights will become an original backdrop for a wedding photo shoot and will be remembered by the guests of your event party in Alanya.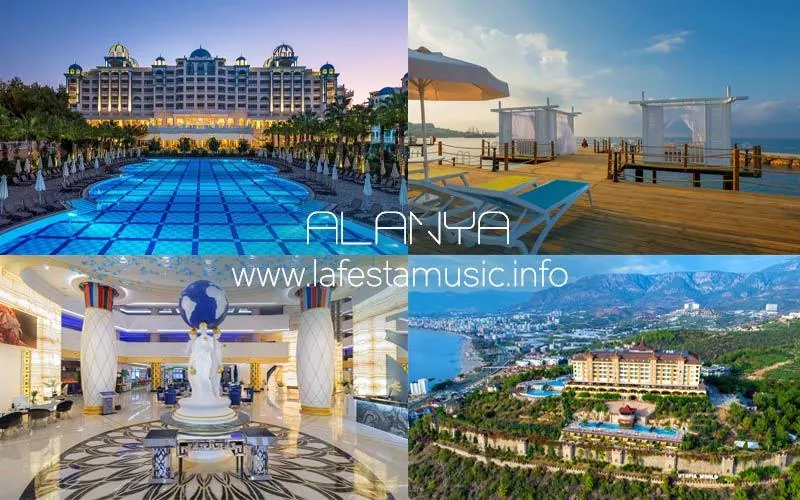 The best hotels in Alanya for an event and a wedding:
We have chosen 5 comfortable hotels that are perfect not only for celebrating a wedding but also for further rest of the newlyweds. They are listed in ascending order of price:
"Villa Turka Hotel" is rather a large villa, which is located in the center of Alanya. The highlight of this mini-hotel is that it resembles a small castle, and the rooms, furnished with antique furniture, offer panoramic views of the city fortress and the sea.
"Granada Luxury Beach-Ultra". The main advantage of the hotel is its low cost and pleasant interior design. Unfortunately, this is a small area. The hotel has a separate floor for honeymooners, where they are given small bonuses.
"Azura Deluxe Resort" has a large pier where there is space to make a banquet or corporate party in the middle of the sea.
"Utopia World" is an unusual hotel near Alanya, which is located on top of a cliff and is surrounded by a Byzantine fortress wall. Also, on its territory, there are two large panoramic pools and two piers. This makes it possible to organize a wedding ceremony or a private party in a picturesque place without leaving the hotel.
"Rubi Platinum Spa Resort" - has a design with oriental motifs, a comfortable beach, and 2 large pools, between which there is a stage for concerts.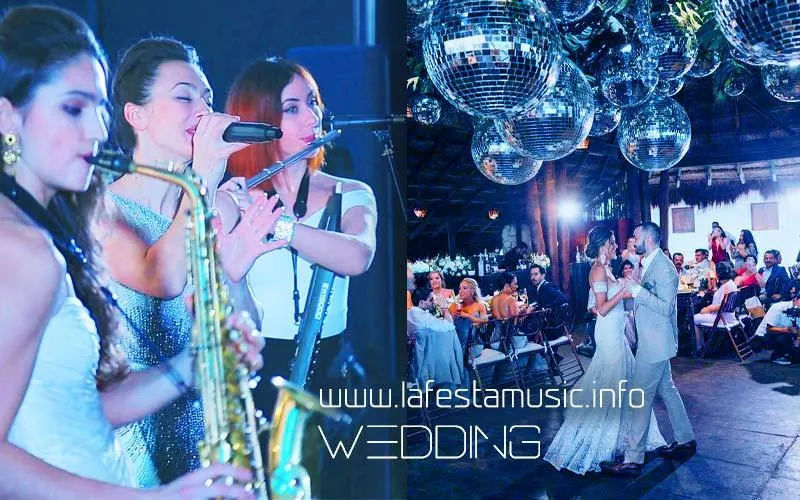 Ideas and tips for organizing an event party in Antalya, Alanya, and Belek:
1. If you plan your event on the Mediterranean coast of Turkey in advance, you can save 10-15% of the budget by booking a hotel or apartment early (6 months or earlier). You should not take risks with "hot tours", as they do not guarantee the availability of the required number of rooms in the hotel for all guests of the wedding or the corporate party. Also, you can reduce costs by organizing an event in Antalya and Belek not at the peak of the tourist season, but in October or April. During these months, the air temperature is comfortable enough to make an open wedding banquet or business champagne reception.
2. If the priority of your event is not a pool party and swimming in the sea, you can choose the "November-March" period (excluding the New Year holidays). At this time, some hotels are closed, but the rest of the hotels offer a discount of up to 30-40% compared to summer prices. By choosing a winter date to celebrate your wedding in Antalya and Belek, you will be able to celebrate the event at a hotel that is much better than you could allow during the tourist season. In addition, you will not have problems with accommodating guests not only in one hotel but even on the same floor. In some Turkish hotels in winter, you can feel as if you rented the entire hotel and the service is focused only on your event.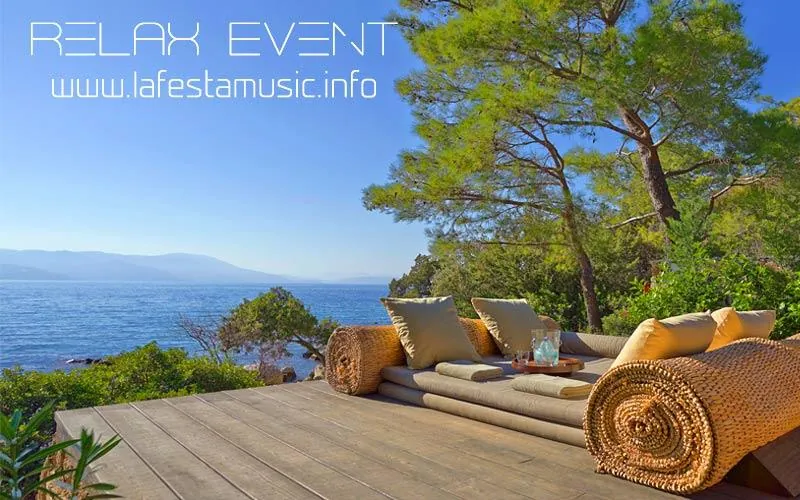 For timely coordination of guests of the event (information about transfers, excursions, event program) and contractors (time of arrivals at the location, working conditions, work timing), create 2 separate chats in some of the messenger.
4. If you don't have to cut corners of your budget, then a five-star all-inclusive hotel would be the best choice for an event/wedding location. This will make it possible to have a more predictable budget and eliminate such unnecessary organizational hassles as meals for guests, transfer from the airport, and leisure activities before and after your event party. This will make it possible to have a more predictable budget and eliminate such unnecessary organizational hassles as meals for guests, their transfer from the airport, leisure activities before and after the holiday. The territory of a comfortable hotel (in addition to the beach, swimming pool, and restaurants) has the necessary infrastructure: a SPA salon, a first-aid post, a children's area with animators, and a nightly concert program. In addition, if guests of the event stay at the hotel, you will surely receive a discount for renting a hall for a wedding banquet or a conference room for a corporate party. Some hotels have a ready offer for the wedding ceremony (scenic place, decor, chairs for guests).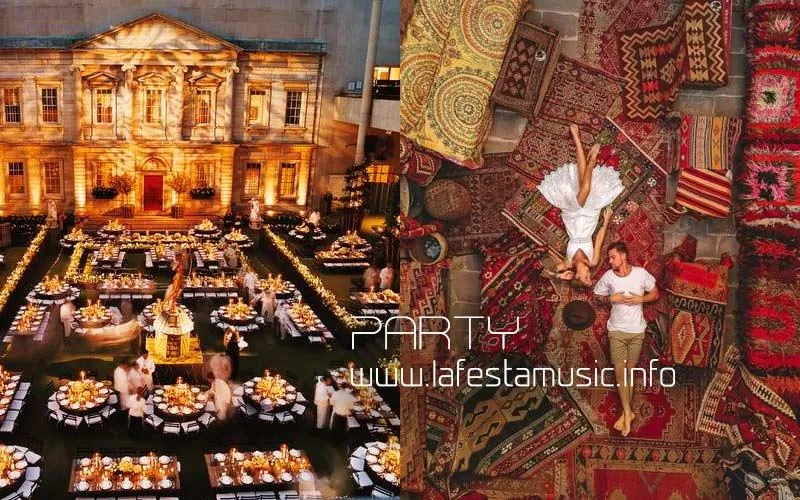 5. If your event will include a rich entertainment program or many contractors involved (original decor, photographers and videographers, wedding mural ceremony, etc.), then you will have to resort to the help of a trusted wedding agency or event planner who had successful experience in organizing similar events in Bodrum and Antalya. If a Turkish event agency has an employee who can communicate with you in an understandable language, then you can use their services. Also, knowledge of the Turkish language and the legislation will be useful when organizing an event in an unusual location (national park, architectural monument, public place).
6. When renting a villa for a small frequent event (from 15 to 40 guests), you need to arrange everything for off-site catering and food purchases for guest chefs. For a wedding party, it is ideal to use the main (large) villa with a pool and a picturesque view, and for guests to rent several separate apartments. This is necessary so that the guests are not tired of the noise from the preparatory work (setting up sound equipment, catering check-in, decoration, etc.).
With a small wedding budget, some newlyweds resort to the following option: they pay for accommodation, meals, and everything related to the celebration of the wedding, and the guests take care of the airfare. In other words: you get there, and we will arrange and entertain you.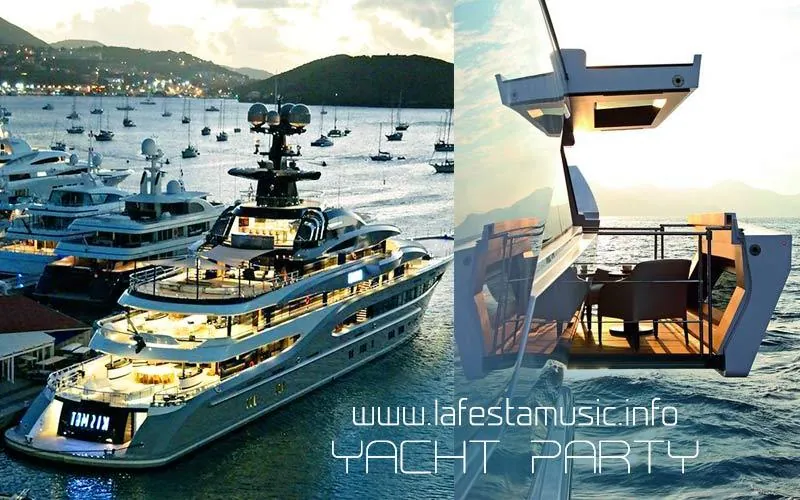 7. If you are organizing a wedding or corporate event on a yacht, keep in mind that if your date coincides with stormy weather or prolonged rain, then the marine event will most likely have to be canceled or rescheduled for another day. Therefore, lay a few days for the celebration in this format. If the weather is good, then these days can be used for excursions or other activities. If it is not possible to change the date of the event due to bad weather, take care of plan "B" in advance and make a list of suitable indoor spaces (restaurants, banquet halls at hotels) where you can move the wedding celebration or gala dinner. But the main difficulty in this change in the concept of the event is providing the new location with the necessary decor, technical equipment, and cooking. Those who, within one day, can organize a full-fledged change in the celebration of a wedding from a yacht to an indoor space, should be awarded a monument during their lifetime. The cost of renting a yacht in Turkey starts from $600 per day.
8. Usually, for a wedding photoshoot in Turkey, newlyweds invite a photographer they know. But if there is a larger purpose - to make high-quality video shooting using drones, then check the possibility of registering a quadcopter with the Turkish National Aviation Administration (SAMA). This requirement applies to drones weighing more than 500 grams, all commercial flights, or filming in the city and hotel.
Laser harp show «novaYA» Order the original laser show and singer for an event meeting in Antalya and Belek.
9. If the celebration of a wedding or corporate party in Antalya and Belek takes more than two days, you should take care of organizing leisure activities for the guests of the event. A short excursion or a thoughtful quest will diversify the holiday program and bring more vivid memories of it.
The Mediterranean coast of Turkey and the territory to the north of it has many natural and historical attractions. The main ones are the amazing Cappadocia and Pamukkale. We wrote about these locations in detail in this article. Also, once again we recall the aquarium and waterfalls of Antalya, the best golf courses in Europe, and huge theme park "The Land of Legends" in Belek, the columns of the temple of Apollo, and the fortress wall of Alanya.
Outside the resorts are: the ruins of Aspendos ancient city (35 km from Antalya) with a huge Roman amphitheater and the longest aqueduct in Turkey; Goynuk Canyon near Kemer; stalactite cave Dim near Alanya and other sights of the times of the Hellenic, Persian, Roman, and Byzantine kingdoms.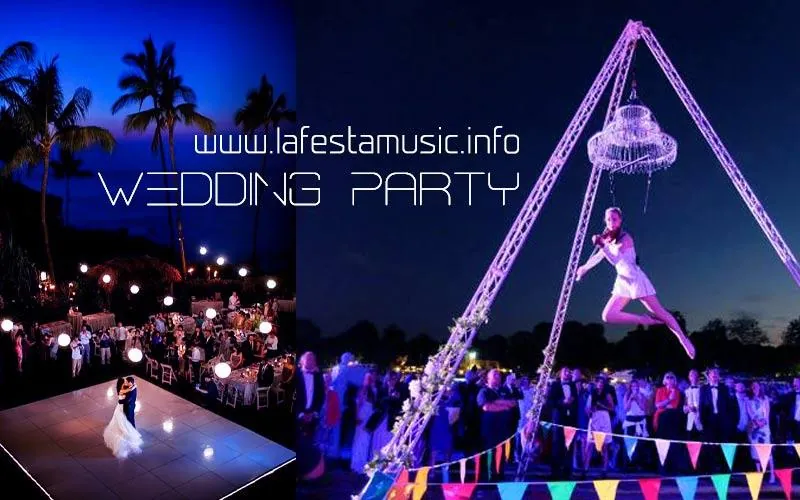 10. Consider the cost of the rider of the artists who will perform at your Turkish event. Sometimes providing the necessary equipment for a band can cost as much as a fee for artists. With a limited budget for organizing weddings and corporate meetings, it is preferable to choose artists with a simple rider. For example, by providing 3-4 air tickets and a minimum rider, the LAFESTA band can make a full-fledged concert program, performing 90 minutes as a cover band and adding the amazing show of the 3D dress singer and the laser harp show. You can read more about our projects in the "Best Shows" section of the site.
11. In one article it is difficult to list all the possible ideas and tips that can happen when organizing an overseas corporate party and wedding in Antalya, Belek, and Alanya. Even the topic of wedding decor or sound placement has hundreds of nuances and options that are best discussed with experts in their field. If possible, try to arrive at the location in advance and control the entire preparation process (you or your event organizers, wedding coordinators). Being at the location, it's much better to understand and feel what matches the style of your party, and what needs to be changed and improved.
© Ihor Kuksenko www.lafestamusic.info