Wedding planning in Qatar. Wedding in Doha: ideas, locations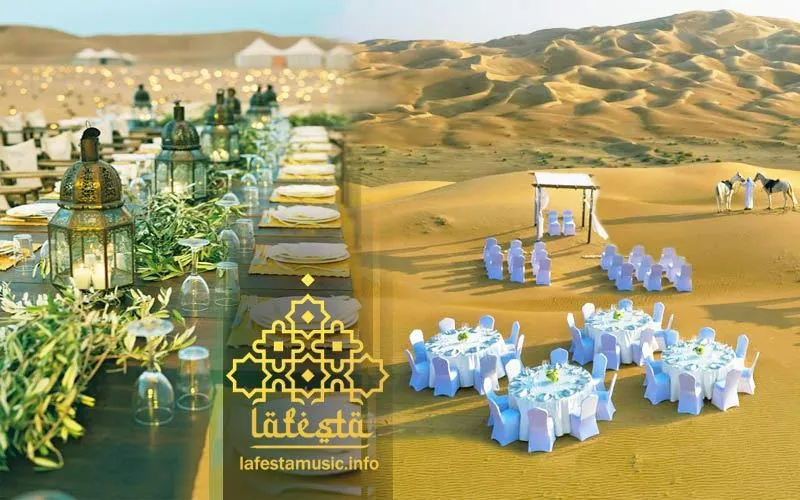 Although this article is titled "Organising a Wedding in Qatar", 99% of the country's population lives in cities (mainly Doha and its satellites), so most of the main wedding venues are located in the capital. We will try to describe in detail the best and most original restaurants, hotels, attractions and practical tips for planning a wedding in Doha.
Qatar is one of the richest countries in the world. Last year it was ranked 4th in the world in terms of GDP per capita (between Switzerland and Ireland). However, this level of wealth does have an impact on the pricing of the wedding industry.
On average, a small wedding in Qatar (up to 50 guests) costs €40,000-60,000 and a large wedding (100-150 guests) costs €100,000-150,000.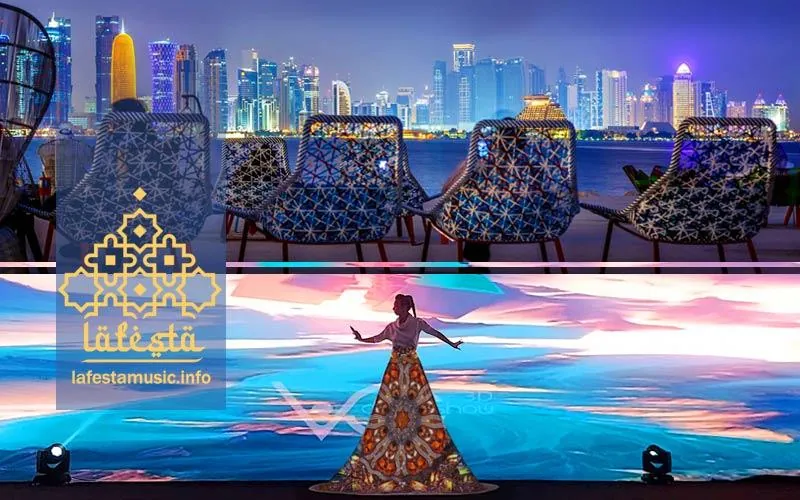 You can book unique shows and artists for your wedding in Qatar:
- The opera diva plays a laser harp
- Singer in a 3D projection dress (projection on the bride's dress is also possible)
- Stylish live music
- Sand painting show and water painting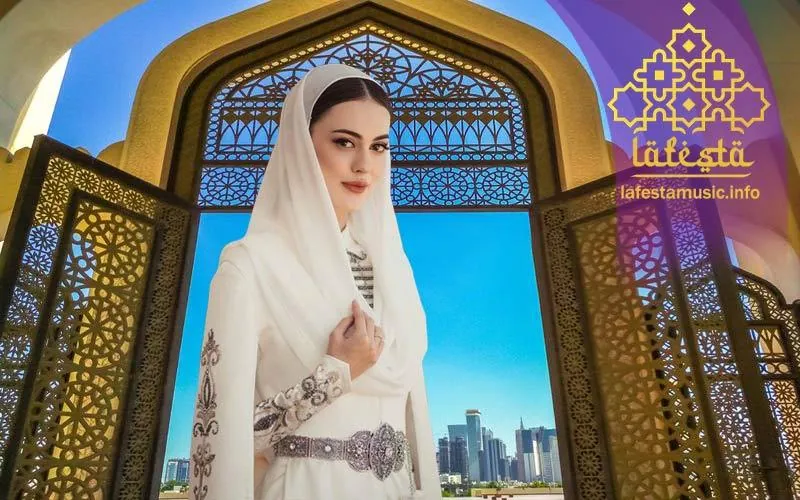 Tips for getting married in Doha (Qatar):
1. At the moment, all Qatari beaches that can be used for a wedding ceremony and party in Qatar are located in the closed areas of resort hotels. Therefore, if you have been dreaming of a beach wedding, it is best to organise it through the Qatari hotel of your choice.
One of the most original locations for a beach wedding is Khor Al Adaid (known as the inland sea of Qatar). This is a beautiful natural landmark where the sea bay extends 12km into the depths of the desert.
2. Decorating a location with fresh flowers can significantly increase your budget, as floral decorations are much more expensive in this desert country than in European and Asian countries. Therefore, discuss with the wedding decorator in advance which option will be acceptable to you: fresh flowers or other rented decorations.
3. If your wedding in Qatar will be attended by Arab or Muslim guests, make sure you have a Halal menu (food and drink permitted by Islamic law).
Despite the fact that modern weddings in Doha have a beautiful wedding cake, it is better to complement the guests' treats with traditional Arab sweets.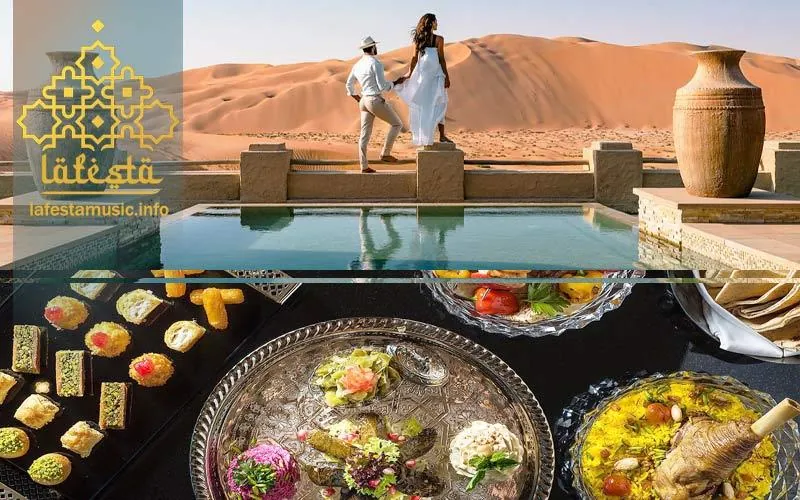 There is no free sale of alcohol in Qatar, so all issues relating to the provision of a wedding aperitif and a banquet with wine or champagne must be clarified in advance with the catering, restaurant or hotel where the celebration is to take place.
5. The best time to get married in Doha is from October to April. During the summer months, temperatures can reach 45°C and it is uncomfortable to be outdoors from sunrise to midnight.
As it only rains a few times a year in Qatar, you don't need to worry about rain protection. The problem is a sand or dust storm, which can occur in this region from December to March.
6. If you are planning an outdoor wedding in Qatar before 6 pm, you will need to organize awnings to protect not only the guests but also the sound equipment from the sun. Many aspiring wedding planners overlook the fact that sound equipment cannot be used on a hot day without a canopy, as direct sunlight will heat up the mixing console, causing it to malfunction or even shut down due to overheating.
Therefore, the ideal option would be to find a wedding venue (restaurant, hotel) where the terrace or beach has awnings to provide shade. If you are planning an outdoor wedding in nature or in the Qatari desert, wedding planners must consider the amount of shade that will comfortably accommodate all guests, catering and the stage with artists.
7. Inviting guests to a wedding in Qatar is best done at least six months in advance, otherwise some guests may have made other plans or paid for hotels and tickets for holidays in another country.
It would be nice to use an Arabic flavour in the style of the invitations so that guests can anticipate the atmosphere of your wedding in Qatar.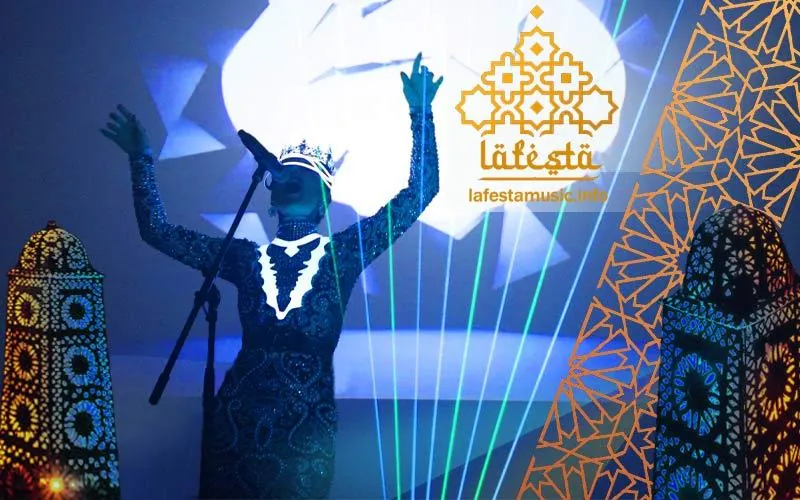 8. If your wedding entertainment programme requires unique shows, you will most likely need to book artists from another country. In Doha, there are plenty of local ethnic bands (with an Arabic flavour), DJs and musicians who are contracted by hotels. However, if you need a show that will really surprise your guests, it is better to budget for bringing in artists from the UAE or Europe.
Remember that sometimes the cost of providing a technical rider for an artist can be as much as the artist's fee. Therefore, discuss in detail all the issues involved in organising a wedding show in Qatar to understand the total cost. For example, only 2-3 people from our team will perform at a wedding with 3 different shows and bring most of the necessary equipment, which significantly reduces the cost: 3D singer, laser harp, original music band.
Your wedding in Doha will probably have its own style and dress code, which you will discuss with your wedding planner. However, please bear in mind that rebellious outfits are not welcome in Qatar, so ask your foreign guests to abide by the standards of decency expented in an Arab country.
10. The use of drones in Qatar is prohibited without prior permission from the Civil Aviation Authority (CAA), and permission is only available to residents of Qatar. Your local drone operator will need to apply for and obtain permission from the Qatar Civil Aviation Authority.
We know of cases where wedding operators have brought drones (usually weighing up to 500 grams) into Qatar at their own risk and filmed a wedding in the desert without registration. But you will not be insured against the fact that at the airport, on the hotel premises or in the city and you will not be left without a panoramic wedding film at the last moment.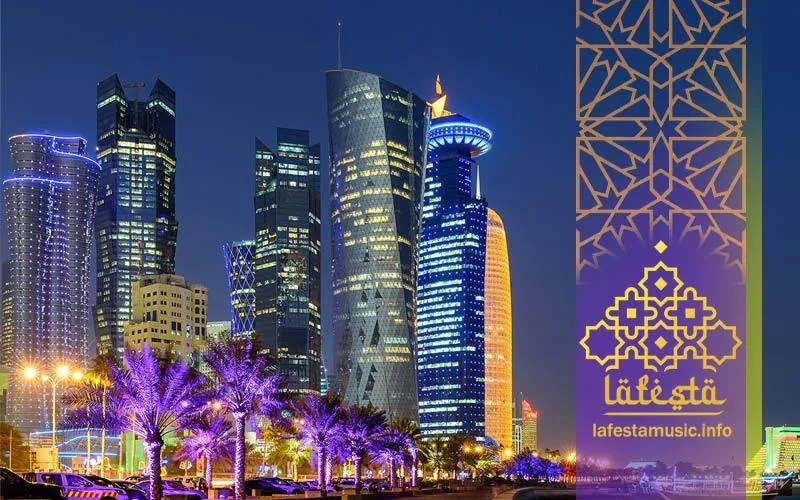 The difference between a wedding in Qatar and other countries on the Arabian Peninsula.
If Qatar is not the home country of one of the newlyweds, you have probably considered not only Doha, but also other cities on the Persian Gulf for planning your wedding: Dubai, Abu Dhabi, Manama. Of course, Doha's main rival for foreign weddings is the resort metropolis of Dubai, which has the best developed infrastructure and entertainment market among the Arab countries.
The main difference between Doha and Dubai is that Qatar still has a narrower range of restaurants, bars and other venues that can be used for a wedding ceremony and reception. Below are some of the best wedding hotels and restaurants in and around Doha.
As Qatar has developed its entertainment and tourism services more slowly and cautiously, the atmosphere is quieter than in the Emirates and there are fewer tourist crowds.
Qatar also has stricter regulations on alcohol, which increases the cost of using it during an aperitif, buffet or banquet.
The cost of staying in a hotel in Doha and renting a banquet hall for a wedding is on average 20-30% cheaper than in hotels of the same class in Dubai. This is due to demand. As most honeymooners planning a wedding in the Persian Gulf tend to spend their honeymoon in Dubai, this increases the price.
If a photo session near the Burj Al Arab or an evening stroll by the fountains of the Burj Khalifa are not important to you, you can save up to 20% of the wedding budget by spending it in Doha rather than Dubai.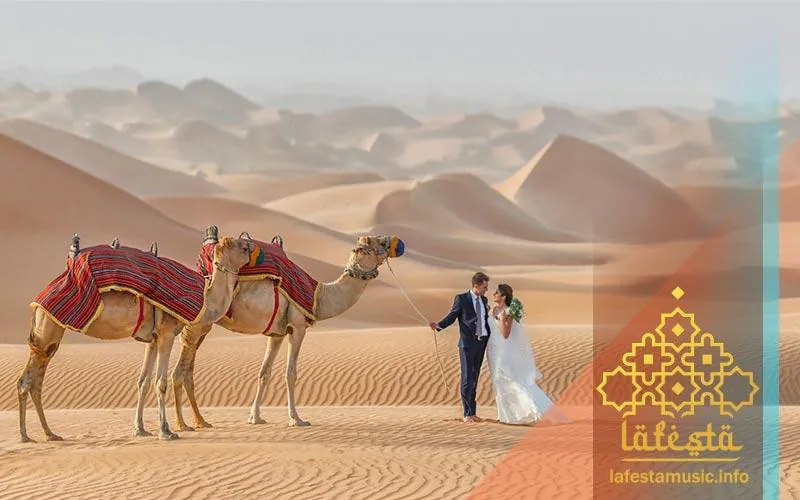 Using cultural traditions and national cuisine for a Qatari wedding.
The traditional Qatari wedding, now rarely seen in Doha, consisted of two separate ceremonies at the homes of the bride and groom and lasted two days.
Wedding singing and dancing took place at the man's home: Samiri, Liwa, Habban, Tamboura. The most exotic and beautiful dance is called Zafir, which is danced by men with swords while the wedding procession goes from the groom's house to the bride's house.
To add authentic colour to your wedding in Qatar, you can hire local performers to give a full performance or add some elements of these dances to the entertainment programme.
Another important feature of a Qatari wedding is the mahr, an ancient Arab custom of giving a valuable gift to the bride. Unlike the bride price (which is also part of the Qatari wedding tradition and is given to the bride's relatives), the mahr remains with the bride and is her guarantee and security.
In a modern wedding, this custom may be performed at the ceremony and the bride may be given a special piece of jewellery, a car or a property.
Many traditional Arab celebrations include heena, the practice of henna on the hands. This used to be done on the eve of the wedding at the bride's home, but now there are specialised masters and salons in Doha.
We have already mentioned that if Muslim guests are invited to your Qatari wedding, you will need to provide halal food and drink for the banquet. We also recommend that you include one or more traditional Qatari dishes on the menu, which will add colour to the wedding reception.
Some of the main dishes worth mentioning are Machboos - rice with spices and various meats; Luqaimat - sweet flour balls in sugar syrup or honey; Warak Enab - rice, vegetables and herbs wrapped in grape leaves.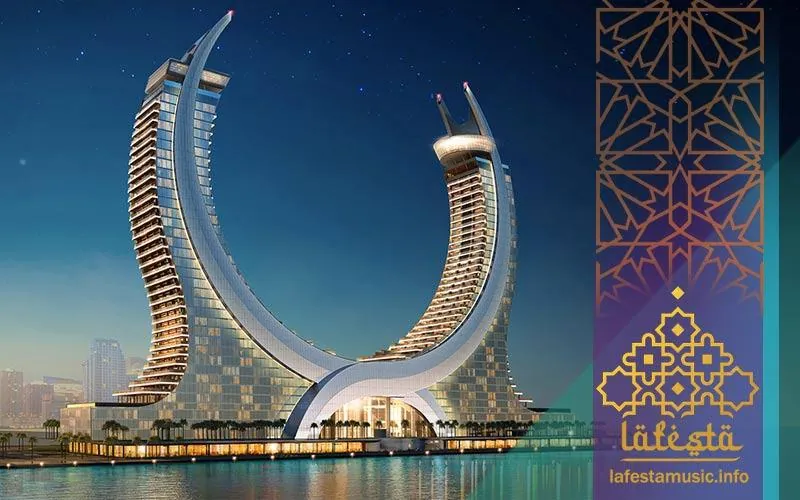 Best wedding hotels in Doha (Qatar)
The main advantage of organising a wedding in a hotel is that the sound system, the decoration of the ceremony and the hall, the location with first class cuisine and the possibility of accommodating all the guests without organising additional transfers are all included in the package.
Marsa Malaz Kempinski, The Pearl. A resort hotel set on a private island, offering a sense of privacy even against the backdrop of the Doha skyline. You can use the large beachfront for your wedding ceremony or waterfront celebration.
The hotel has 11 restaurants and bars serving a variety of world cuisines. You can also hire the Palazzo Ballroom, Venezia Ballroom or any of the 6 meeting rooms for a large wedding in Doha.
Hilton Salwa Beach. The style of the hotel combines the Arabian flavour with the architecture of the island of Santorini in white and blue tones. Such architecture (including a beautiful white lighthouse, a marina and 7 restaurants) would be the perfect location for a Doha resort wedding. Not to mention the 3.5km private beach and water park where your wedding guests will have a wonderful time.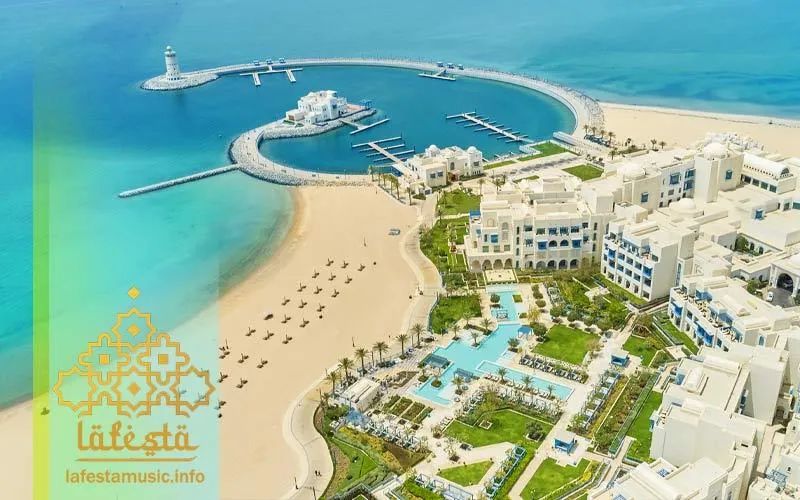 Banana Island Resort Doha by Anantara. The uniqueness of this hotel is that it is located on its own island, a 20-minute ferry ride from Doha. The hotel imitates the atmosphere of a resort in the Maldives or the Seychelles, interspersed with Arabic design. So if you have been dreaming of a tropical wedding, this hotel near Doha can be a good alternative.
The Raffles Doha is arguably the most luxurious ultra-luxury hotel in Doha. It is housed in a crescent-shaped building that has already become a hallmark of Qatar. At the top of the two towers are chic restaurants where you can host a wedding banquet overlooking Doha.
Sheraton Grand Doha Resort & Conventional has the charm of its own small beach lagoon with a yacht pier. This resort has hosted the largest weddings in Doha. The hotel also has 7 restaurants serving a variety of cuisines.
The Ritz-Carlton Doha has a large beach and a beautiful tropical resort-style pool with an artificial waterfall. Such a location can be a great addition to your resort wedding in Doha.
The hotel is located close to a large marina (private boat harbour), so it is possible to sail to the wedding ceremony on a beautiful yacht or organise a wedding party on a pleasure boat from the pier near the hotel.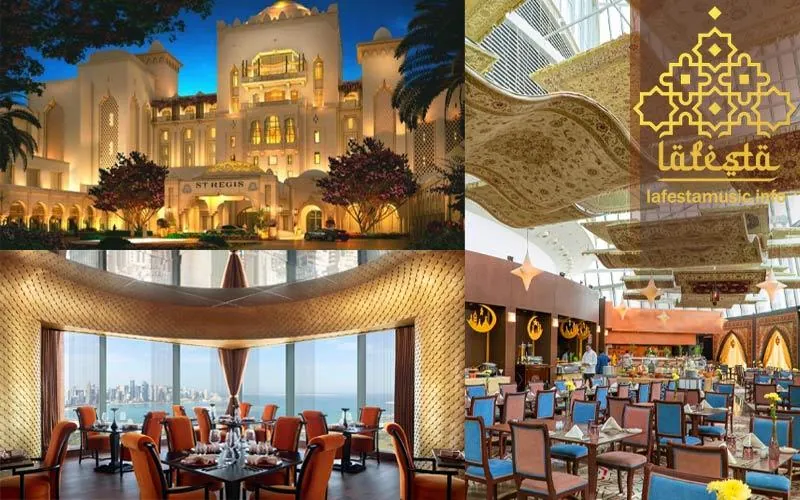 Ezdan Palace Doha is characterised by its sumptuous Arabic interiors. So if your wedding in Qatar is going to be Middle Eastern in style, this hotel will be a great addition to your chosen format. One of the highlights of the hotel is the opulent Jawaher Hall with its many crystal chandeliers.
Mandarin Oriental Doha has a luxurious design but a small footprint and a rooftop swimming pool. If your wedding in Doha doesn't require acres of greenery or a beach, the Mandarin Oriental Hotel with its 9 excellent restaurants and bars is the perfect wedding venue. The French Mediterranean restaurant IZU and the Mandarin Lounge Bar deserve special mention.
The St. Regis Doha. This hotel has the largest ballroom in Doha, accommodating up to 500 guests, although it does not have a large area. At Opal by Gordon Ramsay, Al Sultan Brahim, Astor Grill, Vine, The Raw, you can choose the atmosphere and menu that best suits the style of your Qatari wedding.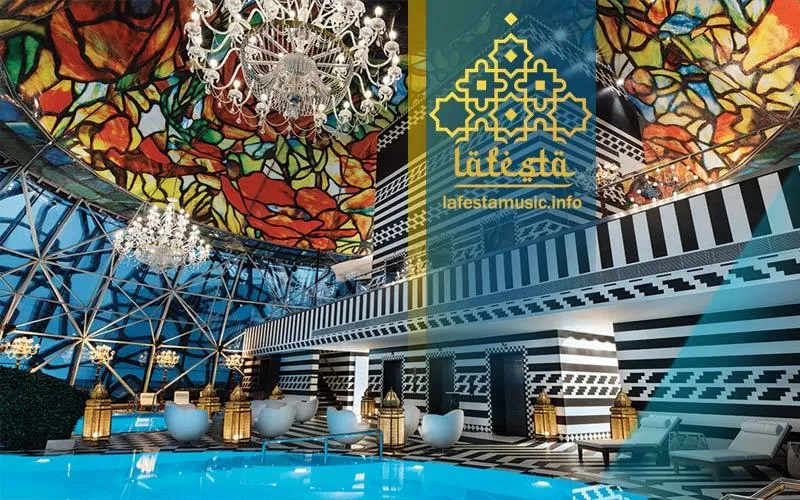 Mondrian Doha. This 25-storey hotel's trump card is the original design of its interiors (especially the main hall and pool) and its location in the centre of Doha, close to the picturesque West Bay Lagoon, which makes for an original wedding shoot.
Fine dining is available at the stylish Morimoto Japanese Restaurant, CUT's Signature Steakhouse and Walima, a Middle Eastern and Qatari restaurant.
The Westin Doha has a modest design, but its convenient location in the heart of Doha can be an advantage for your wedding if you want to organise guests' leisure time with a stroll through the Souq Waqif and the Corniche.
The hotel has 6 restaurants, including one of the best Thai restaurants - Sabai Thai.
Al Messila, a Luxury Collection features contemporary Arabic design and a large outdoor pool. There are 11 venues within the hotel that can be used to celebrate a wedding (from 50 to 1000 guests).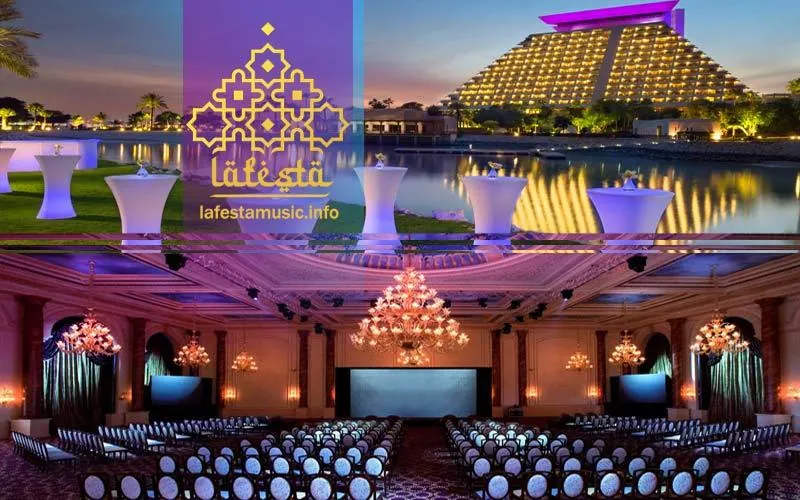 Grand Hyatt Doha (especially the main building) is built in a traditional Arabian style, which is appropriate for a colourful Qatari and Middle Eastern wedding. The hotel offers panoramic views of the Persian Gulf and Doha, providing a beautiful backdrop for your wedding ceremony.
It is also worth noting that the hotel offers not only rooms, but also luxurious villas around the large pool.
W Doha is located in the heart of the West Bay Lagoon. It has a discreet modern style. The hotel's grounds are small, but it has its own beach and 7 different halls for weddings from 50 to 600 people.
Rixos Gulf Hotel Doha. The hotel's outdated design is more than compensated for by its manicured grounds, swimming pool, large beach and panoramic views of Doha. In fact, these are the main conditions for a comfortable wedding ceremony or banquet by the water.
The Chedi Katara Hotel & Resort is built in the style of a snow-white palace, vaguely reminiscent of the Taj Mahal. With many small villas and several cozy restaurants, this beachfront hotel is perfect for a small wedding in Doha.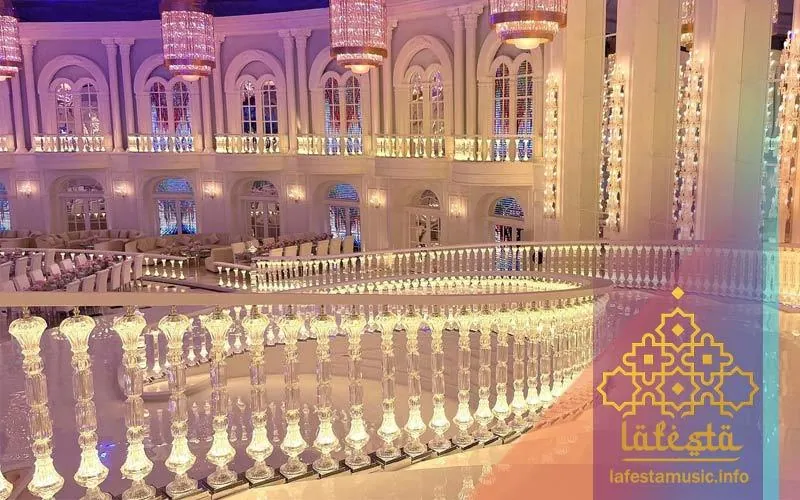 Doha Wedding Banquet Halls
«Al Dana» is a huge banquet hall that can accommodate 2,500 people for a grand wedding in the centre of Doha.
«Al Mourjan Business & Conference Centre» is located in the heart of Doha Airport and offers all the comforts of a five-star hotel.
«Al Rayyan Events» is a complex of public wedding halls under the protectorate of the Government of Qatar.
«La Sigale» banquet hall with an original oval design and a panoramic view of the city of Doha.
«The Islamic Art Museum Park» offers you the opportunity to celebrate your wedding with breathtaking views of the original architecture of the Qatar Museum.
«Bab Al Rayyan» banquet hall for up to 800 guests and parking for 600 cars.
«Al-Wakra» celebration hall is a wedding complex consisting of several halls with a capacity of up to 500 people.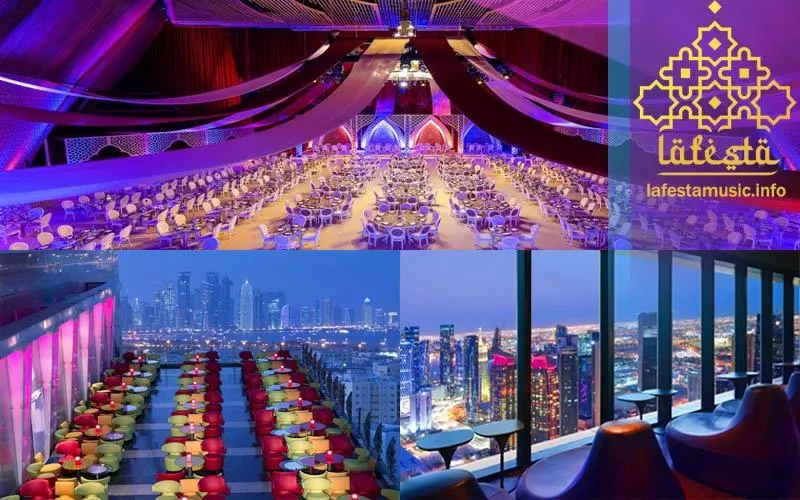 Locations for wedding photography in Doha and Qatar
The capital of Qatar (Doha) offers honeymooners many stunning and unique locations for a wedding photo shoot. Here are some of the most beautiful places:
Park Museum of Islamic Art and National Museum of Qatar. The original architecture of these buildings provides a beautiful backdrop for wedding photos, with greenery close to the bay and stunning views of the Doha skyline.
The Pearl-Qatar. This artificial, almost round island, surrounded by modern beaches and marinas, has another smaller island inside. Such an original location, also called the Arabian Riviera, is a great place for a modern wedding photo shoot in Doha. The Qanat district (reminiscent of Venice) with its canals, bridges and colourful houses can be particularly attractive.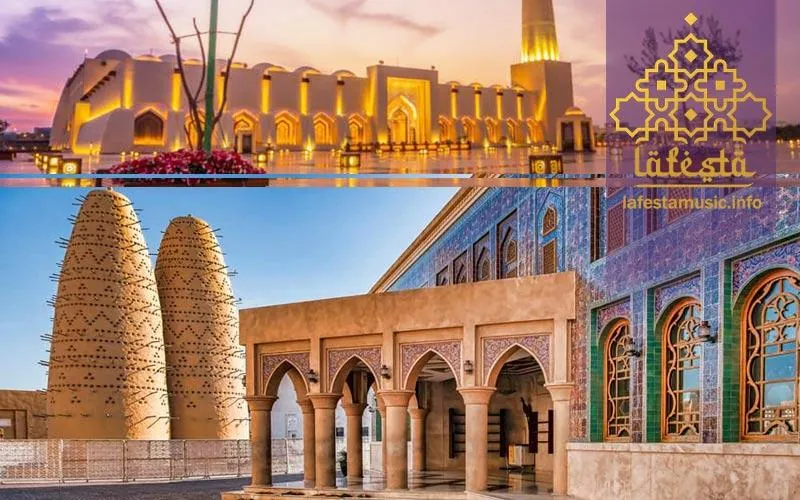 The Corniche is a 7 kilometre seafront promenade that allows you to combine the urban and natural landscape in your frame. There is always (except during holidays) an empty space without people walking around, which makes it easier to conduct a wedding photo shoot in Doha.
The Katara Cultural Village. This is a complex of architectural buildings and parks that create interesting locations for a wedding photo shoot in Doha. "Qatar includes a modern amphitheatre, mosaic and golden mosques, an opera house, a stained glass SNAN Food Hall, air-conditioned 21 High Street, which maintains a comfortable temperature even in the summer heat.
Souq Waqif, a historic market in the centre of Doha, is a great place for a traditional Middle Eastern wedding photo shoot. Some of the best angles are against the backdrop of colourful Arabic carpets and the Golden Finger monument.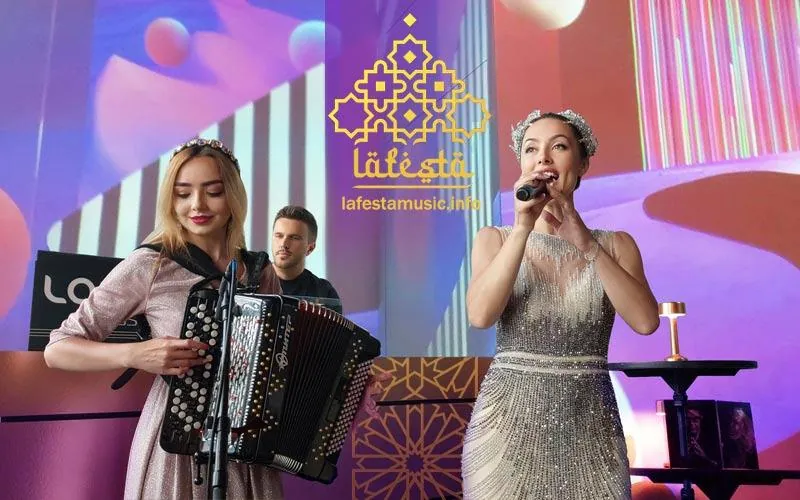 Book entertainers for wedding ceremony and wedding party in Doha.

© Ihor Kuksenko
Use of the article «Wedding planning in Qatar. Wedding in Doha: ideas, locations» without an active link to the website www.lafestamusic.info is prohibited.