One of the hardest challenges in life is saying goodbye to someone you love. At this special moment, it is important that the memory of good moments from the past gives strength to live on. It is music that creates such an atmosphere of consolation and helps to calm the grieving heart. Romain Rolland once said: "Music, like rain, drop by drop, seeps into the heart and enlivens it."
We will help you frame the funeral ceremony with singing and music that will harmoniously combine the bright memory of a loved one, the consolation of all guests, and the expression of sincere feelings. The professional opera singer from Zurich (Olha Rossi) will be with you at this difficult moment. Her crystal clear and warm gentle voice (lyric soprano) will accompany the funeral or commemoration ceremony.
After we receive a request for the participation of the funeral singer at a memorial ceremony, we can jointly discuss all song options and give individual advice.
Olha has a higher musical education from the National Music Academy of Ukraine (Master of academic vocal). For more than 30 years (starting from the age of 7) she performs on stage and sings professionally in three vocal styles: opera, pop-jazz, and ethnic. She sang leading roles in many opera concerts and created a unique author's program Lounge Opera and became the first world singer to play the laser harp. In December 2019, Olha was awarded the "III Millennium Woman Award" for her contribution to the development of contemporary music and art.
Because of the wide range, depth, and melodiousness of Olga's voice, she (as a funeral singer) will perform songs that are ideal for your mourning ceremony: religious (in a church of any denomination), secular (in an administrative building, a funeral home, a hotel), memorial meeting, or open-air ceremony.
As a rule, accompanying the funeral ceremony with solo singing includes 3-4 songs: at the beginning, during the liturgy or farewell speech, and at the end of the funeral. We can jointly discuss the repertoire and the number of songs of the funeral singer, depending on the duration of the ceremony.
Familiar songs will be a consolation in such an unfamiliar and difficult situation. Therefore, we try to choose those songs that have a special meaning both for the deceased and for relatives or close friends.
If the memorial service is taking place indoors, we can use our projector to show photos or videos of your dear person onto a wall or screen.
Book the singer for a memorial service and funeral ceremony in Switzerland (Zurich, Bern, Basel, Lucerne): +38097-6588-979 (WhatsApp, Telegram, Viber) +4179-4805-333 lafesta.group@gmail.com
Basic questions about the funeral singer`s performance at a memorial ceremonies:
In which cities and regions are Olha's performance possible?
Olha lives near Zurich, so she performs most often in this canton and throughout Switzerland (funeral singer Zurich, Switzerland). But performances in other European countries are also possible upon payment of a transfer (especially in Austria, southwestern Germany, France, and northern Italy). Although each of these countries has its own funeral singers. But if you feel that it is Olha who should sing at your memorial ceremony, we will try to do it for you.
What is the cost of the funeral singer's performance?
The cost depends on several factors: the city in which the memorial ceremony is held and the duration of the performance. The cost of a funeral performance in the canton of Zurich starts at €350 (since Olha lives there). For trips further than 200 km, the cost of the performance starts at €450.
If the funeral singer performs at the memorial ceremony accompanied by one of her own musicians (flutist, pianist, organist, accordionist), then the additional payment starts at €150 in Switzerland and from €200 in other countries.
Also, we can use our projector to show on the wall of a church or other room photos/videos of a person dear to you. In this case, the additional payment for the preparation of content, the use of a projector, and a technician will be from €250.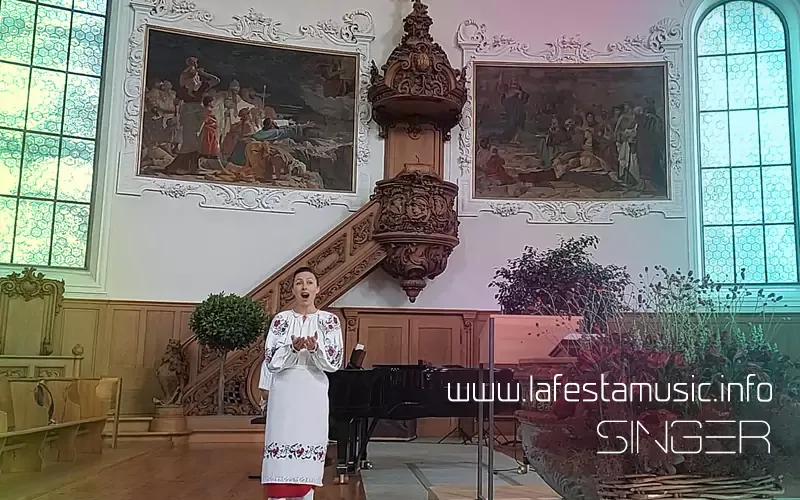 How many songs does the singer sing during the memorial service and funeral?
Usually 3 songs. But depending on the denomination of the church or the format of the memorial ceremony, the number of songs may be more. It all depends on your decision. Sometimes the memorial singer is invited to sing only one favorite song of the deceased person. Sometimes it is necessary to sing during the gathering of guests and during the memorial service (in this case, the number of songs can be from 5 to 10).
Book the funeral singer for a memorial ceremony and commemoration in Europe: Switzerland, Germany, France, Austria, Italy, and Great Britain.
How is the choice of songs for the funeral ceremony?
We will discuss with you or your priest/funeral manager which songs would be appropriate for your memorial ceremony. The choice of music can be influenced by various factors: 1) religious or secular funerals; 2) the denomination of the church where the memorial service takes place; 3) the age of the people present at the funeral. Because of this, the choice can vary from traditional songs to modern ones. The list of funeral singer'і songs is at the bottom of this page.
All songs that are performed during the memorial ceremony can be divided into two groups: 1) religious songs about heaven, eternal life, and death; 2) songs that remind you of the character and life of a person dear to you. "The purpose of music is to touch the heart" (Bach).
Is it possible to sing a special song for the memorial ceremony?
Funerals don't have to be accompanied by melancholy music. The funeral singer can sing a song that is associated with a person dear to you or evokes certain memories (his favorite song or your wedding song). After all, music is the soundtrack of our life, and it is part of the memory of a person that remains dreaming forever. Therefore, Olha will learn a necessary song for your memorial ceremony (if it is possible).
Book the opera singer for memorial ceremonies and funeral services in Switzerland (Zurich, Bern, Basel, Lucerne, Geneva, Lugano).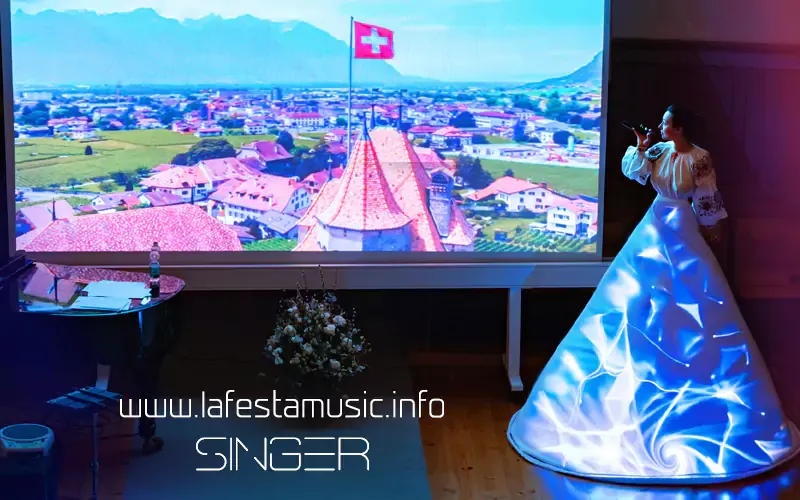 Is it possible for the opera singer to perform at a funeral without sound equipment?
Of course. Olha is a professional opera singer and is able to sound an opera house with her voice and sound louder than the orchestra. Therefore, her voice will be enough to fill any space without sound equipment. At the same time, Olha can sing very softly (almost in a whisper), like a mother's lullaby. This is especially appropriate if a memorial ceremony takes place in a small room or chapel.
Do you have musicians to perform at the funeral ceremony?
Yes, we can hold a funeral ceremony or memorial service accompanied by our musician. It can be an organist, pianist, flutist, or accordionist of your choice. The musician will create a decent musical accompaniment and can provide background music during the gathering of guests, throughout the memorial ceremony, and when the guests leave the funeral place.
If the funeral ceremony takes place in a church, then the sound of a flute or organ will create a feeling of special consolation. Properly selected melodies performed by these instruments seem to soar into the sky with their gentle and, at the same time, deep sound.
"Where words are powerless, a more eloquent language, music, is fully armed." (Peter Ilyich Tchaikovsky).
Book a singer for a funeral in southern Germany: Stuttgart, Konstanz, Freiburg, Munich, Ulm, Augsburg, Karlsruhe.
Does the singer have her own sound equipment for funerals and memorial ceremonies?
We can bring our own sound speaker for high-quality accompaniment (backing tracks) of songs. This is appropriate if the organist or musicians cannot be present at the funeral, but the musical accompaniment is necessary.
For a large funeral ceremony or in a place where the acoustics are poor (for example, outdoors or in a funeral parlor), we can use our microphone and mixing console with the right level of vocal effects (echo, hall, delay).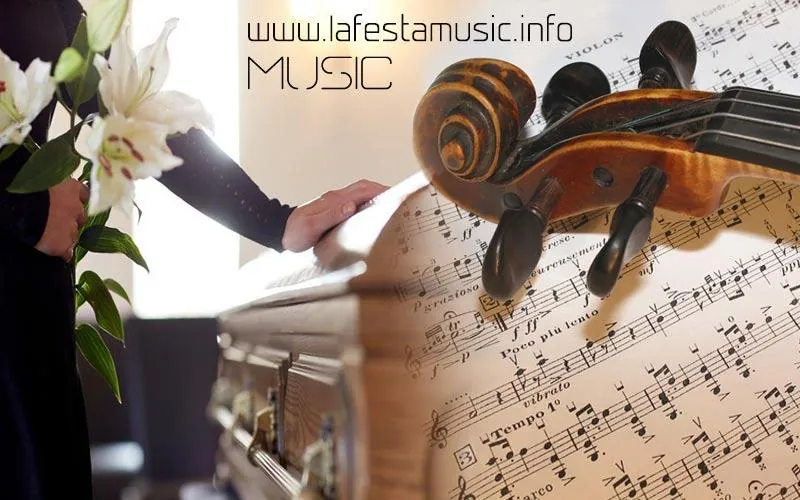 Does the opera singer sing at a remembrance meeting or funeral anniversary?
Yes. The singing at the memorial meeting may be longer than at the funeral ceremony and include from 3 to 10 songs or live music accompaniment. As a rule, such meetings take place sometime after the severity of the loss has dissipated a little (for example, the anniversary of death). It gives an opportunity to meet close people to honor the memory of a person dear to them and share valuable memories. A memorial meeting can be held in any place allowed for this (even in a hotel) and include live music, speeches, poems, and video viewing.
Book a funeral singer for a memorial service in Austria: Vienna, Graz, Linz, Salzburg, Innsbruck.
Is it possible for the funeral singer to perform with our musician or church organist?
Many churches have personal musicians or choir singers. A professional organist or pianist can accompany Olga, playing from her notes in a key that is convenient for singing. If one of your guests can sing or play a musical instrument, then a joint performance is also possible, but on the condition that they are professional and do not require a long rehearsal. After all, a funeral ceremony is not a place for experiments. We want both music and singing to sound perfect at such an important moment.
Are there any differences in the singer's repertoire for secular and religious funerals?
Civil funerals do not have specific requirements for the choice of music and songs for the farewell ceremony. A memorial service may be held in a private home, in a municipal building, in a crematorium, or in a cemetery. Therefore, a secular (humanistic) funeral would be a good option for honoring the memory of a non-religious person.
Will solo (a cappella) singing be enough for a memorial service?
A cappella singing is good because it sounds closer and warmer than choir singing. Some people have told us that the sound of a choir at a funeral creates an oppressive or frightening feeling.
If other musicians or an orchestra play at the memorial ceremony, then the funeral singer can join them or sing a few songs a cappella. In truth, some songs sound better without the accompaniment of an organ or other instruments, as a clear deep voice in silence can bring out the full depth of the song.
"The secret of music is that it finds an inexhaustible source where speech falls silent" (Amadeus Hoffman).
Book the funeral singer in Switzerland (Zurich), Liechtenstein, Germany (Stuttgart, Munich), Luxembourg, France (Alsace and Monaco), Italy (Milan)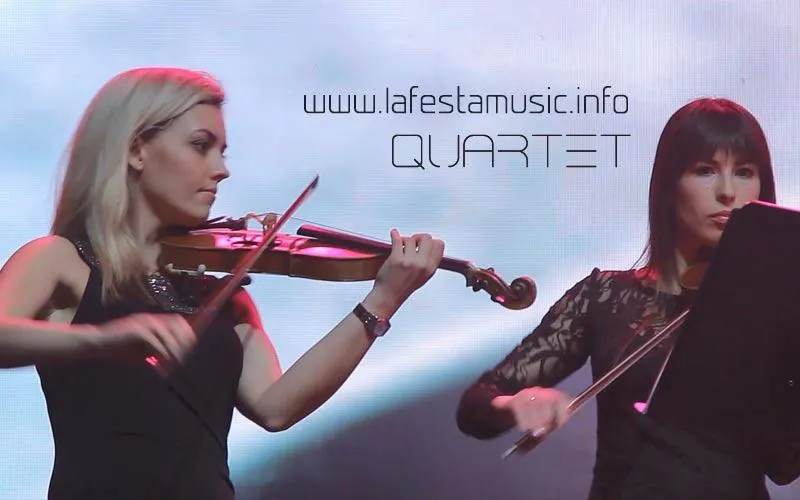 As a rule, any person does not think about organizing a funeral in advance (except for a very old person or a terminally ill person). Often people are reluctant or offended when faced with a topic that causes fear of death. We do not want to think and approach what scares us. But the victory over this fear lies in the realization that death is a part of our life and for thousands of years, hundreds of generations of people have passed through this moment.
Thinking about a farewell ceremony is a bit like writing a will. Some people make a will in advance, which helps to properly manage their inheritance. A will can be changed and supplemented throughout life, but if necessary, it will be of good service. The same happens with the planning of funerals and memorial services (sometimes they are also included in the will).
Unfortunately, sometimes a tragedy happens unexpectedly (accident or other tragic incident) and there is no time to calmly and judiciously prepare for such a hardship. At such a moment, it is important to have people who will be there to help and support you.
Music cannot completely heal the heart, but only dampens sadness (as Shakespeare said). For my part, I will try to put all my sensuality, warmth and musicality to accompany you in such a difficult moment.
Book a funeral singer for a memorial service in Europe: Switzerland, Germany, France, Austria, Italy, and Great Britain.
+38097-6588-979 (WhatsApp, Telegram, Viber) +4179-4805-333 lafesta.group@gmail.com