Organization of event meetings and wedding perties in Zurich. Event and wedding locations in Zurich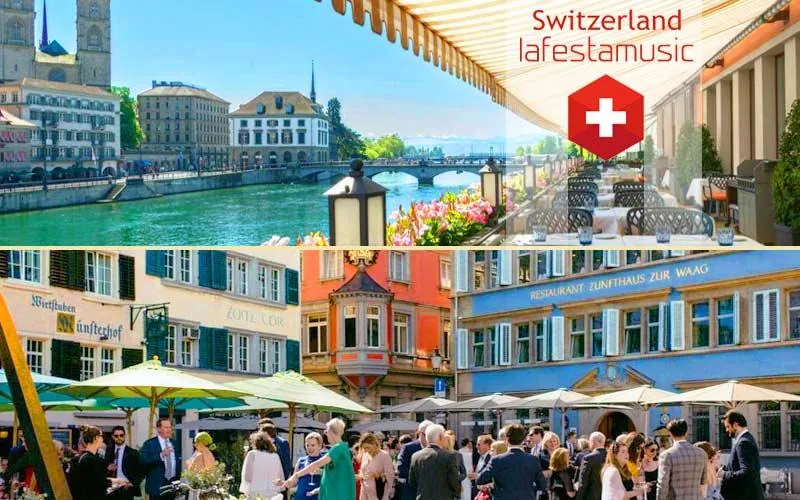 We have been living near Zurich for a long time and perform at various events in Switzerland. Therefore, this text will be based on real experience in the local event industry. The article contains practical advice on choosing a location for a business event (corporate party, conference, meeting) and a private event (wedding, birthday party) in the Canton of Zurich.
Also, you can order the performance of the best artists, unique shows and sound equipment in Zurich:
- Professional cover band and live music
- Laser harp show and singer in 3D dress
- Rent of sound equipment and sound engineer
- Modern Lounge Opera and opera diva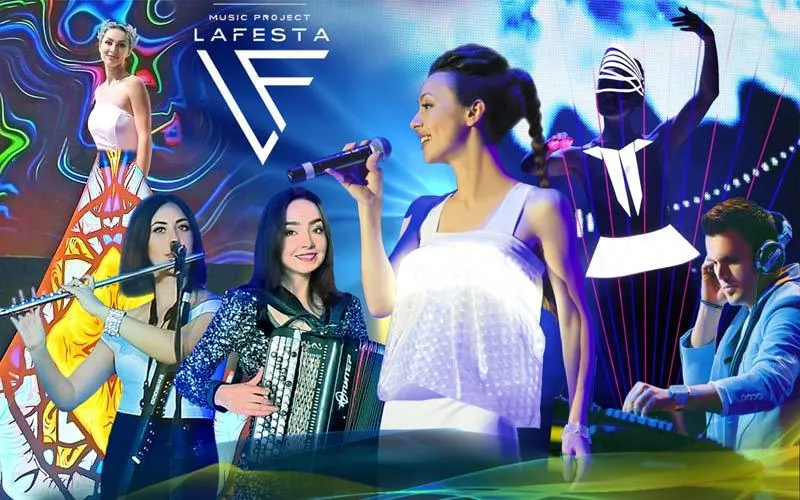 Features of the event and wedding in Zurich:
Zurich is the largest city in Switzerland and its financial center. Although the city's population is not very large by European standards (about 420,000 inhabitants), the canton of Zurich is the most populated region in Switzerland (more than 1.6 million people). Therefore, the event industry is well developed here and there is a large selection of wedding locations, event contractors, and artists.
According to the "Worldwide Quality of Living Survey", Zurich has been recognized as the city with the highest quality of life 7 times in a row. But the high standard of living, ecology, and salaries also affect the cost of event services. Zurich is one of the most expensive cities in the world and this should be considered when budgeting for a wedding or corporate event.
In such an expensive country as Switzerland, there is also a peak in prices - this is the height of the summer season (July and August) when the largest influx of tourists. During this period, it is difficult to find hotels and apartments for a large group of event guests (especially if it is a location with a picturesque view).
We don`t recommend organizing a corporate party or a wedding in Zurich during the two large-scale summer festivals there, which attract tens of thousands of additional guests. "Zurich Pride" (in mid-June) is a huge LGBT community festival and "Street Parade" (in mid-August) is one of the biggest techno parties in Europe.
When organizing an event party in Zurich, you need to remember that about 90% of the locals speak German (70% Swiss German and 20% Literary German). But this fact will minimally affect the interaction with event locations and contractors of your event since many people in the canton of Zurich speak English well. This is different from Italy and France, where fewer people can communicate in English.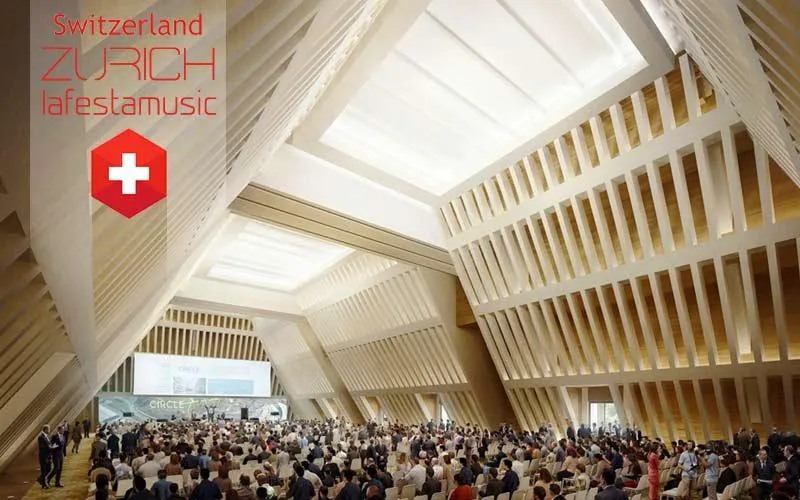 If you are organizing a business event or a conference on banking, finance, and investment, then Zurich will fit perfectly into this topic. Zurich is ranked 4th in the list of world financial centers (after New York, London, and Tokyo). About 50,000 people work in the banking sector (which is half of all bank employees in Switzerland).
One of the features of Swiss culture is that it is not customary to boast and flaunt wealth. Often, you will not be able to notice the appearance and behavior of the Swiss multimillionaire. This feature leaves its mark on the event market as well. Most corporate events of Swiss companies are a meeting of employees in a cozy restaurant or hotel for a stand-up meal conversation, accompanied by calm live music. Event meetings with 4-5 different artists and shows are not typical for this region.
It is also worth considering the Swiss consider the comfort of the neighbors. For example, almost all shops are closed on Sundays and you can`t do noisy household chores (washing a car, mowing grass, throwing garbage). As a rule, after 22:00 you can`t make noise near residential buildings. This creates a limitation for celebrating your corporate party or wedding both in the Canton of Zurich and throughout Switzerland.
Stylish cocktail music from LAFESTA band (Zurich) Fragments of performances at various events in jazz-lounge, deep-pop styles.
Event party and wedding on Lake Zurich. Original event locations on Lake Zurich
Lake Zurich is an additional great option for any type of event. The location of the city near a picturesque lake makes it possible to have a business banquet or a private party on the ship and combine it with a boat trip or a memorable arrival at your event location.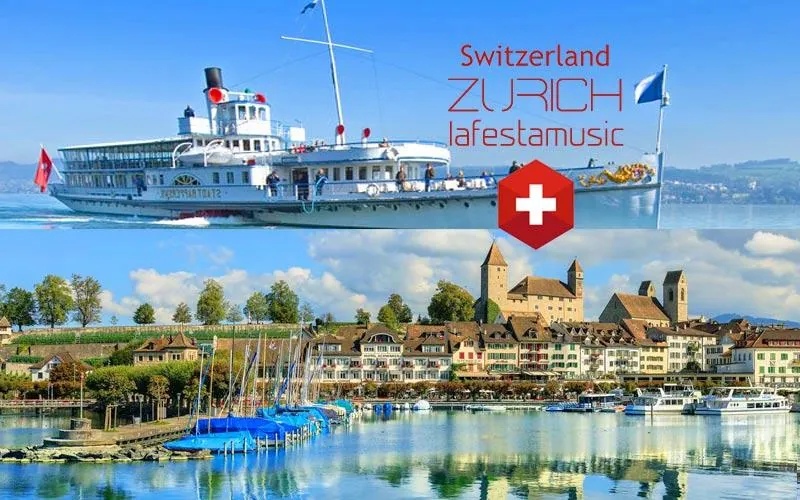 Wine and cheese tasting on board
The degustation boat trip is an opportunity to combine a picturesque lunch and relaxation with the theme of your Zurich event. The tasting itself can be just one of the fragments of your event or wedding party program. During the boat trip, the sommelier will introduce the guests of the event to the correct wine tasting technique, varieties of Swiss wines and cheeses, cheese production technology, and the reasons for the appearance of voids in cheese. The cost of such a 1.5-hour program (including the rental of a vessel, food, and the work of a specialist) is 120 CHF per person (but not less than 40 people).
For example, if your event takes place on a ship like the "Hensa Eventschiff", the ship will be able to pick you up at any of the piers on Lake Zurich. An optimal number of guests: up to 140 people.
Making cocktails with the bartender
The culinary program of the event can be supplemented by the work of a qualified bartender, who will teach guests how to mix cocktails and decorate them (5 alcoholic and 3 non-alcoholic) for 2 hours. This idea can be used not only as a calm interactive for event guests, but also for fun team competition with a jury, tastings, and prizes. The estimated cost of the bartender, including all the necessary ingredients for 15 participants is 1300 CHF.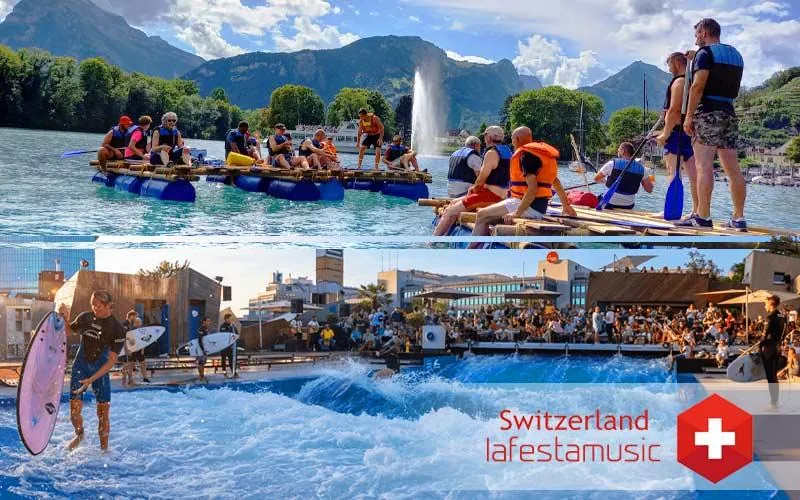 Raft building
An unusual idea for a corporate party in the canton of Zurich could be building a large raft, and rafting on Lake Zurich. This option is suitable for an active event format and team building. There are several companies that specialize in this type of event and accompany the whole process: planning, delivery of materials, construction coordination, travel route and the final barbecue on the lake.
Waterbike regatta
Another option for a Lake Zurich event is a waterbike regatta in one of the most picturesque towns (Rapperswil). This cozy location has a beautiful pier and embankment with a castle towering above it. Your party/wedding guests can start from the harbor, swim around the rock and return back to the Rapperswil pier. After the regatta, it is possible to organize a banquet on the upper deck of the ship.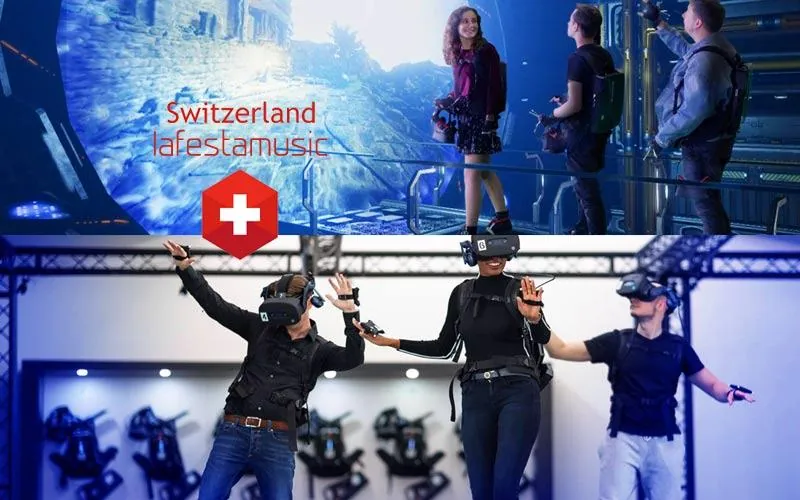 Unusual event & wedding locations in Zurich
Virtual event space
"Virtual Reality Escape Room" is a location where you can play and complete various tasks in the virtual space. With the help of augmented reality glasses, your team (up to 36 people) can get into the Wild West, the jungle or the quest labyrinth. This virtual studio is conveniently located 5 minutes from the main train station (HB Zurich) at Limmatstrasse 73.
As a rule, each of the game scenarios lasts from 40 to 80 minutes (depending on the chosen topic). Some virtual games are possible outdoors. The cost of the game for 4 people will be from 150 to 170 CHF. If you rent the entire location for an event in Zurich (including the meeting room and catering), then the cost for 12 people will be about 700 CHF, and the cost for 36 people is about 1000 CHF. The minimum buffet table will additionally cost from 14 CHF per person.
There are other spaces for gaming events in Zurich. For example: "VR City" at Baslerstrasse 30. This large virtual studio can accommodate up to 100 people at once. While one part of the team takes part in the game/quest, other guests can watch the action from the lounge bar or from special viewing stands.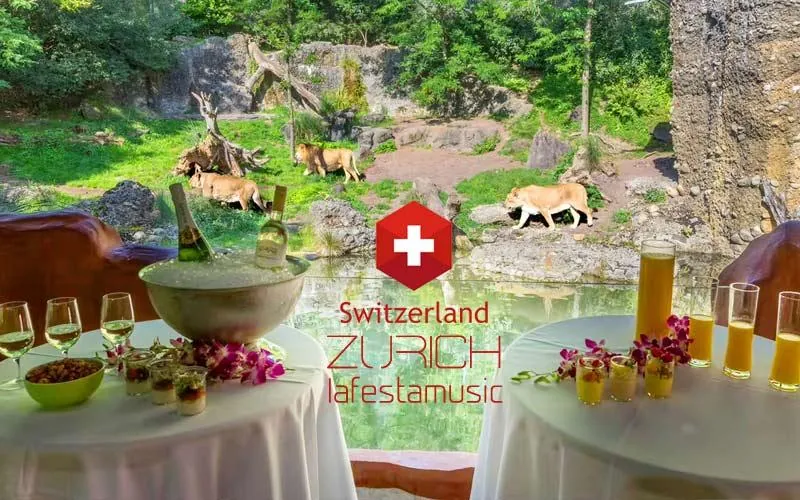 Event at the Zurich Zoo
"Zoo Zürich" is a world-famous zoo that offers an original concept for your event. You can organize a banquet or an event meeting in one or more areas of the Zurich Zoo: tropical forest, elephant park, African savanna, or penguin aquarium. At your service are 4 original locations (restaurants) located in the middle of the animal kingdom: "Mora-Mora", "Altes Klosterli", "Masoala", and "Pantanal".
Depending on the size of the selected area, they can accommodate from 40 to 350 people. Events, aperitifs, and dinners can be held from 9:00 to 18:00. Please note that musical performances, shows, and anything that creates noise is prohibited on the territory of the zoo.
Surfing in the center of Zurich
Near the railway station "Zürich Hardbrücke" there is a unique place for a summer event - the surfing center "UrbanSurf". This oasis in the middle of urbanism allows you to combine water sports, a resort atmosphere, and the functionality of a beach restaurant.
With the help of certified trainers, event guests can learn how to surf on artificial waves. Those guests who do not take part in water activities can enjoy relaxing in the restaurant located along the pool. This location is ideal for organizing a corporate party or a event meeting in Zurich during the warm season.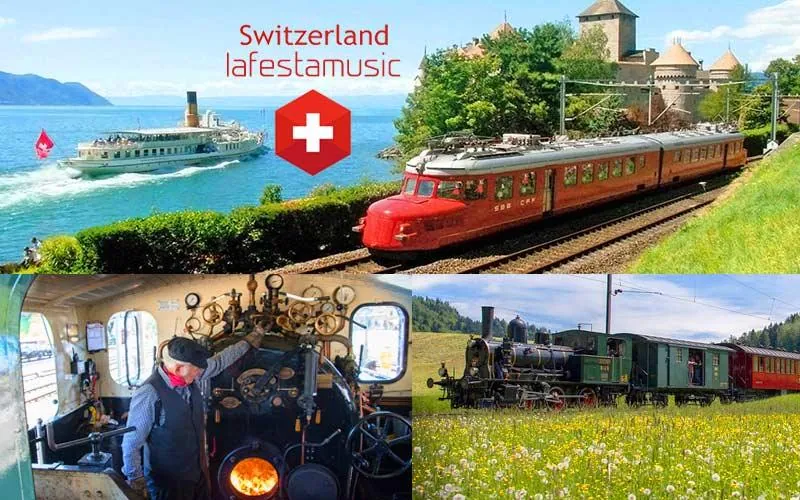 Original locations for events and weddings in the canton of Zurich
Rental of retro trains and special wagons
"Roter Doppelpfeil Churchill" is a comfortable retro train that can be rented for a private or business event. Perhaps this is an ideal option to combine the event and enjoy the natural beauties of Switzerland. The "Churchill" train can accommodate 96 people and has a kitchen with catering and a special carriage for seminars.
The trip can start from any station in Switzerland, which is convenient if your event or wedding program includes an overview of the canton of Zurich or moving from one location to another. In addition, the guests of the event have the opportunity to observe the work of the driver, being in his cab.
Swiss Railways (SBB) also offers the rental of special wagons that can be attached to existing block trains. With timely booking and an advance payment of 75%, this option is available throughout Switzerland. It will be the perfect ending to your corporate event, business meeting, or private party. For example, guests can travel together from a hotel in the mountains to Zurich Airport, while still enjoying conversations and a festive atmosphere.

The other train that's worth noticing is a 19th-century steam locomotive that runs between the towns of Bauma and Hinwil. During the trip, the locomotive passes 8 bridges and 40 crossings. "Zurich Oberland Steam Train Association" (DVZO) can book a dining car on this historic train for an event banquet. The possibility of traveling in this atmospheric locomotive is limited: only from May to October (dates and schedules to be confirmed).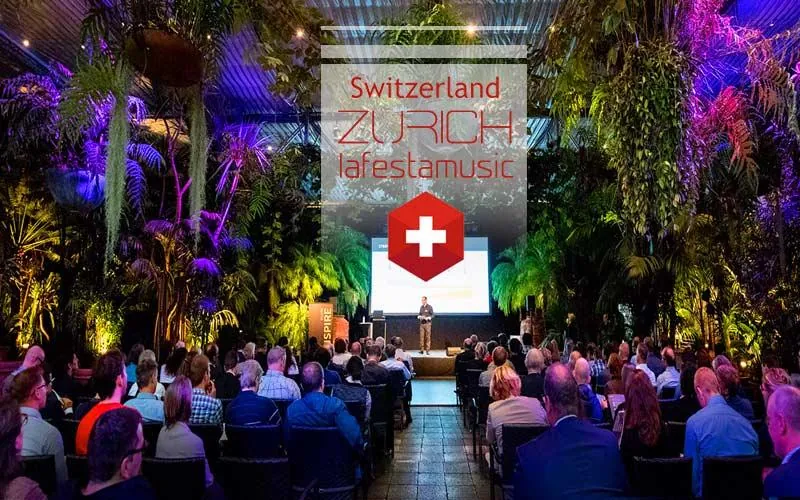 Tropical event location
"Giardino Verde" is a large garden center in the suburbs of Zurich (Uitikon), which specializes in tropical plants. The large greenhouses are perfectly integrated into the natural landscape and the Swiss countryside. Perhaps this is one of the most original places for corporate events, seminars, parties, and weddings in the canton of Zurich. Tropical greenhouses occupy 2000 m2 and can accommodate up to 1300 people in an atmosphere of the jungle, flowers, and unusual plants. At your disposal are 4 different halls (greenhouses) in this Garden of Eden.
Gold mining
This is another unusual format for a hiking event located in the picturesque Zurich Oberland area. Your group will be met by a special guide-gold digger who will introduce you to the technique and features of gold mining. After the necessary preparation, you will begin searching, digging, and washing the rock to find Swiss gold. This phase lasts about 1.5-2.5 hours.
After active work, lunch or dinner will be organized by the fire. The assortment of food at a picnic can be increased and diversified by attracting a catering company. As a rule, the standard program for such a trip lasts about 6 hours. In any case, gold mining and outdoor recreation will be a good alternative for organizing an active event in the nature of the canton of Zurich.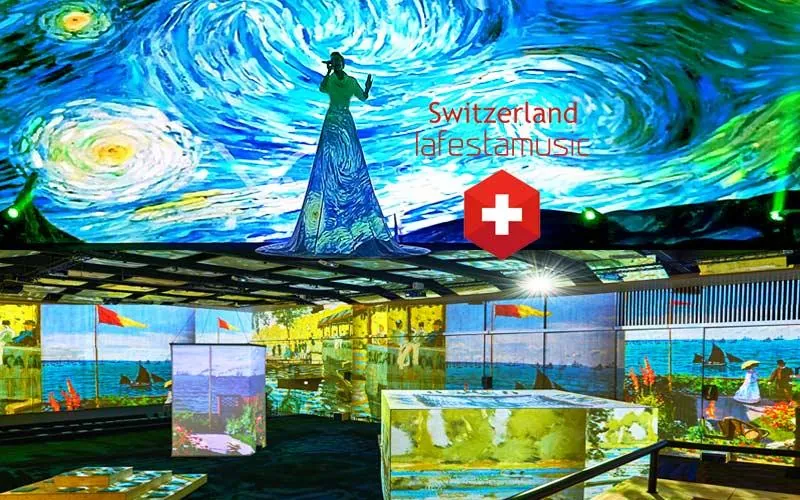 Holographic and light hall
The "Lichthalle MAAG" needs a special mention as it is a museum of immersion in holographic art, which is also called the museum of light. Following the example of the "Atelier des Lumières" in Paris, paintings by various artists and contemporary artworks are projected onto the walls, floor, and ceiling. You can immerse your event meeting in the projection theme that suits your idea and style.
This location will be perfect for a performance by the singer in a 3D dress, which can also have content that matches the theme of your event in Zurich.
Science Interactive Center
"Technorama" in Winterthur is a huge science show center with 500 experimental expositions and exhibits for interacting with phenomena in the field of physics, chemistry, and biology. You can create an individual program for a private event, seminar, or conference. If your event is focused on the theme of science, future, and technology, then this place will be one of the best locations in Switzerland for a meeting.
Show of the opera singer in a mapping dress (Zurich) Various music styles and video content for the large 3D dress.
Big event locations in the canton of Zurich
"THE HALL" in Dübendorf, along with the Kongresshaus Zürich, is the biggest location in the canton for large-scale events, conferences, gala dinners, and concerts. The main hall can accommodate 5,000 people and is equipped with modern equipment (120m LED screen and hydraulic stage). In addition, the event hall has loft rooms (from 50 people) for small seminars and corporate events.
"Kongresshaus Zürich" is a large concert hall in the center of Zurich that can accommodate up to 4,500 people. Panoramic windows overlooking Lake Zurich will create a special atmosphere for your corporate party. The convention center was re-opened in 2021 after an extensive renovation. There are 20 different halls, rooms, and foyers, which can be used for any type of event, presentation, and exhibition in Zurich.
"Eulachhallen" in Winterthur, can accommodate up to 3,200 people. The total area of the multifunctional event location is more than 5200 m2, which will allow you to change the space for the purposes of your corporate party and conference. "Eulachhallen" has recently reopened after a renovation and is equipped with cutting-edge lighting and sound technology. The proximity of the location to Zurich and convenient transport infrastructure create an ideal value in this region.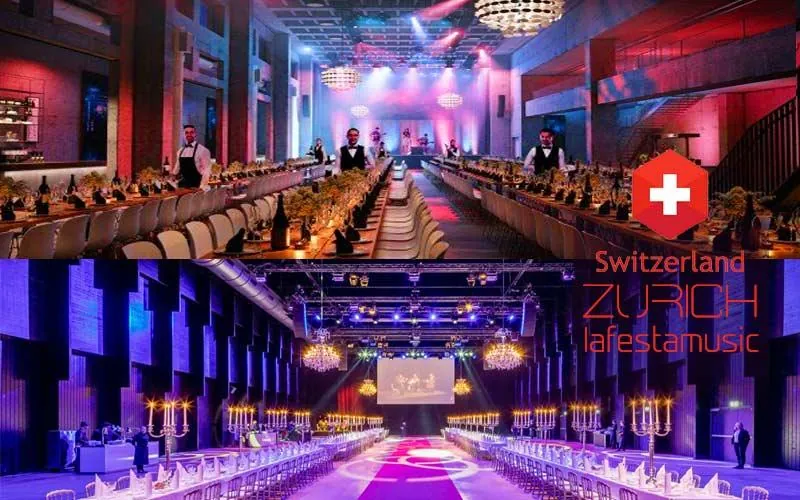 "MAAG" is the second largest hall in Zurich, which can accommodate up to 3500 people. This is a convenient location for conferences, gala events, and corporate parties. It includes several large halls ("Halle 622", "MAAG Halle", and the unique light hall "Lichthalle MAAG", which we mentioned in the previous section).
"Royal Palace Event Center" is another large hall in Winterthur, adequate for events up to 2500 people. A full set of services (from stage equipment to catering) will simplify the organization of your corporate event and wedding party. It is worth knowing one nuance: since the event location has Turkish managers, they can strongly recommend their artists.
"Albisgütli" looks like a small castle or a luxurious mansion. Inside is a large ballroom that can be used for fine weddings, gala dinners, and banquets near Zurich. The main hall resembles a huge wooden farm hangar and can accommodate up to 1200 people.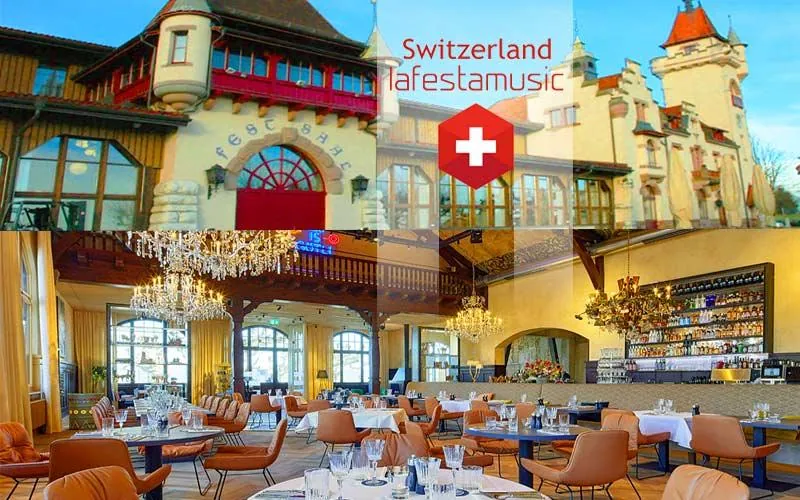 "JED Events" is located in the former Schlieren printing house. The industrial interior is successfully integrated into the modern workspace. Five halls located on 2500 m² can accommodate from 20 to 840 guests. This event location is provided with stylish furniture, catering and concert technologies for any format of business event, and private party near Zurich.
"The Circle" is a huge location on the territory of the Zurich airport, which consists of 18 conference rooms. The largest of them can accommodate 1500 people. It is an ideal place for international conferences, business conferences, seminars, and all kinds of business events.
Other big event locations:
- The "Stadthalle" in Bülach can accommodate from 100 to 2400 guests for your party.
- "Zentrum Schluefweg" (Kloten) conference center with a large arena and outdoor pools.
- "Tolba" factory in Rümlang is an opportunity to make an exciting food production workshop and celebrate an event in a big hall that can accommodate up to 600 people.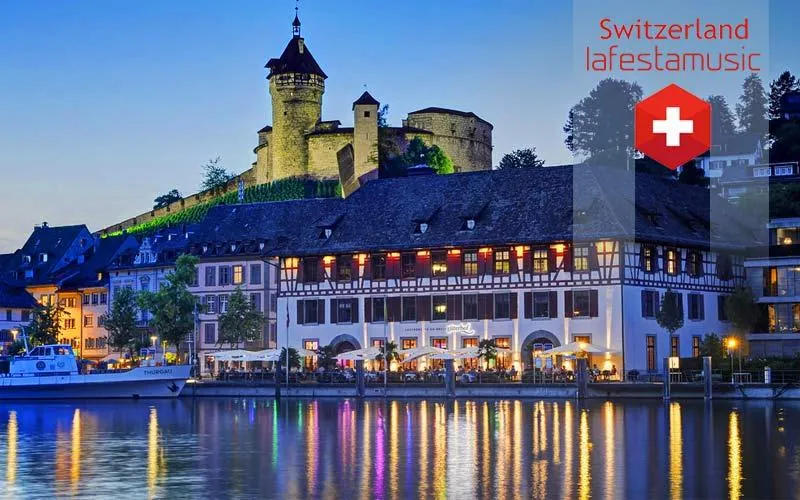 Wedding locations and event locations in the canton of Zurich:
"Autohalle" in Andelfingen. This location is dedicated to the exhibition and rental of vintage cars, which are located in various halls and on all floors. If the theme of your event meeting is related to travel, cars and vintage, then in addition to a banquet in a large restaurant, you can add adventure trips in retro cars. The maximum capacity of the location is up to 600 people.
"Juckerhof" is a large Swiss farm equipped with everything you need for private party and rustic weddings. It is located in the village of Aathal-Seegräben and has a picturesque view of the river. Guests of the event can take part in a farming tournament, create scarecrows and collect fresh food for catering by themselves. The location can accommodate up to 400 guests.
"Rössli zur Vogtei" is a historic building in Herrliberg. The 600-year-old estate with a restaurant, several halls and a barn (converted for events) will be the perfect wedding location. It can also be a cozy place for an event party for up to 320 people.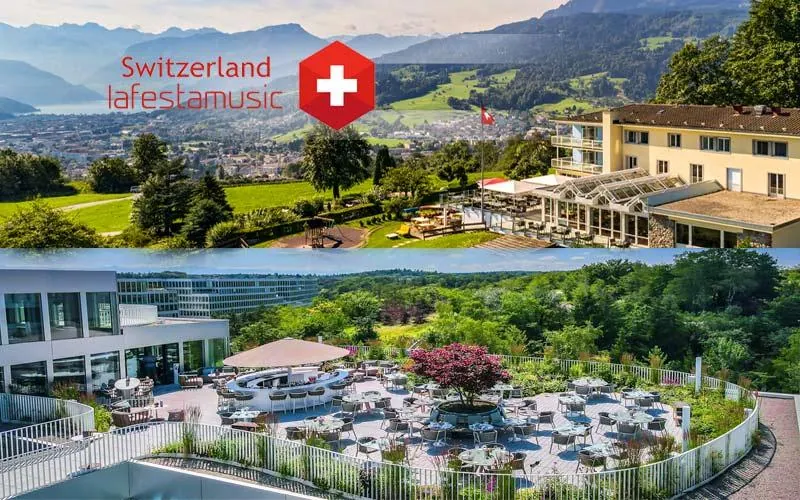 "Silo Bar" is a large terrace with a restaurant, which is located on the roof in the business district of Kemptthal. The location can comfortably accommodate up to 300 guests.
"Romantik Seehotel Sonne" in Küsnacht is a cozy hotel located on the shores of Lake Zurich and has 4 banquet halls for events. Direct access to the lake provides excellent opportunities for newlyweds to sail by a ship and have a wedding ceremony on a green lawn near the hotel. Also, an outdoor barbecue area will allow your party and corporate event to have a unique atmosphere and landscape.
"Zehntenhaus Schloss" is a gourmet old restaurant, located on the territory of a small Elgg castle. The fortress was built in 1166 and after a recent restoration (2020) has reopened its doors for wedding banquets, private anniversaries, parties and corporate events.
"Villa Sunneschy" - this majestic estate/villa in Stäfa village has a picturesque terrace overlooking the lake and a large green area. This will make it possible to organize near Zurich a private event or wedding party in outdoor picnic style. The restaurant hall can accommodate up to 300 people.
"Güterhof" an old restaurant on the banks of the Rhine in Schaffhausen. The features of this wedding location are a terrace overlooking the river, an ancient interior and a cozy patio that will be apropos for bad weather. In the courtyard you can hold a wedding ceremony or an aperitif for guests of a corporate party.
"Schönegg" (Wädenswil) restaurant with a beautiful panoramic view of Lake Zurich.
"Portofino" restaurant in Thalwil, which has a special design that looks like a large gazebo or winter garden.
"Seerose" is a cozy restaurant located on a wooden pier in the middle of Lake Zurich.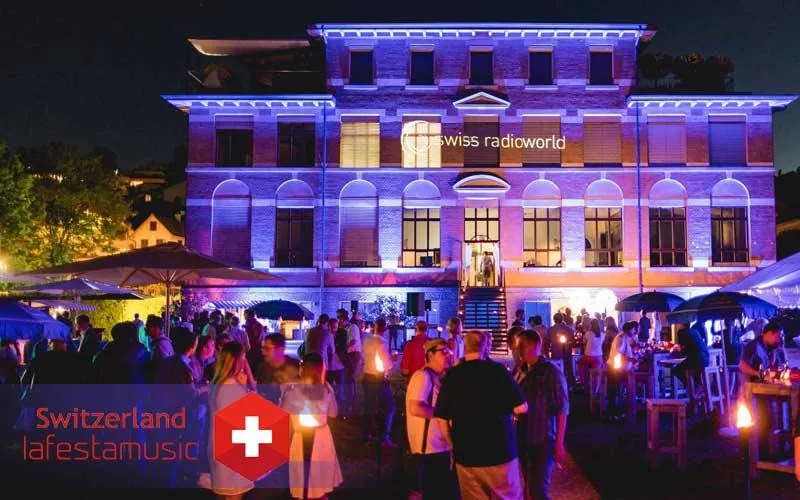 Cozy wedding locations and event locations in Zurich:
"Metropol" is an elegant and very cozy restaurant in the center of Zurich on Bürkliplatz. It is located in the historic building "Haus Metropol", whose neo-baroque facades adorn the summer terrace of the restaurant. This location can accommodate large events and weddings (up to 550 guests).
"Zunfthaus zur Meisen" is located in a charming palace, in which since 1449 there was a guild of innkeepers (owners of taverns, restaurants, and wineries). The luxurious style of the interiors is ideal for classic weddings, gala dinners, and corporate events in the historic part of Zurich. The large rococo-style guild hall can accommodate up to 200 people.
"Zunfthaus zur Meisen" located in a charming palace. Since 1449, this building housed the guild of innkeepers (owners of taverns, restaurants, wineries). The luxurious style of the interiors is ideal for classic weddings, gala dinners and corporate events in the historic part of Zurich. The large rococo guild hall can accommodate up to 200 people.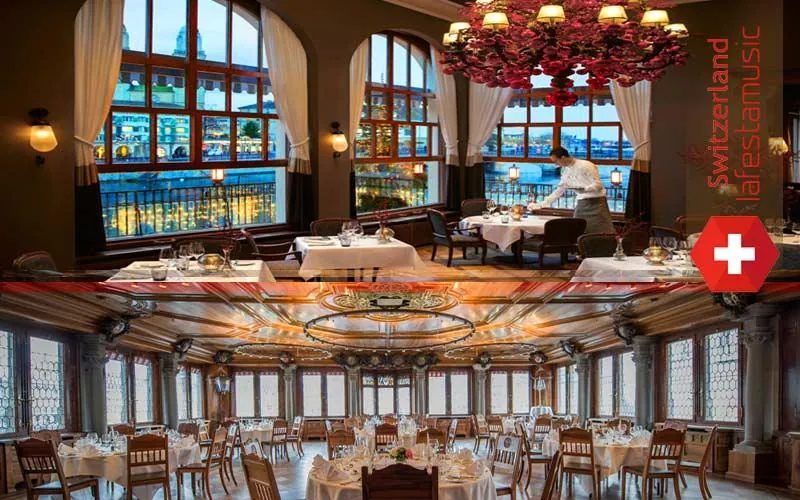 "Gallery Eventlocation" (also functions as a nightclub "Gallery") is a stylish and modern place in the heart of Zurich on Paradeplatz. The main hall is equipped with a new audio system and multimedia and can accommodate up to 300 guests of the event.
"SIX ConventionPoint" is a cozy modern conference center with a capacity of up to 260 people. By the way, in the next space, there is a financial museum of Switzerland with a huge collection of historical securities. Entrance to the museum is free for guests of the event at "SIX ConventionPoint". Therefore, you have a wonderful opportunity to supplement the program of a conference or corporate event in Zurich with an excursion to the museum.
"Sablier Restaurant & Bar" is a restaurant with an amazing design, stylish space, and a large rooftop terrace. Since the restaurant is located near the Zurich airport, this event location is convenient for organizing a pre-party (when guests arrive at the event from other countries) or an after-party (when you can make a farewell banquet before flying back).
"The Millers" is a cozy theater with a lobby, a bar, dressing rooms, and a stage. Renting this theater for weddings and corporate events in Zurich will create a special atmosphere. The main hall can accommodate 140 guests seated at tables or 300 people without fixed seats.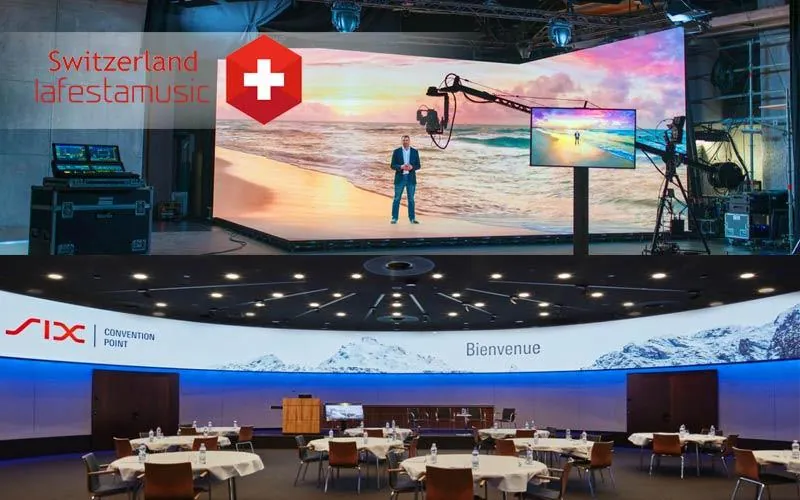 "Sonnenberg" is one of the best options for celebrating a wedding or corporate party with a panorama of Lake Zurich. The restaurant seems to be floating above Zurich. Its seclusion on a hill and at the same time its proximity to the city create the perfect balance.
"Zunft zur Zimmerleuten" restaurant is located in a medieval building, steeped in the history and spirit of Zurich. There are 5 different halls with a capacity of 40 to 200 people. This guild restaurant is one of the best choices among historical wedding locations in the center of Zurich.
"Zunfthaus zur Schmiden" is similar to the previous location but has a slightly different design. This building has belonged to the guild of blacksmiths since 1412. Many parts of the interior (stucco, columns, window frames) have been preserved since 1520 when the "Zunftsaal" hall was opened. The restaurant can accommodate an event/wedding up to 250 people.
"Belvoirpark" is a restaurant located in the middle of a large park. Various halls and a beautiful sunny terrace overlooking the park will be an excellent choice for a wedding ceremony, an aperitif before a corporate party, and a gala banquet. The event location can accommodate up to 140 people.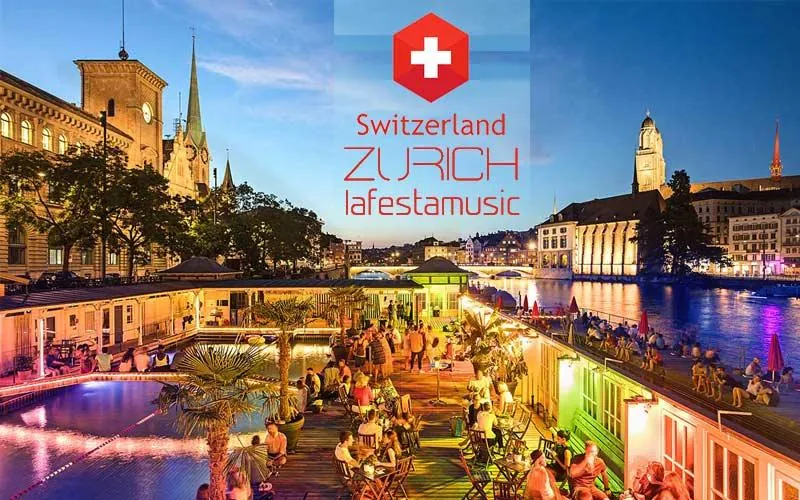 "Barfussbar" has a unique feature: during the day it is a bathing area in the center of Zurich, and in the evening the pool turns into an event location. An open area around the river pool, palm trees, and a view of the historical sights of Zurich will create an unforgettable experience for your corporate party and wedding. The location is open only during the warm season (from May to September) and can accommodate up to 200 people.
"Habegger Livestream Studios" in the suburbs of Zurich is a location that has everything you need for a digital event. Three studios are equipped with holographic screens, LED wall, studio lighting, dressing rooms, and video equipment for filming and live streaming. The digital event location can be used for filming and debates (up to 35 people).
"Zweifel 1898 Weinbeiz" is an old wine bar that is used as an event location with a wine terrace and a hall for 120 people. If your party theme is wine related, then this is a great place in Zurich. The restaurant has a shop for the sale of its own wines from private vineyards in Switzerland.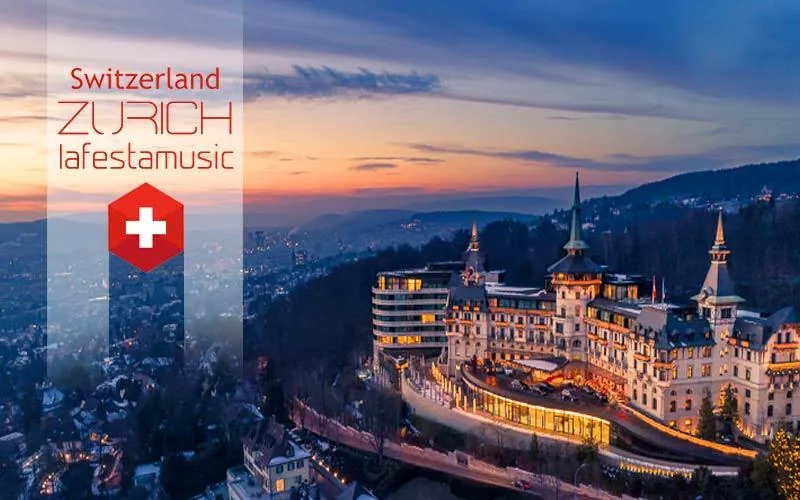 Hotels for weddings and events in Zurich:
"The Dolder Grand" is one of the best wedding locations in Zurich. This luxurious hotel was built in 1899 and functioned as a sanatorium and resort, so its spa can be considered one of the best in the city. But the main charm of the hotel is that it is located on a hill above Zurich. A beautiful panorama of the city, lake, and mountains creates a feeling of lightness. The hotel has various halls (from 12 to 900 seats) for any kind of business events and weddings. Also, an event and a banquet can be held on a large panoramic terrace. The corridors of the hotel are decorated with unusual works of art: from Salvador Dali to Andy Warhol.
"B2 Boutique Hotel" is comfortably located in the building of an old brewery, as evidenced by the original interior. In addition to a spa and wellness center with thermal baths and a steam bath, the hotel has an amazing library with 33,000 books, which creates a special interior for a wedding photoshoot in this location. Also, you can organize your corporate and wedding celebration near the rooftop pool.
"The Marriott Hotel" is located on the riverside in the center of Zurich. 12 diverse halls are suitable for planning any type of event or wedding and can accommodate up to 650 people. The hotel is famous for one of the best Thai restaurants "White Elephant", which can be an ideal solution if your event has an Asian theme.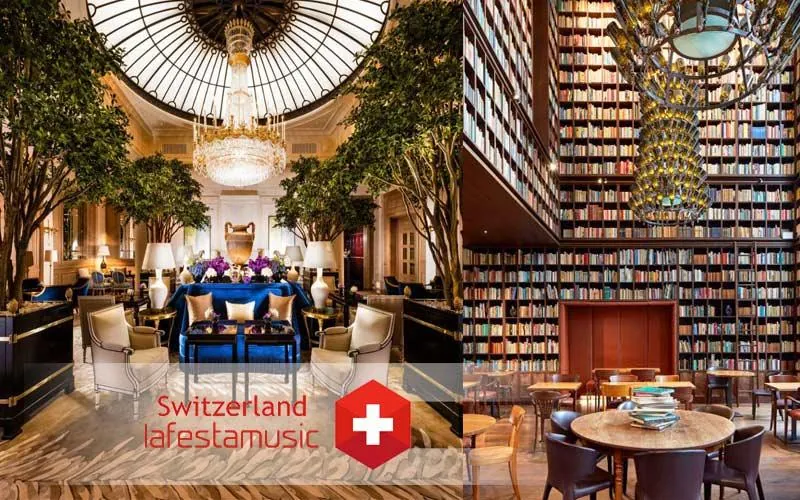 "Baur au Lac" was opened in 1844 and is one of the most luxurious hotels in Switzerland. A picturesque view of Lake Zurich, a private garden, and a cozy terrace create the atmosphere of The French Riviera. The "Pavillon" restaurant is one of the most gentle and cozy wedding locations for your special day.
"Storchen Zurich" is a hotel with over 650 years of history. It is located in the old part of the city. In addition to a beautiful rooftop terrace, the hotel has its own small Venetian-style boat dock, which allows event guests and newlyweds to sail by boat. By the way, the hotel has an exclusive elegant honeymoon suite. The charm of lang syne and modern renovation creates the perfect setting for planning an event in Zurich.
"Romantik Seehotel Sonne" is another historic hotel on the shores of Lake Zurich. Up to 130 guests of your wedding or event can comfortably accommodate a large banquet hall. The hotel`s interiors are decorated with art: sculptures, and paintings. During the warm months, the private garden is the perfect place for a wedding ceremony or an open-air banquet.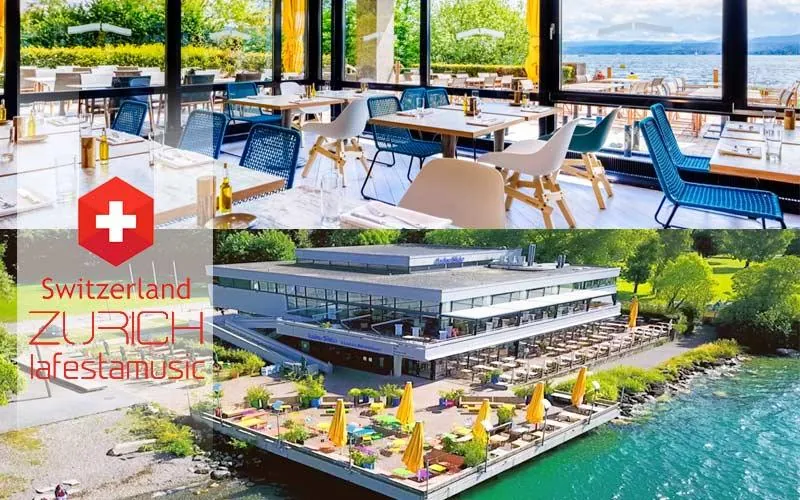 "Central Plaza" has its own restaurant in the garden, which creates a cozy oasis for planning various events and weddings. The hotel was opened in 1883 and has several excellent event halls. One of them is "King's Cave" restaurant, which recreated the medieval royal atmosphere and interior. This location is perfect for an authentic party and a historic wedding.
"Lake Side" is a small hotel (conference center) on the shores of Lake Zurich. It has a beautiful terrace, a restaurant on the water, and a hall equipped with modern technology. The interior space is designed for 650 guests, and the total capacity (with a terrace) is 1600 people, which makes this location one of the best for planning a large banquet, party, corporate event, and wedding in Zurich.
"Sorel Hotel Zürichberg" is a hotel on the edge of the forest with a panoramic view of Zurich. Due to such a good location, the hotel has its own garden and outdoor terraces, which will create a special atmosphere for a wedding ceremony or buffet in nature. In total, this location has 6 halls for private event meetings and weddings of various sizes.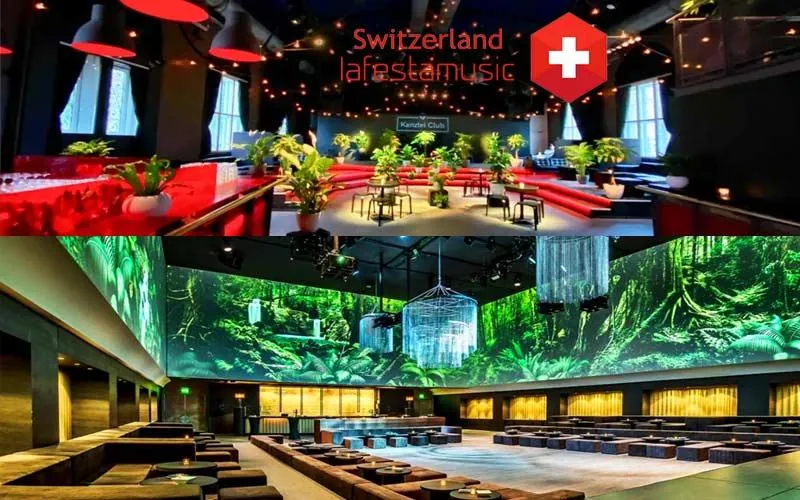 Best clubs and dance locations in Zurich:
"Kaufleuten Zurich" is a club in a historic building. Its interior is similar to a small theater with balconies.
"AURA" is one of the best locations in the center of Zurich (Paradeplatz). On the ground floor there is a restaurant, and above it is a multifunctional club with a 360° projection screen.
"Mascotte Club" is the oldest club in Zurich, which celebrated its 100th anniversary. Its walls still remember the performance of such stars as Louis Armstrong.
"Floor Club" is a multifunctional club with rooms in various styles that can be used for small private events: birthday celebrations, bachelorette parties, and corporate parties in Zurich.
"The Urban" is a new event location in the center of Zurich with a modern club and a comfortable restaurant.
"Plaza Klub" is located in an old cinema, which gives this nightclub a special charm.
"Bolero Club" in Winterthur is a club and concert hall with a nice outdoor terrace.
"Supermarket" is a club from the 90s, which creates its own special atmosphere because is located in a former large garage.
"5TUDIO" or "Labor5 club" is a cozy nightclub in a former industrial quarter in the western part of Zurich.
"Jade Club" is one of the most stylish clubs in Zurich, where fashion shows and vibrant hip-hop parties are carried out.
"Kanzlei Club" is located in the building of the former school gym, but has its own unique atmosphere and exclusive parties.
"X-Tra" is a trendy club location in Zurich with its own hotel. It is very convenient for an event and party guests.

© Ihor Kuksenko www.lafestamusic.info