Event and corporate party in a Swiss castle. Castle rental in Switzerland for a party and a business meeting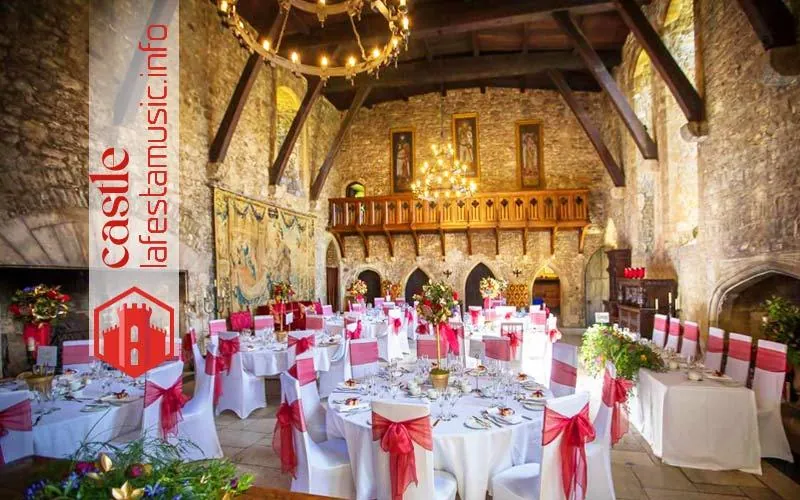 Many companies do not consider holding their event or business meeting in a castle because they mistakenly believe that the rent is too expensive. But holding an event in a Swiss castle can actually be cheaper than holding a conference in a five-star hotel in Bern, Zurich or Basel (and in some cases on a par with renting a good restaurant).
We will describe in detail the 14 best castles and estates in Switzerland that could be the ideal location for your corporate event, private party or banquet.
The main advantage of all the Swiss castles is that they are all situated in picturesque locations in the heart of the Alps. Panoramic views provide a stunning backdrop for your event.
If your company or event guests are not invited for a one-day event but for 3-7 days, you can organize various outdoor activities (hiking, cycling, skiing, etc.) depending on the season. This can be the second advantage of choosing a Swiss castle for an event.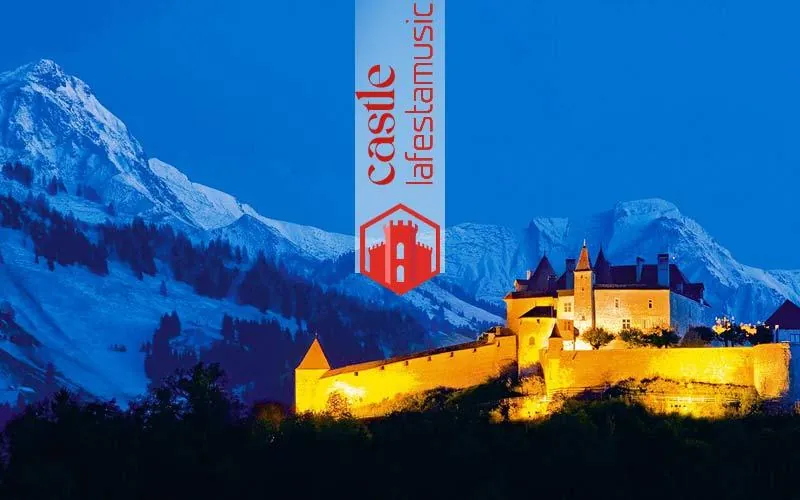 Depending on the size of your company and its main clients, you can hold the event in different language areas of Switzerland (German, French or Italian). Such a convenient location of Swiss castles allows you to organize international events, conferences and business meetings.
However, despite Switzerland's easy accessibility from neighbouring Central European countries, it should be noted that Zurich and Geneva airports are the most expensive in Europe, which is reflected in the cost of air tickets to these cities.
It is also important to remember that Switzerland is made up of 26 cantons, each of which has certain differences in legislation that may affect the rules and conditions for organising an event or private party at the castle. Normally, the castle management will provide you with all the necessary information for renting a castle, taking into account the rules of the local community and the historical significance of the site.
Due to the fact that castles and chateaux are cultural heritage sites, there may be some restrictions on the use of technical equipment for corporate and event parties (volume of the sound system, electricity consumption, amount of lighting, layout of technical equipment, etc.).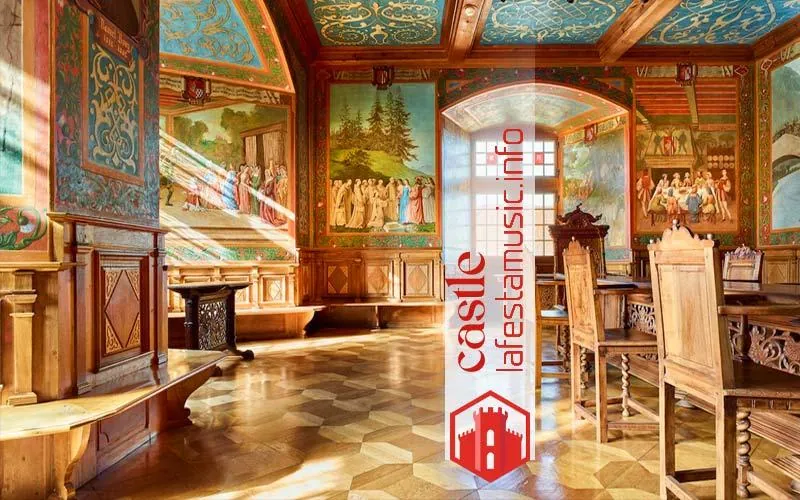 Swiss castles are often privately owned or managed by various foundations, which means they offer a level of exclusivity and privacy that is difficult to find in other European countries. This exclusivity ensures that the private party has full access to the castle grounds and facilities, allowing for a more personal and intimate corporate experience.
Castles can be the perfect location for a quest where guests can explore the grounds, corridors, cellars or search for hidden rooms. This can lead to exciting situations and better memories of teamwork and team building.
Many castles in Switzerland offer, in addition to their own restaurant or catering, the services of an old wine cellar, a hotel, a visit to the castle museum with a full immersion in the historical atmosphere and a panoramic view of their territory (after all, all castles are located in picturesque places).
Guests can enjoy a banquet in the castle's large (fireplace) hall with its historic interiors and artefacts. The menu can include local specialities or traditional dishes reflecting the castle's heritage, some of which can be cooked directly on the spit.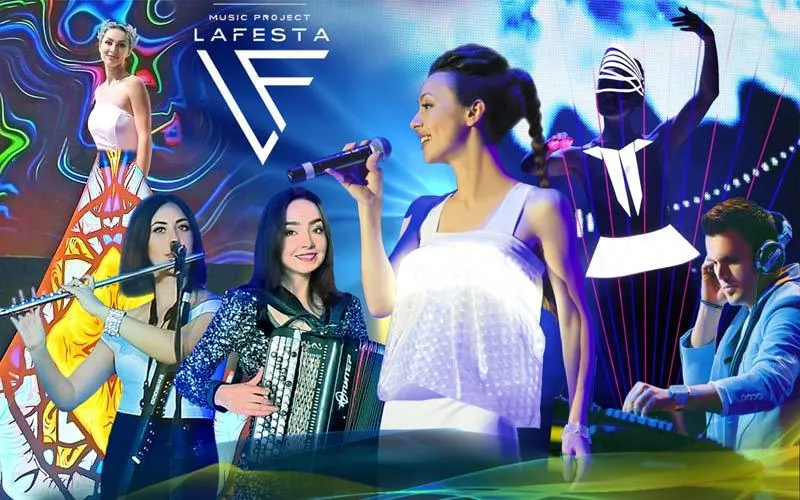 You can book unique shows and musicians for any type of party or event at the castle:
- Opera singer and hang drummer (performance with a harpist and an accordionist is possible)
- Singer show with 3D dress (we bring our own projector and create original content)
- Laser harp show (possibly interactive for event guests)
- Contemporary Lounge Opera and Opera Diva (can be performed in any composition: from 2 to 12 people)
- Cover band in the format of jazz lounge, ethnic and dance music
- Rent of sound equipment and professional sound engineer or DJ
The best castles in Switzerland for events and private meetings:
Château d'Aigle (Organising an event at Aigle Castle, Switzerland)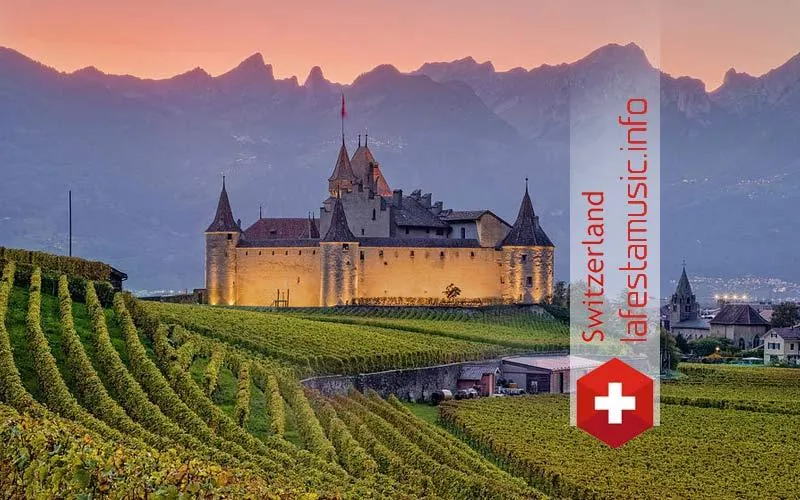 www.chateauaigle.ch
Aigle is a very charming and beautiful castle in the town of Aigle (canton of Vaud). Situated in the heart of the Chablais wine region, it is surrounded on all sides by vineyards.
Aigle Castle has been used for wine production since the 13th century and now houses the Swiss Wine Museum and the Institute of Viticulture and Oenology. There is a large collection of exhibits (old presses, barrels, bottles) on the grounds of the castle and in its cellars. If you are looking for a castle to rent for an event on wine culture and gastronomy, or to host a wine tasting, Château d'Aigle is the perfect choice.
The castle is easily accessible by car from Montreux and there is ample parking on the site.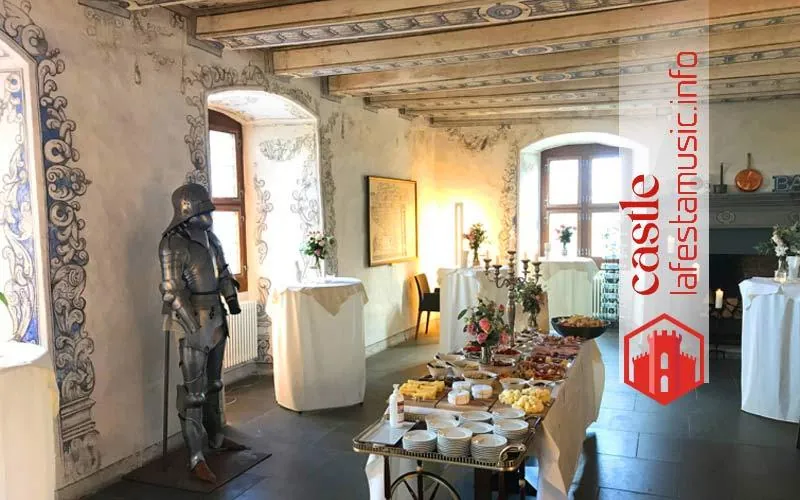 Since the castle became the property of the municipality of Egle, it is often rented out and used for corporate events, concerts and private banquets. The castle has various halls and rooms that are ideal for different formats and styles of events:
- Commons Hall (the largest room in the castle, accommodating up to 200 people) with beautiful Gothic windows offering panoramic views of the surrounding vineyards and mountains;
- Governor's Hall (up to 120 people) with painted ceilings and walls, antique furniture and a cosy fireplace. Formerly used as a private residence for the owners of the castle (including the Duke of Savoy).
- The Audience Room (up to 40 people) is a smaller room, ideal for a small private banquet.
- The "Salle des Excellences" is located in the former barn of the castle and can accommodate up to 200 people. It should be noted that the room has no windows, only small loopholes.
Castelgrande Bellinzona (corporate and business events at Castelgrande Bellinzona)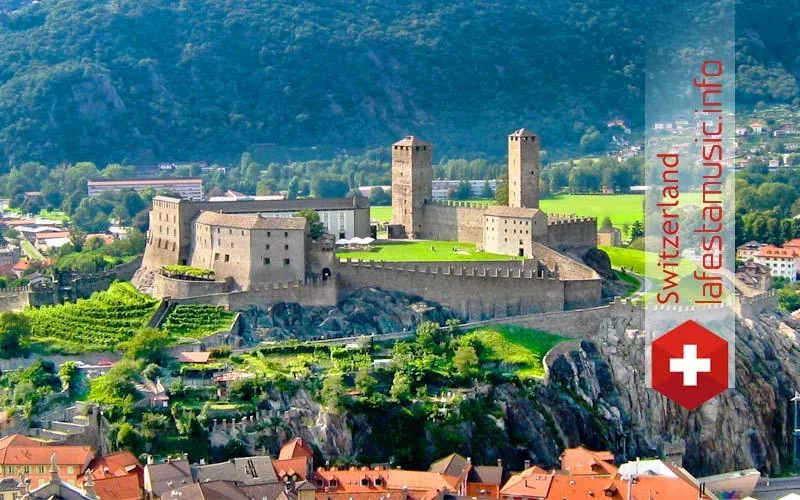 www.castelgrande.ch
The castle complex of Bellinzona in the canton of Ticino consists of three castles: Castelgrande, Montebello and Sasso Corbaro.
Castelgrande is the oldest of the three castles, with a history dating back to the 4th century. It sits on a rocky hill and huge boulders are the highlight that sets it apart from other Swiss castles. No wonder Castelgrande has been the residence of the noble Visconti family, various bishops and was used for the filming of the James Bond movie Goldeneye.
Castelgrande has several original locations for an atmospheric event:
- The courtyard of the castle is a large open space with a picturesque view of the surrounding countryside. It is the ideal place for an outdoor event or a cocktail party.
- The Great Hall of Castelgrande is an impressive room with high ceilings, ancient frescoes and a fireplace that will provide a historic setting for your corporate event or banquet.
- The tower has several different levels that can be used for small events and business meetings.
Chateau de Chillon (rental of the Swiss castle de Chillon for an original event):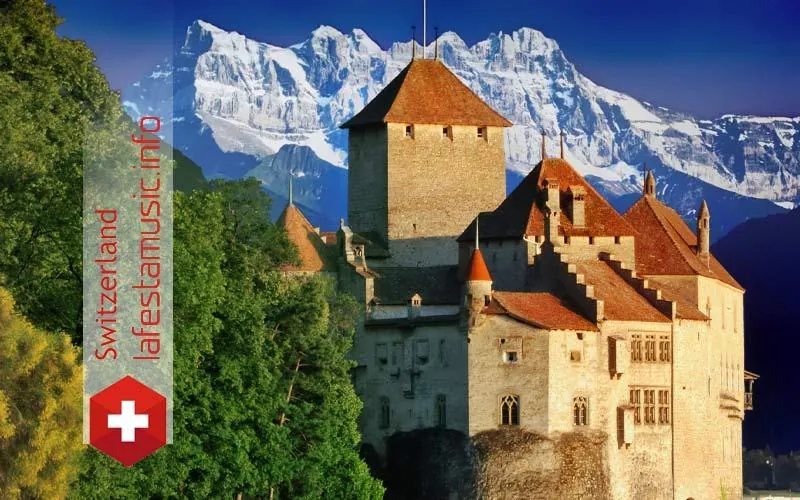 www.chillon.ch
This castle on the shores of Lake Geneva is one of the TOP 3 most beautiful castles in Switzerland and one of the best medieval castles in Europe. Famous writers such as Alexandre Dumas, Lord Byron, Victor Hugo and Gustave Flaubert have stayed here.
One of the advantages of Chillon Castle is its location near Montreux, easily accessible by car, train or boat from Geneva or Lausanne.
This residence of the Counts of Savoy comprises 25 buildings and various courtyards. Some of the rooms and spaces at Chillon Castle can be hired for your corporate event or party.
- The large hall can accommodate up to 220 guests and will surprise you with its vaulted ceilings and massive fortress walls.
- The chapel is designed for smaller events (up to 80 people) and, in addition to the picturesque view of the surrounding mountains and Lake Geneva, will decorate your banquet with beautiful stained glass windows.
- The Courtyard is the largest area of Chillon Castle and can accommodate a large outdoor event (up to 1000 guests).
Schloss Thun (birthday celebration and party at Thun Castle, Canton of Bern):
www.schlossthun.ch
Located in the charming town of Thun in the centre of Switzerland, Thun Castle rises beautifully above the town and lake, offering a picturesque panorama for corporate event guests. It is so majestic that it was used as the hideout of the main villain in the James Bond film Moonraker.
The castle was first mentioned in historical records in 1187, when it was owned by the Dukes of Zähringen and the Habsburgs. In 1921 it was purchased by the city of Thun and, after restoration, opened to the public as a hotel and an excellent venue for various events.
Thun Castle has an original knights' hall (for up to 150 people), a beautiful chapel (for up to 60 people) and a tower room (for up to 40 people). Inside the castle is the Schlosshotel Thun and a museum of the city's history with a collection of historic weapons and armour.
The castle's location in the charming town of Thun, with its picturesque streets, cafes and shops, makes it easy to organize leisure activities for your event guests.
Stockalperschloss (organizing a corporate party and seminar at the Stockalper Estate, Switzerland):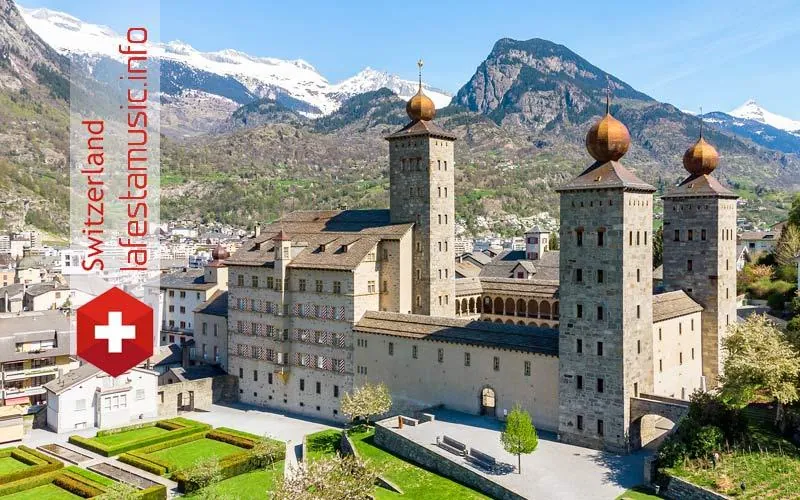 www.stockalperstiftung.ch
This original 17th century castle in the town of Brig was built by one of the richest and most powerful men in Switzerland, Kaspar Stockalper. The towers of Stockalper Castle have become the symbol of Brig.
The town is also famous for its sausage-making traditions, and the castle has a separate room called the "Sausage Kitchen" where sausages were made, and a large wine cellar with original barrels and wine presses.
The following rooms at Stockalper Castle can be hired for private functions and parties:
- Ballroom with high ceilings and large windows;
- The courtyard with its beautiful garden is a great place for events in the warmer seasons;
- The chapel and a unique collection of antique clocks add a historic atmosphere to any event.
Schloss Oberhofen (Swiss castle Oberhofen to rent for a private event):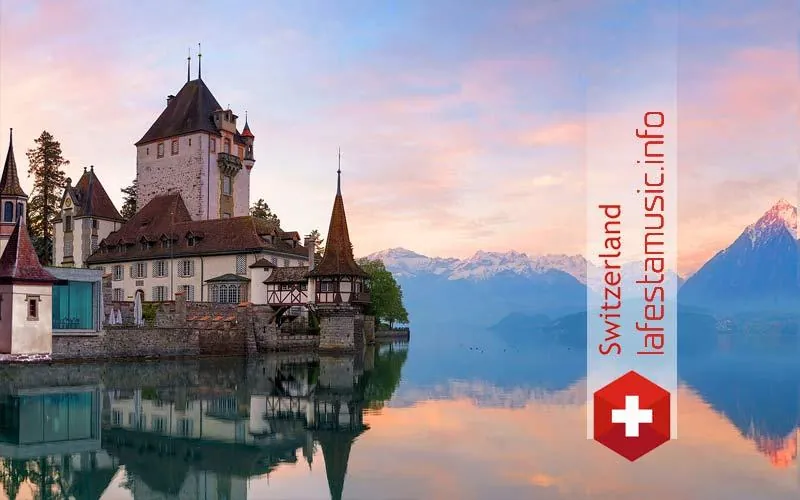 www.schlossoberhofen.ch
Oberhofen Castle (near Thun) is one of the emblems of Switzerland. Its convenient location on the lake, a beautiful tower on the water and a garden with exotic plants create the perfect backdrop for your event.
Many of the castle's interiors (tapestries, antique furniture, paintings) have been preserved in their original state, and there is a working historical museum with an interesting collection of weapons and furniture.
Since Oberhofen Castle became the property of the Canton of Bern, some of its rooms have been used by event organisers for original galas, private banquets and birthdays. The main hall (for up to 60 people), the knights' hall (for up to 150 people) and the garden hall (for up to 40 people), with access to a cosy garden, are particularly noteworthy.
Since Oberhofen Castle has its own access to the lake with a landing stage, you can include a boat trip on the lake in the programme of your event or party and enjoy an exciting excursion on one of the most beautiful lakes in Switzerland.
Château de Gruyères (original event and party at the castle of Gruyères, Switzerland):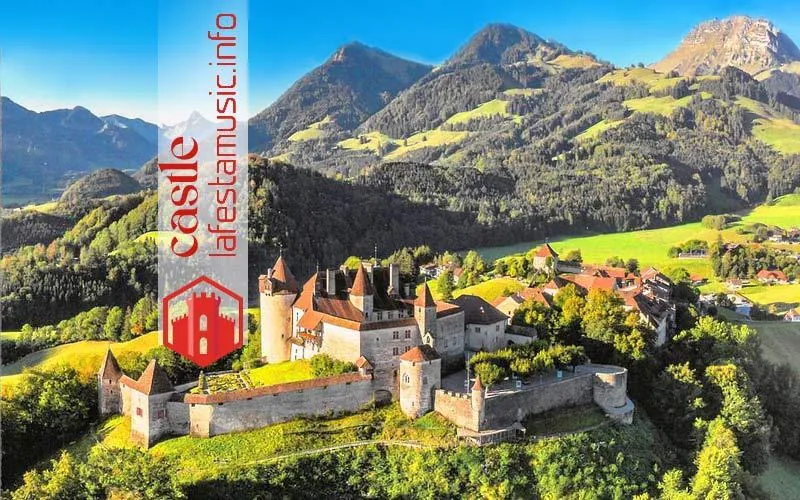 www.chateau-gruyeres.ch
Gruyères Castle, located in the town of Gruyères in the canton of Fribourg, is the second most visited castle in Switzerland (after Chillon Castle, which we wrote about above).
The area around the castle is famous for the production of Gruyere and Vacher cheese, which are the region's hallmarks. So if your event has a gastronomic theme or you want to focus on cheese for your banquet or party, Gruyère Castle is a great choice.
The main attraction of this venue is the medieval village of Gruyères, which lies at the foot of the castle. The village has cosy restaurants and small hotels that can accommodate guests on a private holiday. The castle and the village of Gruyères are such a beautiful historical tandem that in 2014 they were the setting for the film The Three Musketeers.
If your event includes science fiction fans, a visit to the R. Giger Museum and Bar in Gruyères could be a bonus. The famous Swiss artist created the images for the film Alien and his bar, which is one of the top 20 most original restaurants in the world, is decorated in the same style.
Schloss Kyburg (anniversary celebration and party at Kyburg Castle, Canton of Zurich):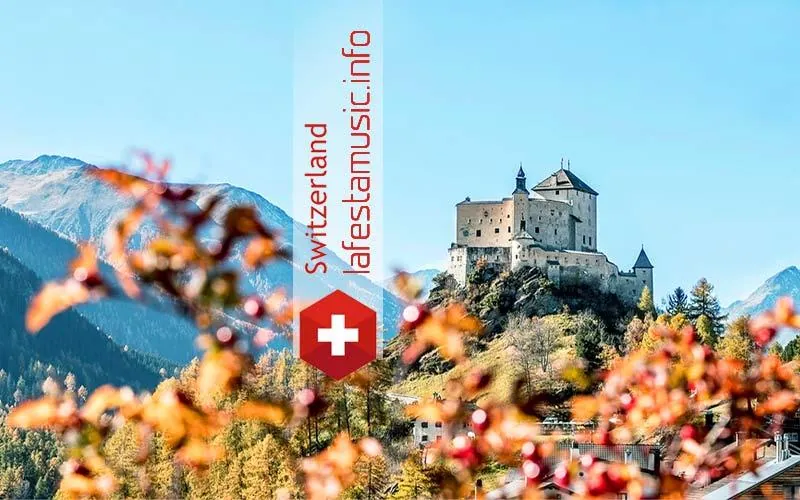 www.schlosskyburg.ch
This is one of the oldest castles in Switzerland (first mentioned in 1027), located near Winterthur.
Kyburg Castle has several halls and rooms that can be used for events:
- The Knights' Hall (Rittersaal) is the largest hall in the castle and can accommodate up to 150 people for a banquet.
- The Red and Blue Salons are small, cosy rooms with antique furniture and fireplaces that can accommodate 40-50 guests.
- The castle courtyard and gardens can be used for outdoor events such as concerts, festivals and corporate parties. It can accommodate up to 500 people and offers stunning views of the architecture of Kyburg Castle and the surrounding countryside.
Schloss Lenzburg (planning of a company party and conference at Lenzburg Castle, Switzerland):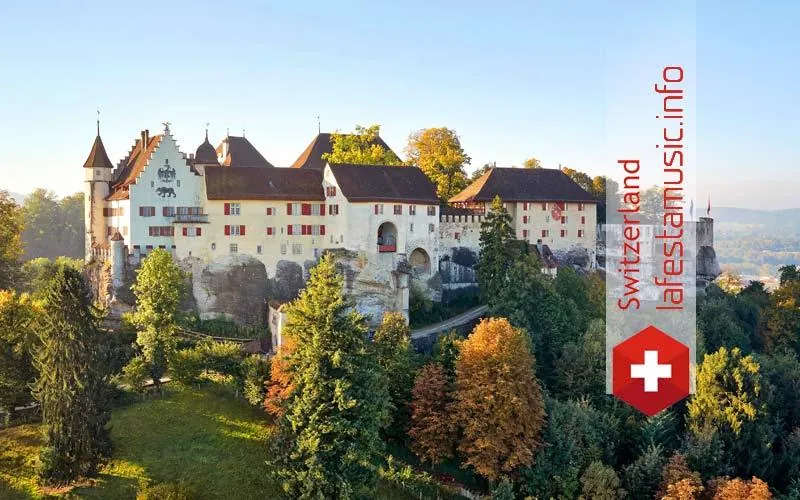 www.schloss-lenzburg.ch
This beautiful medieval castle in the canton of Aargau is situated on a hill with a picturesque view. Lenzburg is the setting for a quest game in which participants solve puzzles and riddles to escape from a medieval dungeon.
Lenzburg Castle has various halls and rooms available for events and private parties:
- The Knights' Hall is the largest medieval hall with a high wooden ceiling and decorative frescoes. This room is suitable for large events and can accommodate up to 200 guests.
- The Castle Tower is a secluded and unique room with panoramic views of the surrounding countryside and can accommodate up to 70 people, making it ideal for smaller receptions and business meetings.
- The castle courtyard can be used for outdoor events for up to 500 guests.
- Castle Cellar (Schlosskeller) - Located in the basement of the castle, this atmospheric room can be used for private dinners, wine tastings and other intimate gatherings.
Schloss Rapperswil (the best event in the medieval castle of Rapperswil, canton of St. Gallen):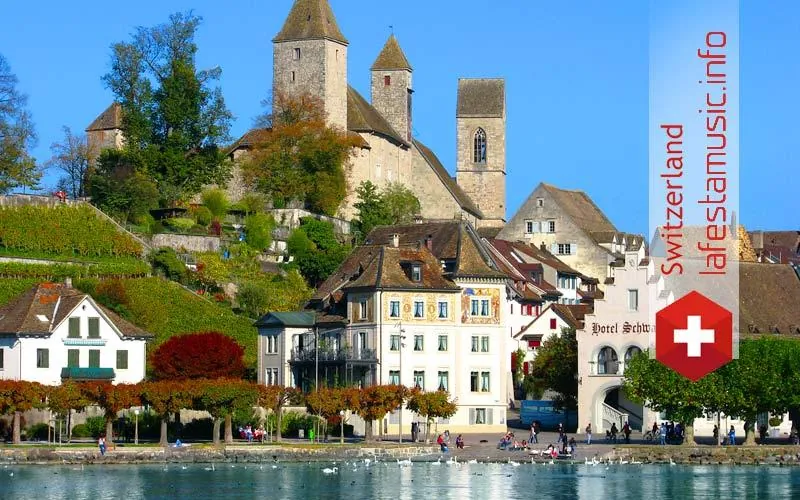 www.schlossrapperswil.com
Rapperswil is a very beautiful and cosy town on the shores of Lake Zurich, with a marina, convenient transport links, a zoo and an old castle on a hill. All this provides a unique setting for events.
Rapperswil Castle is currently closed for renovation until summer 2024. However, several rooms are available for hire for business events and private parties: the Knights' Hall (up to 300 people), the Rose Garden (up to 200 people), the Castle Courtyard (up to 500 people) and the Castle Tower.
It is also possible to combine the event programme with a tour, lecture or other educational activities in the castle museum.
In the 1950s and 60s, Rapperswil Castle was used as a hotel and hosted many famous guests, including actress Audrey Hepburn. It is sometimes called the "Castle of Roses" because of the extensive rose gardens that surround it. It is also home to fallow deer, which roam freely and graze in the castle gardens.
Château de Nyon (rent the Swiss castle in Nyon for a company event):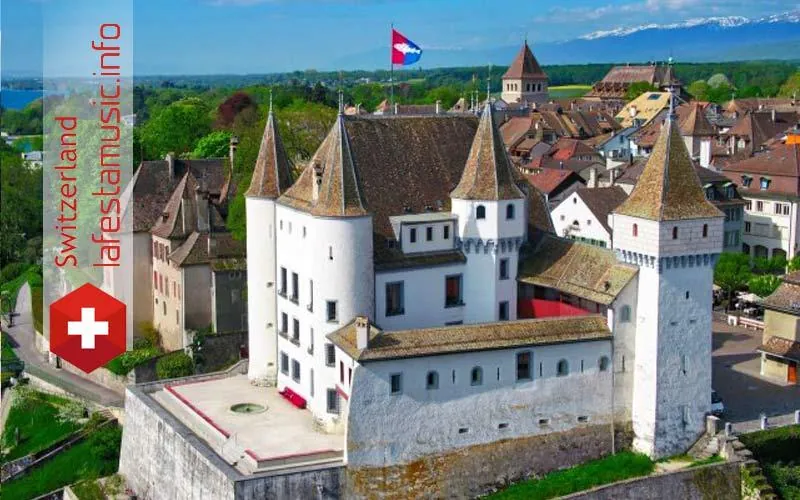 www.chateaudenyon.ch
Nyon Castle was owned by the Counts of Savoy from the 13th to the 16th century. It is one of the TOP 5 Swiss castles that can be used for a corporate or private event. Nyon also offers the unique opportunity to take a torchlight tour of the castle's attics and cellars at night, an original addition to the party programme.
Château Nyon has several interesting rooms that can be used for events:
- The Salle du Grand Conseil is the largest and most elegant room in the castle and can accommodate up to 200 guests.
- Cour du Château. Every castle has a courtyard, but Nyon is famous for its beautiful courtyard, which can accommodate up to 500 guests for an open-air event.
- The Jardins du Château is another outdoor space overlooking Lake Geneva that can be used for a cocktail party or a banquet in the open air.
The castle staff are experienced in organising events and can provide a range of services including catering, decorations and guided tours.
Schloss Trostburg (planning a corporate party and conference at Trostburg Castle, Switzerland):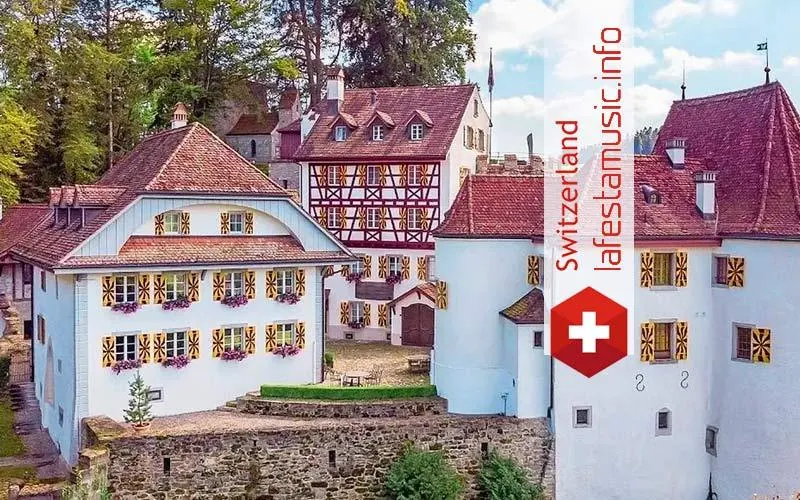 www.schloss-trostburg.ch
This small and cozy castle (fortified estate) can be a great location for a small event in a quiet setting. Trostburg is located in a picturesque part of the canton of Aargau, between Zurich and Basel.
The first stone fortification was built on the rock on which the castle now stands in the days of the Roman Empire. Troisburg was completed between the 9th and 14th centuries and was owned by various noble families: Staufer, Kyburg, Habsburg, Rinacher, Halwiller.
On the castle grounds you can rent separate houses (Chapel House, Hallwyl House, Rock House) and a very cosy courtyard (Castle Courtyard). In the courtyard you can hold an event for up to 120 people with a view of all the beautifully restored buildings of this castle.
Schloss Werdenberg (private party at Werdenberg Castle, Canton of St. Gallen):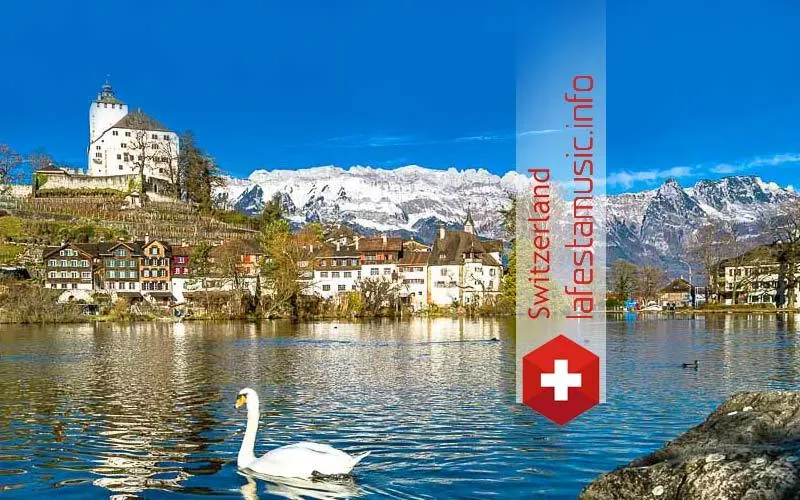 www.schloss-werdenberg.ch
Werdenberg Castle is one of the oldest and best preserved castles in Switzerland. It is located in the canton of St. Gallen, close to Liechtenstein. The medieval village of Werdenberg at the foot of the castle, as well as Lake Werdenberg and views of the surrounding countryside, add to the beauty of this location.
Several rooms can be hired for events and corporate functions at Werdenberg Castle:
- On the ground floor of the castle is a well-preserved medieval kitchen with a large fireplace, bread oven and massive pots. Once used for castle banquets, it is now a popular venue for cookery courses and gastronomic presentations.
- The Great Hall with high ceilings, Gothic windows, fireplace, beautiful wooden floors and the Knight's Room from where there are wonderful views of the surrounding countryside.
- The Tower Room is a small but cosy old room with a spiral staircase.
- Castle Cellar - an atmospheric cellar with stone walls and vaulted ceilings which can be used for wine tastings and other events.
Schloss Gerzensee (event and business meeting at the Gerzensee estate, Canton of Berne):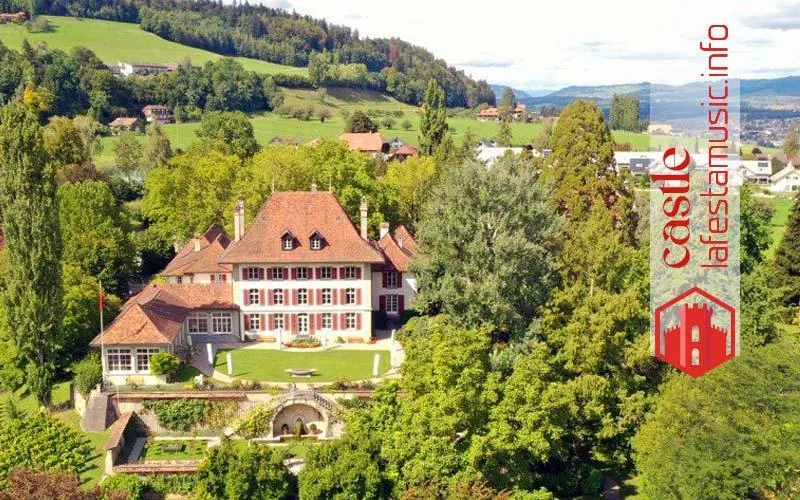 www.hotelschlossgerzensee.com
This beautiful estate was built in 1700 and used as a hunting lodge and guest residence.
Herzensee Castle has an interesting history: it was purchased by the Swiss National Bank in 1951 and is used by them as a conference centre, which is rented out for private events. It is also home to the Gerzensee Swiss Business School.
The castle has been extensively renovated and modernised, but many of the original features have been retained, including the beautiful Baroque façade and interior. In 2002, Herzensee was the venue for the famous Economic Forum, attended by central bankers from around the world.
So if your event or business meeting is related to finance, banking, investment and the economy, Herzensee Castle can be an ideal option and everything is in place.
In addition, there are well-kept gardens around the estate that can be used for an open-air event (buffet, business reception, cocktail party, conference).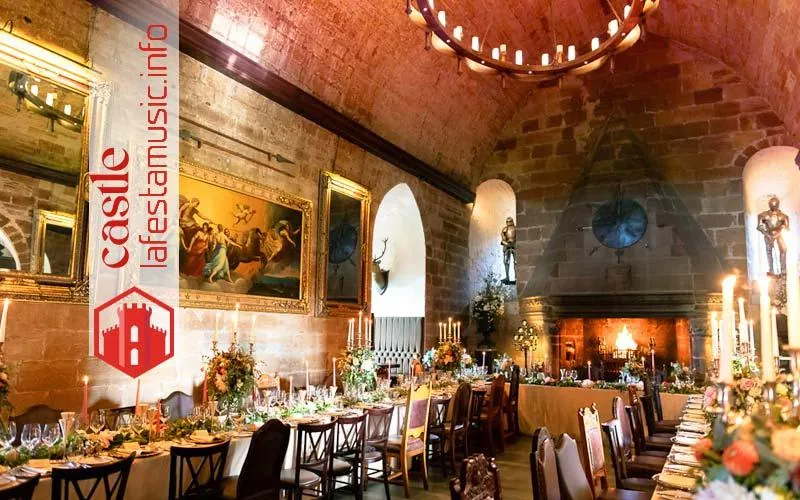 Each of the Swiss castles available for hire is a picturesque location for corporate events and parties. You don't need to invest heavily in festive decorations as a manor house, castle or fortress is already the perfect backdrop for an event. All you need to do is add special lighting to some of the walls or the stage, and discuss the appropriate dress code with your guests.
You can read more about the other 11 castles in Switzerland in our article Planning a castle wedding in Switzerland. Here is a list of these castles:
- Schloss Schadau
- Wasserschloss Wyher
- Château de Vufflens
- Schloss Bottmingen
- Schloss Spiez
- Schloss Laufen
- Schloss Burgdorf
- Schloss Hünigen
- Schloss Wildegg
- Schloss Habsburg
- Schloss Hagenwil
© Ihor Kuksenko
It is forbidden to use the article "Events and corporate parties in a Swiss castle" without an active link to the website www.lafestamusic.info.