How to use ChatGPT to organise events, parties and weddings. ChatGPT for events: ideas, tips, scenarios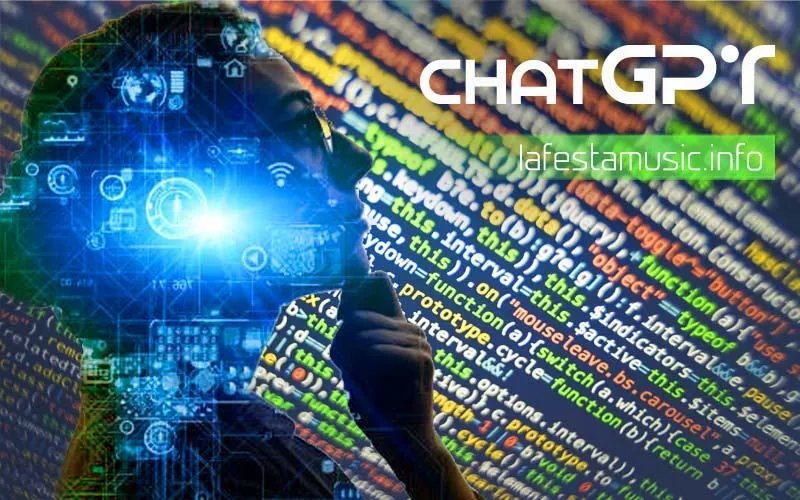 Recently, neural networks and artificial intelligence (AI) applications have become available to facilitate work in various fields of human activity (including event planning). For example, Microsoft, through its subsidiary OpenAI (developer of ChatGPT and DALL-E), has stated that AI will be able to "expand the possibilities of humanity to maximum prosperity".
Currently, there are several popular image, video and text generators that are used by millions of users for music composition, programming, test or script creation and hundreds of other tasks.
The emergence of publicly available artificial intelligence applications will soon have a global impact on the events industry and the labour market. For example, ChatGPT and other AI chats can perform various routine tasks much faster than a company employee, and for free. Replacing some of the work with neural networks is as natural a process as replacing manual labour with computerised machines or moving wedding magazines from print to online portals.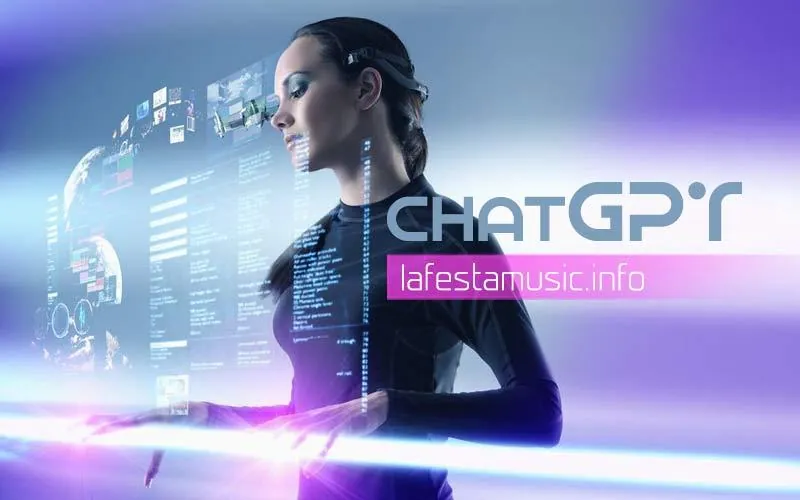 At present, ChatGPT is available in 161 countries of the world and supports more than 95 languages (when working, you should bear in mind that the chat gives answers in Latin letters faster than in the Cyrillic alphabet). The desire to test the work of the AI on personal experience made it possible for more than 100 million users to register in ChatGPT in the first 2 months.
Such popularity has accelerated all processes among Microsoft's competitors (OpenAI). Meta has announced the launch of a new LLaMA language model that can outperform competitors thanks to better algorithms and more parameters. There are other AI projects that are known from scientific articles and presentations from some universities. They may even surpass ChatGPT in some respects. But the general availability of this service makes it the most popular at this stage of the use of neural networks.
ChatGPT has no intelligence or self-awareness. It is an advanced chatbot (neural network) that uses the same principles and logical construction as the human brain to generate responses. At this stage, AI cannot predict or create what it does not have access to.
ChatGPT creates responses to various requests (except offensive ones) using terabytes of data from various sources. However, some of the data may be somewhat out of date, suggesting that it is unable to scan all available information in a timely manner.
Below are examples of generated answers to various questions related to the organisation of events.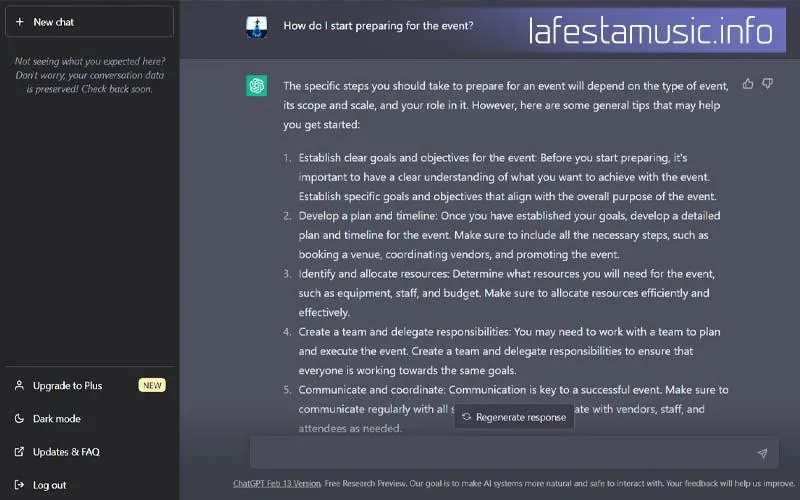 The first question we asked ChatGPT was: "How can you be useful to an event manager and wedding planner?".
ChatGPT's answer:
As an AI language model, I can be useful to an event manager and wedding organizer in several ways, such as:
- Research and data analysis: I can help in researching and analyzing data related to various aspects of the event planning process, such as budgeting, vendor selection, and event trends. This can assist the manager and organizer in making informed decisions.
- Creative ideas: I can suggest creative ideas for the event theme, decor, and entertainment that can make the event more unique and memorable for the attendees.
- Communication assistance: I can help in drafting emails, proposals, and other communication materials to vendors and clients in a clear and professional manner.
- Time management: I can assist in organizing the schedule and timelines for various event-related tasks, such as vendor meetings, site visits, and rehearsals.
- Language translation: I can translate event-related materials, such as contracts, invitations, and schedules, into different languages for attendees who speak different languages.
- Crowd management: I can help with crowd management during the event by suggesting strategies and guidelines for managing the crowd and ensuring everyone's safety.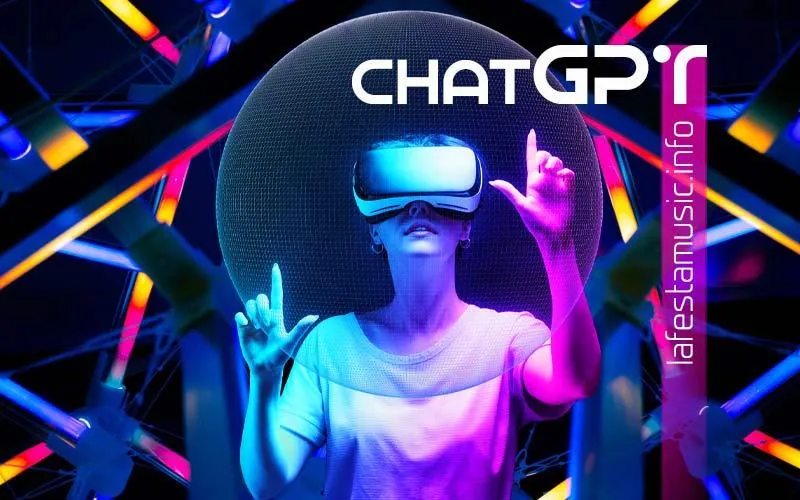 As you can see from the neural network's self-promotion, it claims to be able to help with many aspects of event planning. In order to test the veracity of these words, we asked the following practical question: "How do I start preparing for the event?".
ChatGPT's answer:
The specific steps you should take to prepare for an event will depend on the type of event, its scope and scale, and your role in it. However, here are some general tips that may help you get started:
- Establish clear goals and objectives for the event: Before you start preparing, it's important to have a clear understanding of what you want to achieve with the event. Establish specific goals and objectives that align with the overall purpose of the event.
- Develop a plan and timeline: Once you have established your goals, develop a detailed plan and timeline for the event. Make sure to include all the necessary steps, such as booking a venue, coordinating vendors, and promoting the event.
- Identify and allocate resources: Determine what resources you will need for the event, such as equipment, staff, and budget. Make sure to allocate resources efficiently and effectively.
- Create a team and delegate responsibilities: You may need to work with a team to plan and execute the event. Create a team and delegate responsibilities to ensure that everyone is working towards the same goals.
- Communicate and coordinate: Communication is key to a successful event. Make sure to communicate regularly with all stakeholders and coordinate with vendors, staff, and attendees as needed.
- Execute the plan and monitor progress: Once the event is underway, make sure to execute the plan effectively and monitor progress to ensure everything is going according to plan. Be prepared to make adjustments as needed.
- Evaluate the event and learn from it: After the event is over, evaluate its success and identify areas for improvement. Use this feedback to inform future event planning efforts.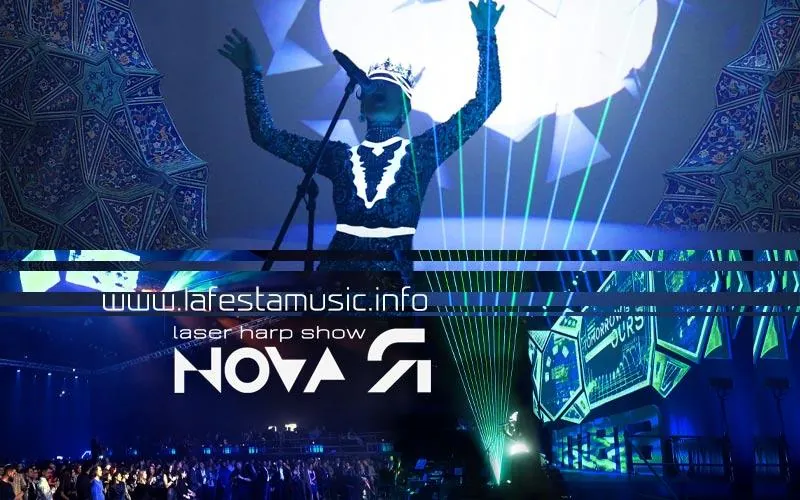 The second answer seems to meet the main criteria of the question, but is filled with standard answers at the training level of a novice wedding planner or trainee event manager. The text consists of general phrases that you would like to saturate with practical advice, facts and examples (as in a conversation with a real person).
So the next step is to ask the most practical question: "I need advice on organising a neon party on a yacht, with a description of the show programme, a buffet menu and original script ideas".
ChatGPT's answer:
Organizing a neon party on a yacht can be an exciting and unique experience. Here are some ideas for a program show, menu, and script to make your event stand out:
- Program Show Ideas: 1) Neon body painting station - have a professional artist or a UV reactive paint station where guests can get neon body art. 2) LED dance floor - rent an LED dance floor to create a fun and energetic atmosphere for guests to dance on. 3) Neon photo booth - set up a photo booth with neon lights and props for guests to take pictures with. 4) Neon glow sticks and accessories - hand out neon glow sticks and other accessories for guests to wear and use throughout the party.
- Chatting Menu Ideas: 1) Neon cocktails - serve brightly colored cocktails that glow under blacklight. 2) Neon cotton candy - serve cotton candy in neon colors. 3) Neon cupcakes - have cupcakes with neon frosting and sprinkles. 4) Glow-in-the-dark sushi - serve sushi with a side of wasabi that glows under blacklight.
- Script Ideas: 1) Welcome Speech - start the party with a welcome speech, thanking guests for attending and setting the tone for the night's festivities. 2) Dance-off - have a dance-off between guests, with the winner receiving a prize such as a neon-colored gift bag. 3) Trivia Game - host a trivia game with neon-themed questions and offer prizes to the winners. 4) Karaoke - set up a karaoke machine with neon-colored microphones and have guests perform their favorite songs. 5) Remember to have fun and be creative with your event planning. Your neon party on a yacht is sure to be a memorable experience for everyone involved.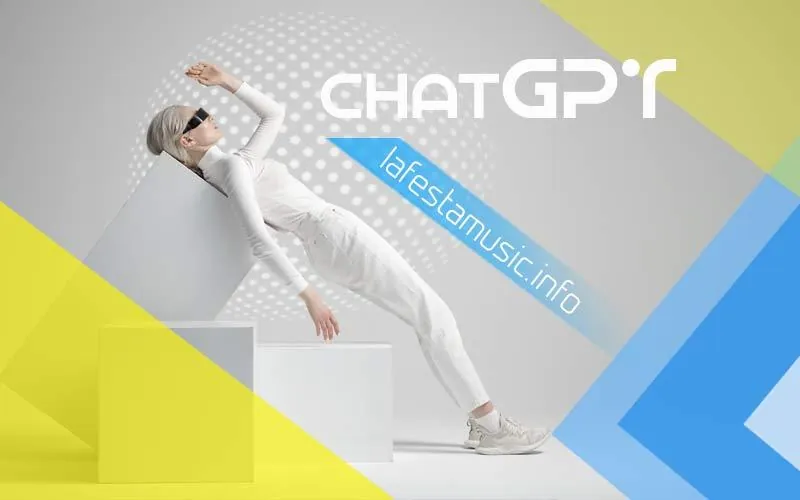 The more specific the question, the more detailed the answer generated by ChatGPT. Some eventers will be able to glean useful ideas from the recommendations (about a neon party on a yacht), but it is unlikely that the information presented will surprise an experienced wedding organiser and event manager.
By further refining the questions with "What are the best hotels for a wedding ceremony in Paris?" and "What are the biggest event venues in Paris?" ChatGPT will generate a list of 5-7 options with a brief description of each. If you ask for the top 20 locations in the question, the neural network will give you 20 options. But the answers still need to be checked for relevance and clarified according to the format of your event.
A strange situation arose with the question "Best cover bands in Paris".
ChatGPT's answer:
As an AI language model, I do not have access to the most up-to-date information, such as current events or the latest trends. However, I can suggest some ways to find the best cover bands in Paris:
- Check online directories and review sites: Online directories such as Yelp or TripAdvisor can provide information and reviews of cover bands that perform in Paris. You can also search for specific cover bands in Paris using search engines such as Google or Bing.
- Ask for recommendations: Ask friends, family, or acquaintances who live in Paris or have recently visited the city if they know of any good cover bands. Social media platforms such as Facebook, Twitter, or Instagram may also be helpful for getting recommendations from a wider audience.
- Check with local event planners or event venues: Local event planners or event venues such as nightclubs, bars, or restaurants may be able to provide recommendations for cover bands that perform in Paris.
- Attend local events and concerts: Attend local events and concerts in Paris and pay attention to the cover bands that are performing. If you enjoy their performance, you can ask for their contact information or search for them online.
By using these methods, you can find the best cover bands in Paris and enjoy their performances.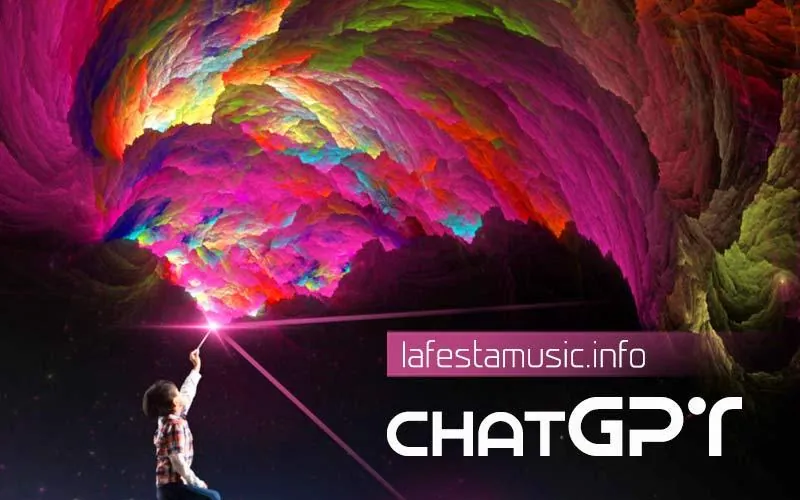 For a specific question about the best Parisian cover bands, ChatGPT recommended searching Google for the answer yourself, asking friends, etc. For some reason, the neural network did not want to pick out certain music bands, although for a similar question about the best hotels, the chat generated a list of options with names.
When asked about the best cover bands in Ukraine, ChatGPT was included in the list of famous Ukrainian stars who have nothing to do with cover bands (3 out of 5 options were missing). Therefore, we can conclude that ChatGPT in version 3.5 does not allow you to get a detailed and up-to-date answer to many questions, and you will have to independently (in the old-fashioned way) search and double-check the information about the necessary musicians, shows, florists, presenters, etc.
Finally, we decided to ask "What advice would you give corporate event organizers in 2023?
ChatGPT's answer:
- As an AI language model, I can provide some general advice to corporate event organizers in 2023:
- Prioritize safety: As the world continues to navigate the COVID-19 pandemic, prioritize the safety of your attendees, staff, and vendors. Ensure that your event follows all local guidelines and regulations related to COVID-19.
- Embrace hybrid events: Hybrid events (a combination of in-person and virtual attendance) are likely to become increasingly popular in 2023. Consider incorporating virtual elements into your event to reach a broader audience and provide flexibility for attendees who may not be able to attend in person.
- Focus on sustainability: Climate change is an ongoing concern, so incorporate sustainable practices into your event planning. Consider using renewable energy, reducing waste, and selecting vendors with sustainable practices.
- Incorporate technology: In 2023, technology will continue to play a significant role in corporate events. Consider using event apps, interactive displays, and augmented or virtual reality to engage attendees and enhance their experience.
- Personalize the attendee experience: Attendees are increasingly seeking personalized experiences at events. Use data and technology to personalize event schedules, sessions, and networking opportunities based on attendees' interests and preferences.
- Communicate effectively: Keep attendees, vendors, and staff informed about event details, schedules, and changes. Use a variety of communication channels, such as social media, email, and SMS, to ensure everyone is up-to-date.
Have a contingency plan: Always have a contingency plan in place in case of unexpected circumstances, such as extreme weather or technology failures. This will help you respond quickly and minimize disruptions to the event.
Abstract questions about events will lead to standard answers from ChatGPT, which will have to be clarified and concretised until you reach practical advice or a recommendation to look for information yourself in search engines.
However, it is worth recognising that the answers themselves and the style of presentation of information are more akin to the work of a living person than a chatbot.
IT developers herald the imminent arrival of an advanced version of artificial intelligence (AGI) that will perform some tasks better than humans. In any case, every 3-6 months a new version of the neural network will appear in the public domain, performing an order of magnitude better than the previous one.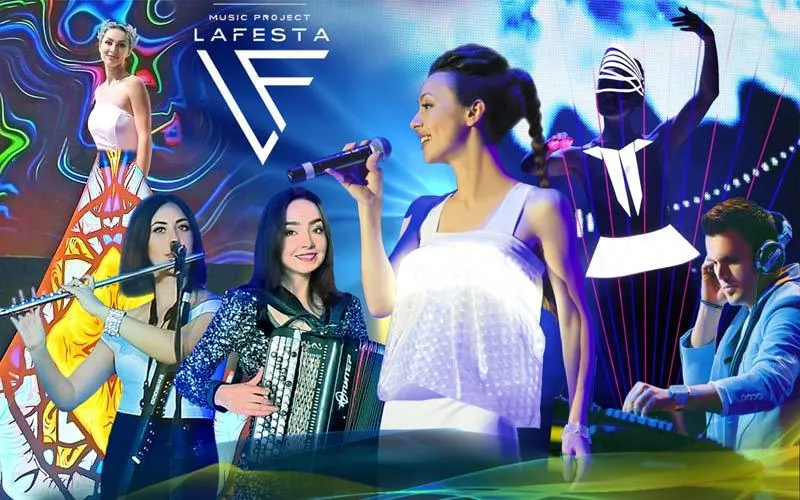 If you are organizing a private party, corporate event or wedding, you can find some of the original shows and artists in the "Best Shows" and "Artists" sections of the site:
- Laser Harp Show & Opera Diva
- Show the singer in a 3D dress
- Stylish music band
© Ihor Kuksenko
It is forbidden to use the article "ChatGPT for organizing corporate parties, events and weddings" without an active link to the site www.lafestamusic.info.