LAFESTA interview in the only Ukrainian music magazine «DJam» (№ 47 January-February 2011)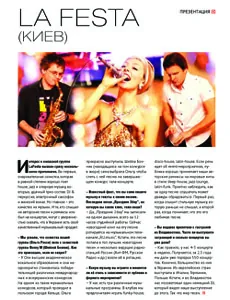 Attention to Kyiv LAFESTA group is caused by several reasons at a time. First, charming soloist, who sings house, jazz, and opera equally as good. Second, using such an unusual electronic instruments, as electro-percussion, electro-saxophone. But the main thing is the quality of its music. And those who heard their author's songs and remixes or attended their concerts, can definitely claim, that Ukraine has its own high-quality music product..
It is a well-known fact, that you write your songs in such styles as house and lounge. But still there are pop songs among your compositions. For example, «2day»
Indeed, «2day» has been written to order of some large company, which wanted to have its own New Year song for winter corporate parties. We have written it in one breath – 12 hours of studio work. By the way, this song hit the top of New Year best songs and several leading radio-stations (Hit FM, Russkoe Radio, etc.) took it for the airtime.
And what kind of music do you usually perform and does the style change depending on the audience and event format?
We have three different music programs. We prefer to perform funky-house, disco-house, latin-house in clubs. If talking about events, the audience likes our author's remixes for world hits in deep-house, jazz-lounge, latin-funk styles. It is nice to observe, when a guest can become happy twice during one song. First time, when he hears stylish music, which he hasn't heard earlier, and second time, when he realizes, that it is his favourite song.
We came to know, that your group soloist (Olga Rossi) sang with the soloist of legendary Bonny M (Sheyla Bonnick). How did it happen, if you don't mind my asking?
Olga has a higher academic vocal education, and she has become a winner of different international and all-Ukrainian music contests several times. Olga performed brilliantly at one of such contests, which took place in Kielce, Poland. Sheyla Bonnick (being a member of jury at that contest) chose Olga by herself in order to sing a song together at the final contest gala-concert.
You have recently come back from Vladivostok road tour. Do you often perform abroad and how much concerts have you already given?
As a rule, we have 4-5 concerts a week. So during 2,5 years we have already given approximately 550 concerts. Of course, most of them have taken place in Ukraine. Among European countries we have performed in Italy, Germany, Poland. By the way, one German DJ, who have seen our performance before, advised us for Vladivostok performance. So it's a small world.