Sand show and sand animation for events, weddings and parties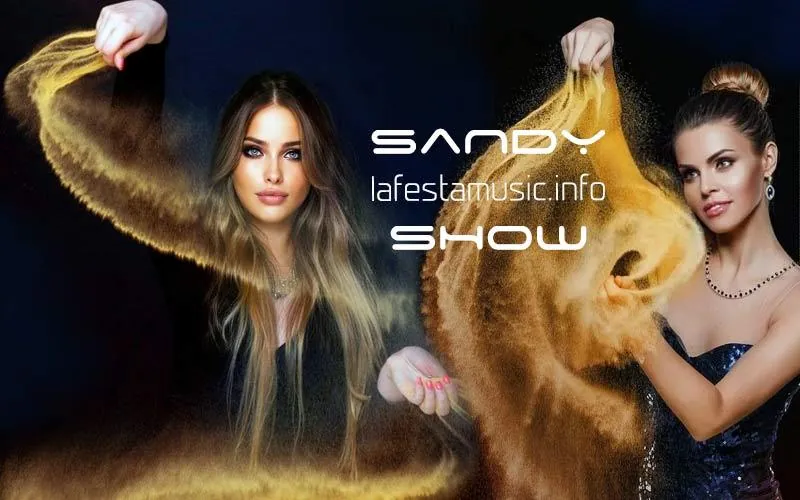 One of the most original ways to not only show your story, but to turn it into a work of art is sand animation. A professional artist in just 5-15 minutes will draw 3-7 different images with sand, which will flow smoothly into each other and create a coherent story. This is the peculiarity of sand show: all plots are created in real time, quickly changing and dissolving into new drawings.
Sand animation is suitable for any type of event and will be able to visualize your story or idea: the history of a brand or logo during a presentation or conference; memorable moments from a person's life at his birthday; the history of a company at a corporate party or celebration; the story of acquaintance and love of newlyweds at a wedding.
Sand show can be a solo performance (artist only) or accompanied by a musician (flute, accordion, piano), singer, DJ, music band or orchestra. You can also order our other shows: laser harp, singer in 3D dress.
Fragments of sand animation and sand show: New Year's Eve event, travel, love story and wedding
There are two ways to use sand animation for your event: live performance (where an artist creates a sand show in real time) and animated video (where the entire story is drawn in advance and saved as a short movie frame by frame).
The first option (live performance) is good because guests watch the artist's performance and how the sand paintings are created in real time. This allows them to immerse themselves in the process, feel the artist's emotions, and even participate in the creation of sand stories.
If for some reason it is not possible to hold a sand show at your location, or the concept of the event is to show only a finished video, you can create an animated story in advance from detailed and assembled sand paintings. Both sand show formats are described in more detail below.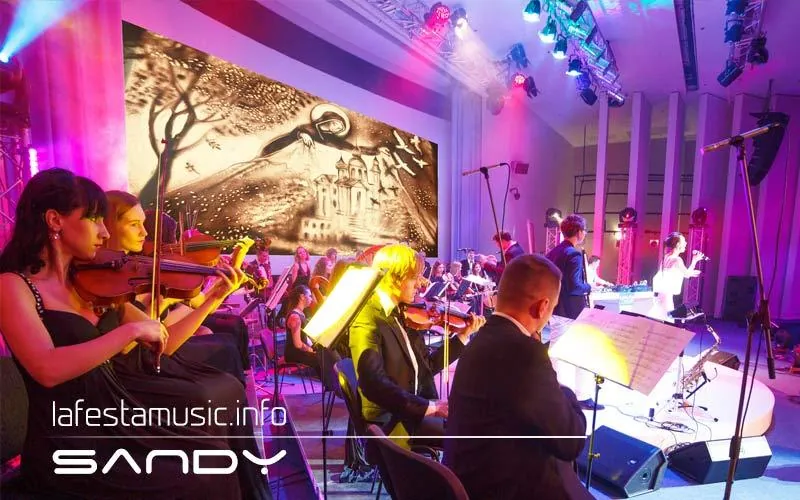 Scenario and plot for a sand show at your event.
The main difference between a professional sand artist and a beginner lies not only in the quality of the drawings themselves, but also in the thoughtfulness of the plot. The sand show should not consist of disparate drawings, but flow from one illustration to another through the gradual change of sand layers and drawn lines. In this way, the story flows and develops smoothly, involving the audience in the process.
Creating a new sand animation for the theme of your event or wedding requires careful preparation, creating a frame-by-frame script, and rehearsing, which can take several days. For this reason, the new sand show will have an additional cost depending on the difficulty of the task.
At the first stage we receive a task from the client, discuss a possible scenario and the images that should appear in the sand animation. Then a script is written with a detailed storyboard of all images and drawings. Thanks to well thought out sketches, it is possible to determine the exact timing of the sand show and its final cost.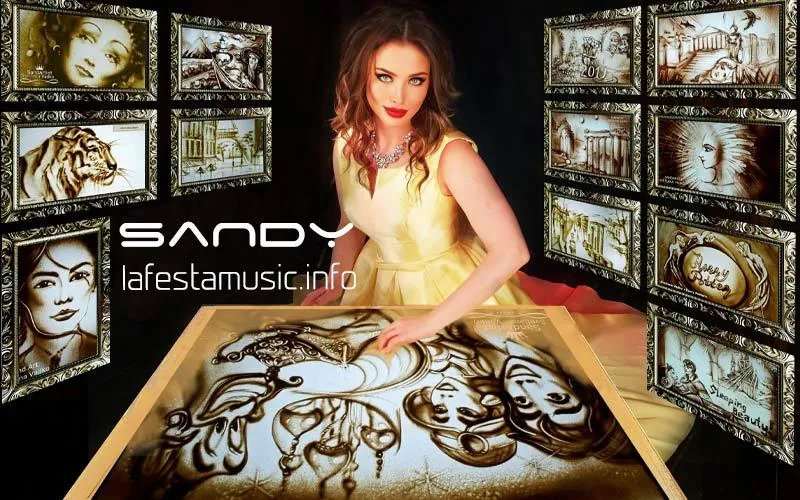 Technical requirements for a sand show at an event and a wedding.
The main condition for creating a sand show is the ability to project drawings onto a screen. For small events (20-30 people) you can use the plasmas available at the location. If there are more than 30 guests, it is necessary to use projection on a screen or LED screen.
The second important requirement is the possibility to darken the hall during the performance. With full lighting, the projection is not so well visible and accordingly the sand show may lose its brightness. In addition, you will need a table on which the artist will place his glass box of sand and a tripod with a video camera. You will also need a 220W power supply (an extension cord for 3 sockets) and a connection from a music mixer to the speakers.
What equipment does the performer bring?
The most voluminous for transportation is a backlit glass table on which the artist creates sand paintings. The illumination from below the glass surface and the correct distribution of the sand creates a different depth, illumination, shadows, from which the necessary images are obtained.
A professional video camera on a special tripod allows you to broadcast the sand show on the screen in real time. Since the camera is placed on the sand table, it shows not only the paintings, but also all the movements of the artist's hands, which allows you to fully immerse yourself in the drawing process.
From 5 to 10 kg. of sand, which are necessary to create sand animation. Sometimes different shades of sand are used for the show to make the drawings more colorful. If a sand show requires live music, we bring our mixing console, DJ equipment, vocal and instrument microphones.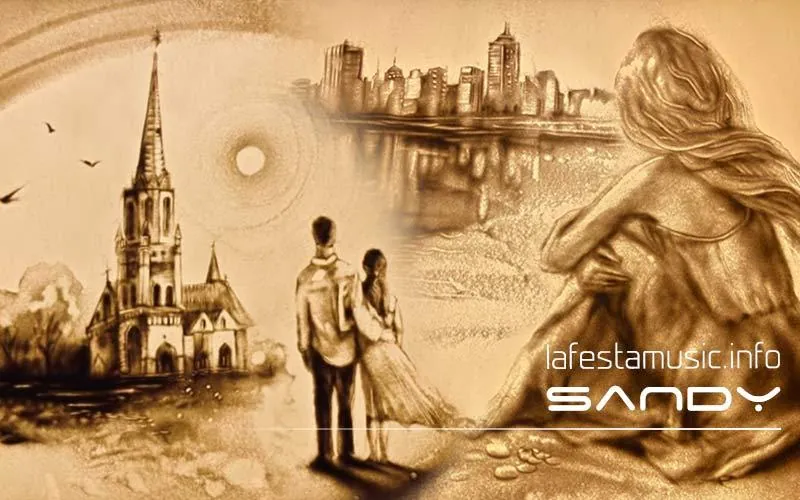 Creation of a sand animation video for the event.
The advantage of this variant of sand animation is that the artist can draw each of the paintings in more detail, creating hundreds of necessary strokes and nuances. Often there is no time for such detail during a live show, otherwise the show can go from 10 minutes to 30-40 minutes.
All created sand drawings are combined into a beautiful video clip by using a lot of freeze frames or proper video editing. Then this video can be used as a promotion for your company, a brand presentation or a memorable story from the life of a couple in love, children, family.
The cost of an animated sand movie depends on its length (usually 3-7 minutes), the complexity of the plot and the drawings themselves.
Sand show at the wedding (Switzerland, Germany, France).
Each story of dating and love is unique, so it deserves a special beautiful description. And this is the best way to do it with Sand animation, which will convey all the emotions of the newlyweds with the help of soft, romantic images.
You can discuss the desired scenario of the sand show with the artist in advance and tell the life situations you would like to depict in the drawings (or send photos that need to be transferred to the sand).
Creating a sand sculpture together can be a very touching moment. For example, during a wedding celebration, the sand show will begin with a solo performance by a professional artist (who will create 5-6 paintings in 10-15 minutes), and in the last drawing the newlyweds will join him. The bride and groom can add the final (pre-arranged) touches to the picture or improvise something. In any case, such a sand animation will be a wonderful reminder of this unforgettable and happy day!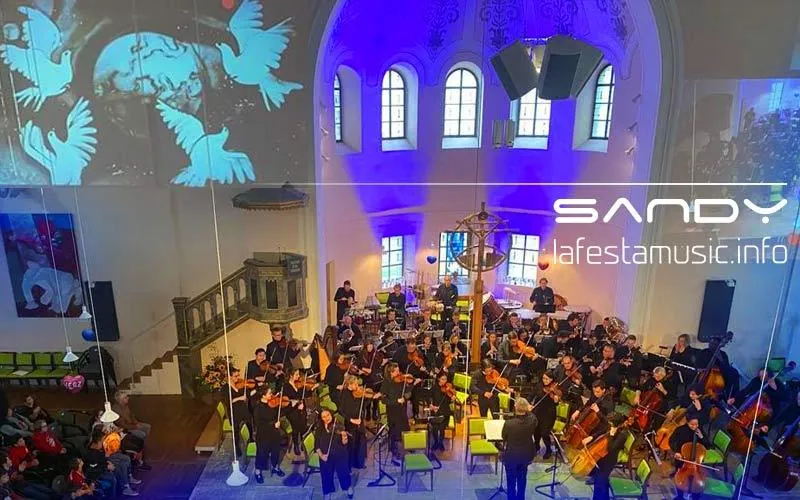 Sand show and master class at the children's party.
The magic of sand paintings is that they can transport even an adult to childhood memories. We all know the feeling of drawing something on a sandy beach, only to have the waves erase it again and again with a water eraser. This makes sand painting an ideal interactive activity for a children's birthday party.
The sand show will allow you to recreate your child's favorite characters or any story you like from a book, cartoon, movie. A children's master class in sand animation can be especially exciting. The artist will create a special background on which children can draw the continuation of a fascinating story.
What makes the sand master class even more fascinating is that you can draw not only with your fingertips, but also with different parts of your palm, and use all kinds of objects: combs, brushes, stencils, figures, etc.
Sand show at events in Dubai, Doha, Riyadh, Kuwait, Abu Dhabi.
Sand animation is best associated with countries located near the desert (UAE, Saudi Arabia, Qatar, Kuwait, Egypt). Therefore, in these regions, the sand show is best styled for the format of local events.
Sand paintings resemble mirages that suddenly appear and suddenly disappear in the desert. Sand-drawn figures, landscapes, and buildings appear for a brief moment, and a movement of the master's hand takes them away like the wind. It is this transience and fragility of the beauty created that makes sand art so magical.
For a sand show in the Gulf, you can weave tales from Arabic fairy tales or develop a story against the backdrop of recognizable images: Dubai's Burj Khalifa and Burj Al Arab, Abu Dhabi's White Mosque, Qatar's pearl fishing boats, Kuwait's towers, Saudi Arabia's mirages, etc.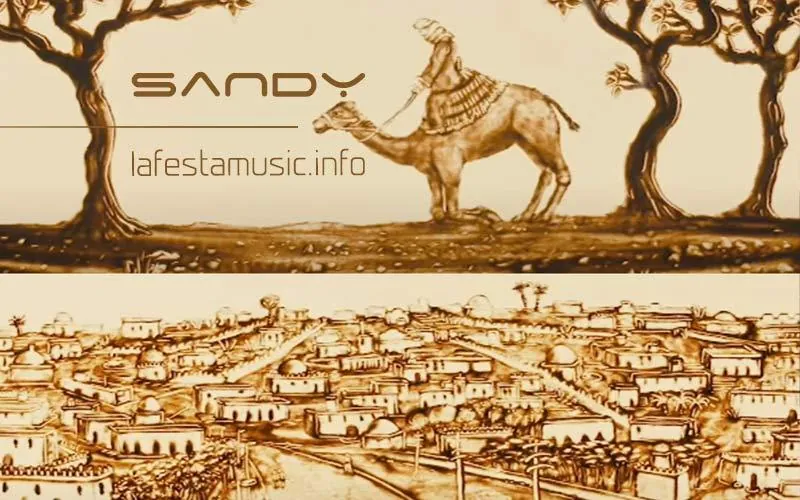 History of sand animation.
The sand show is a relatively new art form, although the Swiss psychiatrist Carl Jung wrote about the beneficial properties of sand painting as early as the 1940s. He even developed a program of sand therapy, which meant that drawing pictures with sand balanced and liberated the emotional state.
Sand animation was pioneered by Canadian artist Caroline Leaf. In 1968 (as an undergraduate at Harvard University), she created the first animated sand film, "Sand, or Peter and the Wolf", using an illuminated surface.
Her second film, "Orpheus", was made in 1972, in which she not only saved her sand paintings as stills, but also drew entire scenes while the camera was rolling.
Other notable works include "The Owl Who Married a Goose" (1975), "Sand Animation", and "The Street" (1976), which won the Academy Award for Best Animated Short Film.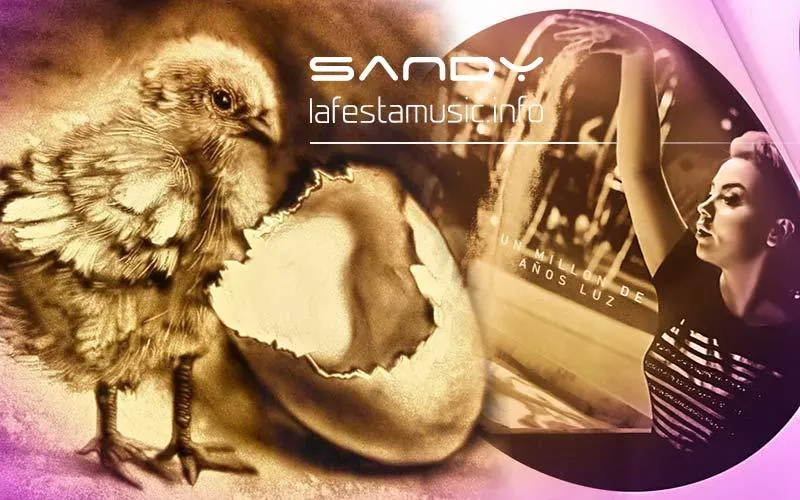 This new direction in art was supported by another Harvard graduate, Eli Noyes. In the 1970s, he created a series of animated sand films, including "Sandman" (1973) and "The Sand Alphabet" (1974), which became part of an educational television program for children.
In 1977, another iconic short sand film, "The Sand Castle", by Dutch artist Co Hoedeman, appeared. This work also won an Academy Award.
A new stage in the development of sand animation was the live performance of Hungarian artist Ferenc Cakó. In the 80s, he was one of the first to perform sand shows in public, demonstrating the process of drawing on the screen.
In the late 1990s, sand animation began to be used in the event industry. With the development of digital technology, it has become much easier and more convenient to use compact video cameras to record a sand show in real time and broadcast it on projection or LED screens.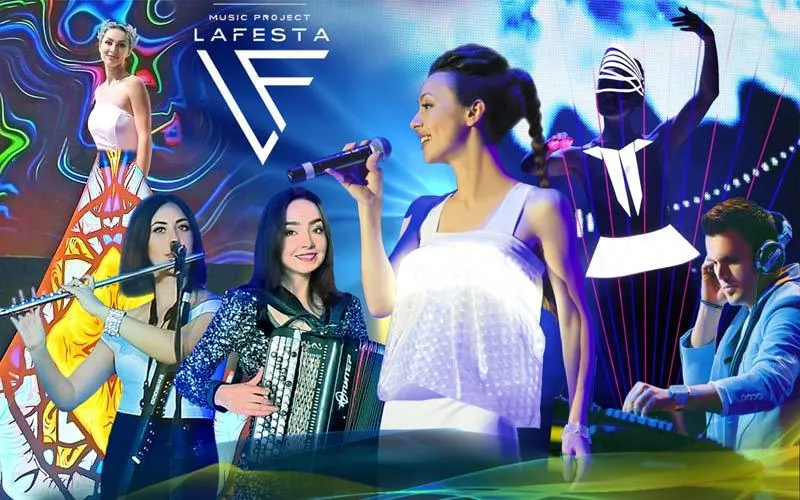 Every grain of sand has its own story, and we can create yours!
Book the performance of our sand show or the creation of an animated video for any format of your event: corporate party, business conference or seminar, presentation, private party, wedding, anniversary, children's party.

Also, you can order the performance of our original shows:
- The laser harp and opera diva
- 3D dress singer
- Stylish music band
© Ihor Kuksenko
It is forbidden to use the article "Sand show and sand animation" without an active link to the site www.lafestamusic.info.