Book a neon show. Ideas and organisation of a neon party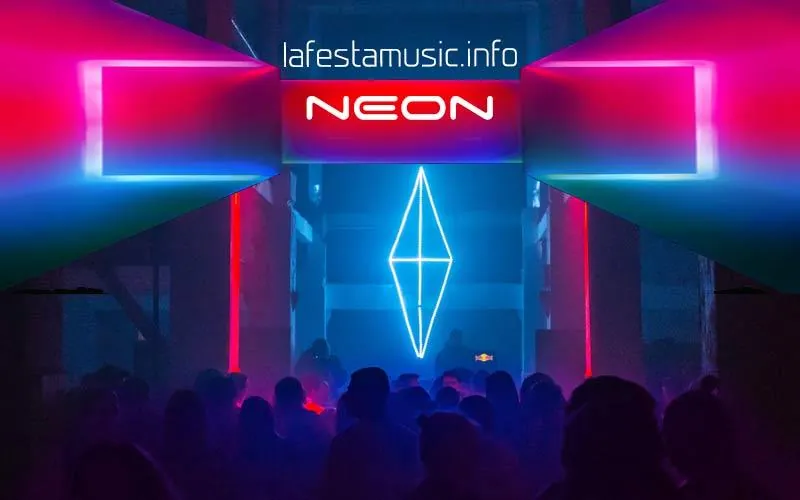 Neon theme is suitable for such events as technological events and presentations, children's birthdays and different styles of New Year's Eve party (scientific, futuristic, 80-90s disco, Avatar, Star Wars, etc.).
Each of these formats can incorporate elements of a neon show and a neon party. It is not necessary to associate the entire style of the event with lighting accessories. Sometimes it is enough to use just a few elements to enhance the impression: fluorescent and ultraviolet lighting, laser shows and neon or luminous decorations.
But the key to any neon party or corporate event is the original script and entertainment programme. Sometimes even a professional show can change the level of the event and make it unforgettable. For example, the Laser harp show, where the opera diva in a unique luminous costume performs live, can be such a bright and fascinating act. Laser beams are very similar to the neon strings of this unusual instrument. As the laser harp is a real musical instrument (not an imitation), guests at the neon party will have the opportunity to play on the laser beams or take part in interactive activities.
A show like this creates the necessary WOW effect and leaves everyone at the neon party with vivid memories, videos and selfies.
Fragments of the neon show & laser harp "novaYA" performances at events (The laser harp and neon show for a corporate party, an event and a wedding).
To complete the Neon Party programme with live music, you can add a long performance of virtuoso and charming musician girls with a DJ in neon costumes who will set the mood for the whole evening.
The advantage of this option is that artists can perform in 30, 45, 60 minute sets in a variety of formats (from stylish cocktail music to electronic dance) and spread these sets evenly throughout your neon party (from the welcome buffet to the final dances).
You can view various shows and original artists in the "Artists" and "Best Shows" sections of the website.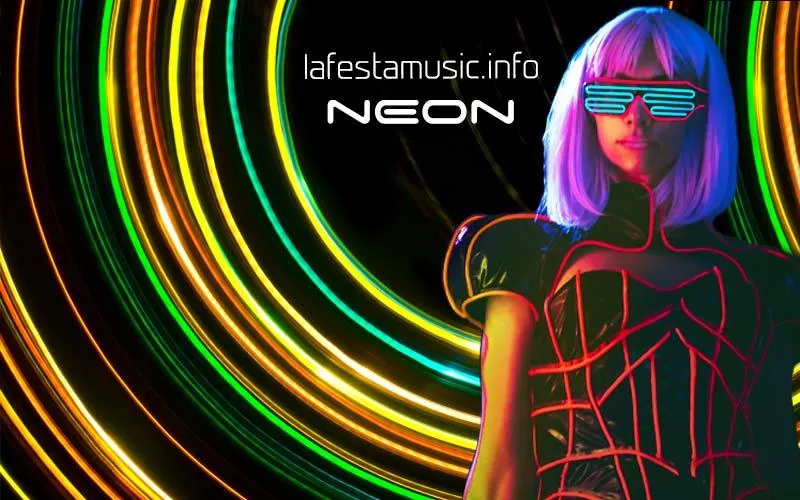 7 tips for organising a neon party & event:
1. Neon party venue
If you are planning a neon party or event in a hired venue (restaurant, club or banqueting hall), make sure the venue allows for blackout (at least dusk). If the neon party starts during the day, it should be possible to cover the windows. Also, the entrance door to the hall should not be a source of daylight when it is opened. Strange as it may sound, there are venues where it is not possible to turn off all the lights, or where it is difficult to do so, and you are charged extra.
For safety reasons, there should be a lot of free space and a minimum of unnecessary furniture, sharp corners, unexpected steps or descents at the location where the neon party (neon show) is planned. In the dark, everything is important (especially at a children's neon party).
Be sure to ask the venue's management about the possibility of applying fluorescent tape (neon) to all obstacles, stage edges, steps, entrances/exits. It's a simple way to make the catering service's job easier and to help guests find their way in the dark, minimising the risk of injury.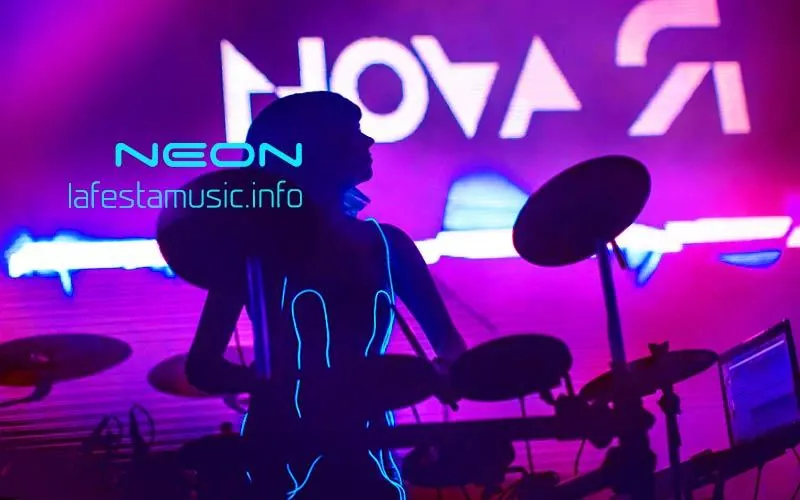 2. Neon party lighting
If you are a fan of neon lights and atmosphere, you can incorporate some elements into your private party, corporate event or presentation. Rent special ultraviolet lamps. These will give a fluorescent glow to all white and light objects. Inform the guests of the neon party that their dress code should include as much white as possible, fluorescent inserts or bright plastic accessories. Under the influence of ultraviolet light, everything will instantly light up and your neon party (neon show) will sparkle with bright colours.
You will need to discuss the number of such lamps with your technical contractors in advance, based on the size and layout of your venue. Optionally, you can use standard base UV bulbs that fit under the existing luminaires in the location. All lighting elements are ideally integrated into a neon party & event format.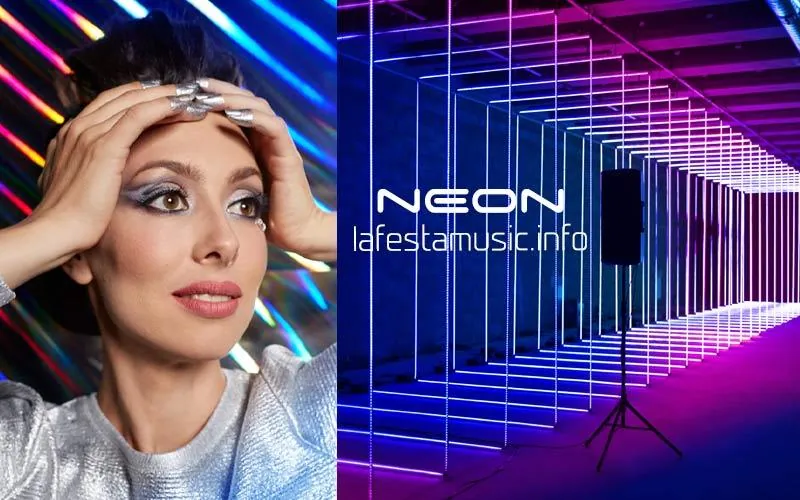 3. Luminous accessories
Luminous bracelets, glow sticks, neon jewellery, LED glasses, etc. are a constant feature of a neon event. The glow can come from batteries or from a chemical reaction (as in the case of bending a glow stick). These accessories are inexpensive and can provide up to 12 hours of glow, enough for even the longest neon party.
Ideally, each guest should receive several glow-in-the-dark decorations and accessories as they enter the event. This will make each guest visible in the dark.
4. Paints for a neon party
You can use glow-in-the-dark colours to decorate the venue, clothes and directly on guests' bodies. It is not necessary to cover the body with paint, as with body art. For vivid impressions and photos, a few strokes of paint (on the eyebrows, a pattern on the cheek) will be enough. It must help everyone identify themselves in the dark.
There are two types of neon paint: luminescent and fluorescent. Luminescent paint contains phosphorus, which stores the energy from any light source. It glows in the dark, releasing the stored energy. Phosphorescent (fluorescent) paint can glow continuously for up to 10 hours (although it will gradually fade). In daylight, this paint is a pale green, blue, pink and other shades, but under the influence of ultraviolet rays it begins to glow in bright neon colours.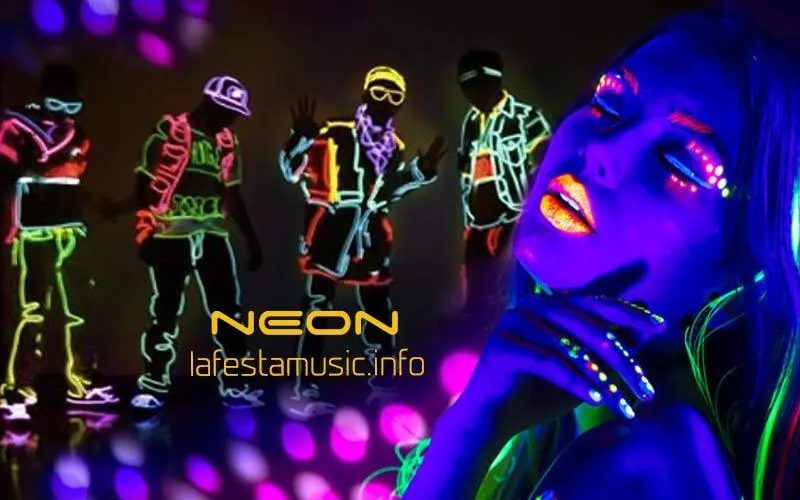 5. Photo & video
To capture your neon party for posterity, hire a professional photographer or videographer with good optics and experience of working in dark environments or nightclubs. Finally, it is essential to avoid the use of flash, as it does not convey the atmosphere of an ultraviolet party. Make sure that the photographer/videographer you choose has already produced a quality report in similar conditions.
6. Food
Enhance the effect of your neon party with glow-in-the-dark drinks and tableware. The easiest way is to serve food on white plates and white napkins, as the white colour enhances the glow. Under the influence of ultraviolet light, even clear glass and tonic bubbles will emit unusual shades.
You can also use a laser or conventional projector to project onto a large birthday cake or main table. It is possible to create a projection according to the shape of any object, like the projection of our show singer in a 3D dress.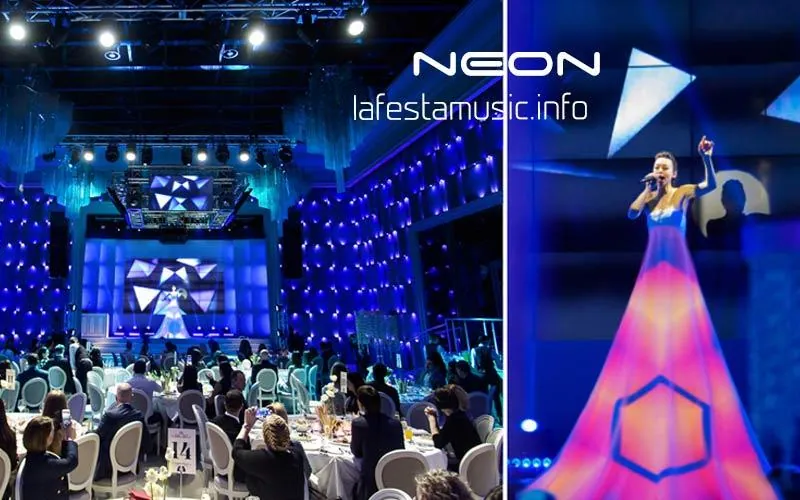 7. Live music for neon event
For the format of a neon party (neon show), several musical styles are ideal at the same time: club and electronic music (house, techno, rave), disco of the 70s and 90s, modern cocktail music (lounge, chill out). However, this does not mean that the neon theme is inconsistent with other musical styles (R'n'B, pop, funk, jazz). The key principle in choosing a DJ and live music is the purpose of your party and the tastes of your invited guests.
Book live music for a Neon Party.
© Ihor Kuksenko
You may not use the article "Book a neon show. Ideas and organisation of a neon party" without an active link to www.lafestamusic.info